Seth Rollins Retains Universal Title at Super ShowDown 2019
Seth Rollins has managed to retain the Universal Championship as he defeated Baron Corbin at WWE Super ShowDown 2019 show. He also managed to prevent Brock Lesnar from the Money in the Bank cash in.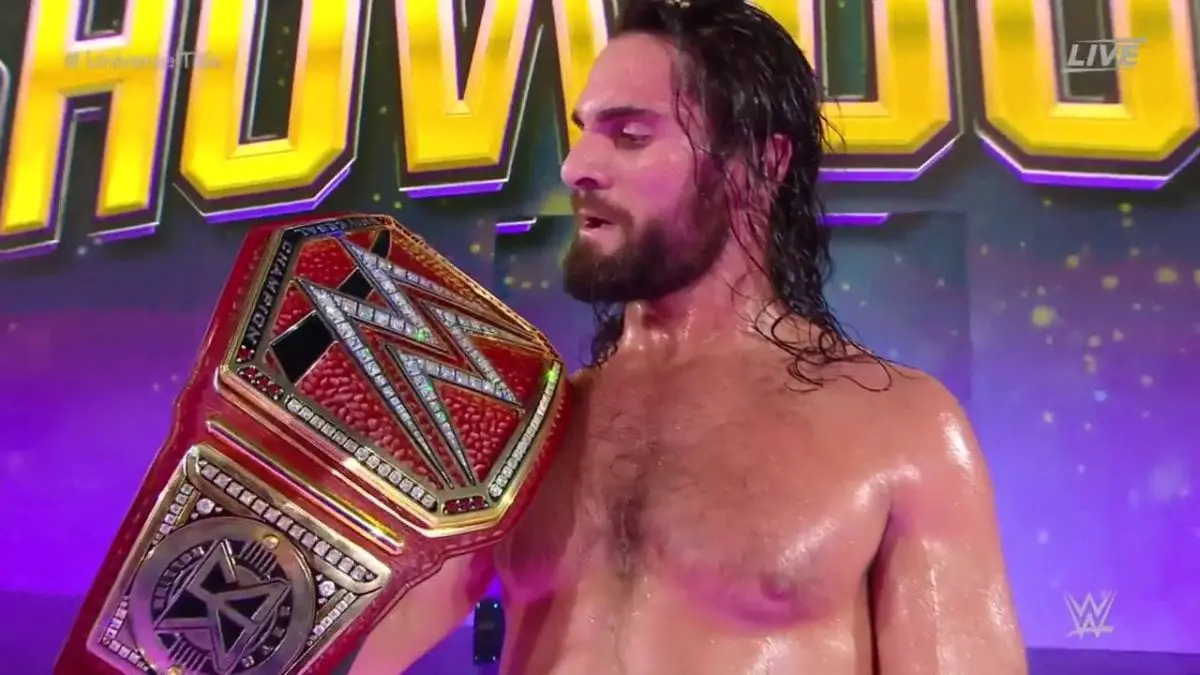 Storyline
While Rollins was worried over Brock Lesnar cashing the MITB briefcase, WWE decided to hold a Fatal 4-Way match to determine his challenger at Super Showdown. Baron Corbin won that match to book the match few wanted. As soon as Brock won the briefcase, most of the people were expecting him to cash it for the Universal Championship match in Saudi. But he kept teasing the cash in every week and even came out prepared for it at RAW earlier this week. However, after demolishing Rollins with the chair shots, suplexes, and F5s, Lesnar told that he will cash in at Super ShowDown.
Match Description
Seth is trying to protect his ribs even before the start. They lock in and Corbin takes Rollins to the corner. As referee call for the stalemate, Seth comes out with punches only for Corbin to punch him in the ribs. Seth avoids him in the corner but as he goes for the springboard, Corbin trips him to send his ribs into the ropes. Corbin drops him once more on the rope from suplex position and starts to work on the ribs and back.
Seth tries to fight back from the corner but Corbin dodges him and hits a clothesline. Corbin starts to shout on the ref for something before going for some kind of lock on Rollins' ribs. He is continuously punching in the mid-section to continue pressure. He slams Rollins from a gut-wrench position before Rollins counters to hit an enziguri. Seth mounts a flurry of punches and forearms before a lariat to send Corbin out of the ring. Back to back suicide dive follows.
Seth goes to the top where Corbin catches him in a chokeslam position but Rollins counters again to hit a superkick to get a nearfall. Corbin lures him into another suicide dive attempt which he thwarts and hits a twisting slam. Both counter each other once more, only for Corbin to hit deep six for another nearfall. End of days is avoided and Corbin suddenly decides to bring in the chair. As the referee tries to prevent him to use the chair, Corbin again starts to quarrel with him. This costs him the match as Rollins uses a roll-up pin to win the match.
As Rollins starts to celebrate, Corbin hits him with the End of Days from behind. As Corbin leaves, Brock Lesnar enters with the briefcase and steel chair. He tries to cash in. Heyman trips as he gets in the ring and the crowd laughs. Rollins hits Lesnar with a low blow. Rollins hits him chair multiple times before hitting the stomp on the Briefcase. Rollins leaves as Lesnar is checked upon by Heyman.