WWE RAW Live Results and Updates- 20 May 2019
Welcome to the Live Results and Updates blog of Raw episode of 20 May 2019 which will be live from Times Union Center, Albany, New York, US. We will start posting updates as the show will start at 8 PM EST(21 May 12 AM GMT/5:30 AM IST). Please keep refreshing the page for the latest updates.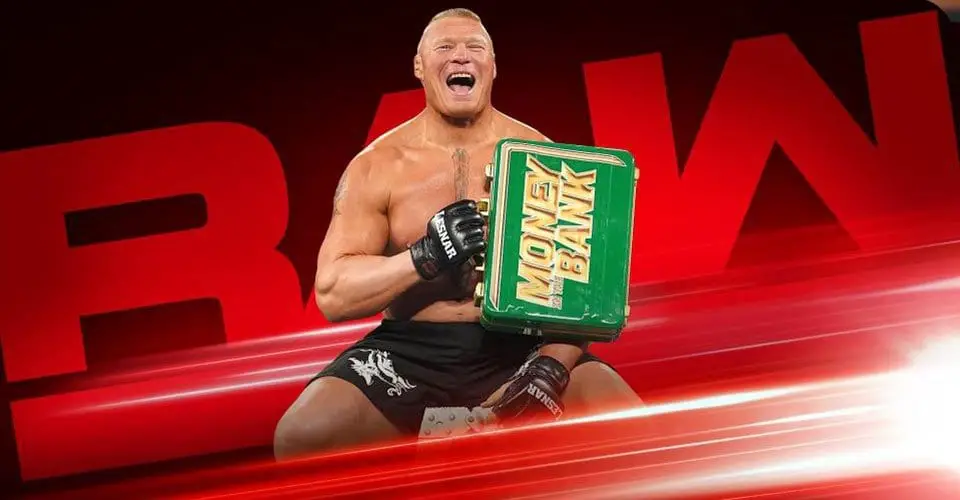 Quick Results
Braun Strowman beats Sami Zayn
Cesaro beats Ricochet
The Revival beat the Usos in a tag team match
Becky Lynch, Nikki Cross, and Alexa Bliss beat the IIConics and Lacey Evans in a 6-Woman tag team match
Titus O' Niel wins the 24/7 Championship in a scuffle
Robert Roode beats Titus O' Niel to become the new 24/7 champion
Drew McIntyre beats the Miz
R Truth beats Robert Roode to become the 24/7 Champion
Seth Rollins and Kofi Kingston beat Bobby Lashley and Baron Corbin in a no disqualification tag team match
Episode
#1 Beast in the Bank!
Brock Lesnar opens the show, coming out with Paul Heyman and the MITB briefcase. He looks in a more jovial mood, almost like he is mocking us. We go to replay of last night's incident from Sami Zayn getting hanged upside down and Lesnar's heist. Boos start as he reaches the ring.
Heyman takes the mic and tells us that he can hear the paranoia ringing through the room. Somehow Sami Zayn was lured out and hanged upside down and someone with the right political connection managed to negotiate Lesnar's entry at no. 8 in MITB match. He also says that Universal and WWE champions should be fearful now as they have to defend their titles with the thought that Lesnar still has MITB briefcase to cash-in. He goes on with his rant for some time until Seth Rollins enters and stand face to face with Lesnar.
Rollins says he is in a very good mood as he was in the fight of his life with AJ Styles last night and he won. He tells Lesnar to cut the chase and cash-in the briefcase tonight. Paul Heyman takes a shot at Rollins mentioning Becky taking the WrestleMania main event place which Rollins would have wanted. Rollins charges at Heyman but Lesnar gets in the way. They get in each other's face until Heyman starts his promo again and tells us that Rollins is not worthy to be in the same ring with Lesnar again and maybe Lesnar is looking for a new challenge.
This brings out Kofi Kingston. He tells us that he wants to be the greatest of WWE champions and if Lesnar wants to cash-in tonight, then it should be on him. Heyman takes a shot at both Rollins and Kofi for auditioning for a match against Lesnar but tells them since both of them are not done for the night, Lesnar will wait.
At gorilla position, Sami Zayn has a word with his old bitter rival Bobby Lashley, suggesting that he helps him during his match against Braun Strowman so that he can soften up Strowman for his match against Lashley at Saudi Arabia. Lashley laughs it off and encourages Zayn to go on to the ring.
Backstage, Rollins and Kingston meet Triple H who tells them that they will team up for the main event match against Baron Corbin and Bobby Lashley.
#2 Braun Strowman vs Sami Zayn
Sami Zayn made his entrance for the match against Braun Strowman. As Strowman enters, Sami runs backstage. Strowman chases him and have a staredown with his opponent for Super Showdown, Lashley. Sami tried to take the advantage and attacks Strowman but to no avail. Strowman picks him up and brings him back to ringside. Sami pushes him to the ring post but Strowman recovers and slams him into the barricade. He avoids a spear inside the ring which sees Strowman crashing into the ring post. Sami calls for the bell but Strowman levels him with a clothesline. He follows it up with a powerslam to get the win.
Winner- Braun Strowman with a pinfall
#3 Sullivan's destruction
Charlie Caruso announces Lars Sullivan to come out for an interview. After we get to see the replays of Sullivan's various attacks, Caruso asks him about his intentions in WWE. Before he could answer, Lucha House Party enters and attacks him. They manage to drop kick him out of the ring. Sullivan is too good for them though as he catches Kalisto as he goes for the suicide dive. Sullivan went on to slam each one of them one by one and sends them packing.
AJ Styles will have an interview next but before that Ricochet enters for his match against Cesaro.
#4 Ricochet vs Cesaro
Cesaro grabs Ricochet and throws him to the corner right away. He hits a big backdrop to add more damage to Ricochet's already injured back. Ricochet runs him into the ring post and hits a moonsault from the apron. Cesaro catches him and drops him on the apron.
We return to see Cesaro having Ricochet in a stretch. Ricochet hits a beautiful headscissor takedown and a moonsault over the top rope to take him out on the floor. He rolls Cesaro back in and climbs to the top rope. Cesaro nails him with a huge uppercut as he flies off the turnbuckle. He picks Ricochet up and drops him across his knee. He finishes Ricochet off with a Neutralizer for the win.
Winner- Cesaro
#5 Backstage with AJ Styles
Charly Caruso interviews AJ Styles about what's next for him after his Universal title loss. He says that it's back to square one, accepting that Rollins was the better man. But he's confident that he can beat him. Baron Corbin strolls in and sarcastically claps. He tells Styles that he should never have got the opportunity for the match in the first place. They take shots at each other and Corbin says that the fact that he pinned Rollins and didn't get the opportunity was a slap to the face. Styles says that it wasn't a slap to the face, but "this is" and slaps him in the face. Corbin says that Styles will pay for that and goes away.
#6 Roman Reigns and Shane McMahon
Roman Reigns comes out and stands in the ring as if he is waiting for someone. He was waiting for Shane McMahon. He brags about beating The Miz last night before saying he can't forget about what Reigns did to his dad. Reigns challenges Shane McMahon to a match. Shane teases going to the ring before saying it won't happen tonight. He tells Reigns he is in control here and brings out Drew McIntyre. The match will happen but it will happen at Super Showdown and the first thing Roman will hear after the beating Shane will give him will be his name as the winner.
The Miz confronts McIntyre and Shane McMahon backstage. Miz asks Shane if he really thinks they're done. McIntyre says things have changed and he has to get through him first to get to Shane. Miz tells Shane that once he's done with McIntyre, he's coming after him.
#7 The Usos vs The Revival – Tag Team Match
Wilder knocks Jey off the apron and attacks Jimmy while he tries to take off his hoodie. The Revival take control and punishes Jimmy at the ringside. Back in the ring, they get a two count after a double team move. They keep Jimmy isolated while Jey recovers on the apron. Jimmy fights back and makes the tag. Usos hit a double superkick and send both members of the Revival out of the ring as we head to a break.
The Revival is keeping Jimmy in their corner until he manages to hit Dawson with an enziguri. Jey gets the hot tag and unloads on Wilder with a flurry of strikes. He takes out both opponents with Samoan drops. The Revival counter a superplex and hit a powerbomb/elbow drop combo for a near fall. Dawson and Jimmy trade punches for some time. Jey tags in for a double superkick but Wilder breaks the pin. Wilder takes Jimmy to the outside and Jey has to go outside to take care of him. Dawson rolls up Jey as he comes back to the ring. Jey comes back with a superkick to get a near fall. Dawson ends up stealing the win with a roll up.
Winners- The Revival
Backstage, Alexa Bliss tells Nikki Cross that she did a good job last night replacing her at Money in the Bank Ladder match but only that she did not win. Nikki starts explaining something to Bliss as the Revival interrupt them with their celebrations. Alexa and Nikki will co-host a Moment of Bliss tonight.
#8 A Moment of Bliss with Becky one Belt
Alexa Bliss and Nikki Cross come out and Bliss needs her coffee. Bliss is in her ring gear, so, this will definitely end up into a match. The backstage crew brought out two cups of Coffee that Bliss pours into one before calling out Becky Lynch. Alexa asks what it felt like to lose the SD title last night. Before the Man can respond, the IIconics come out and mock her for losing. Lynch tells them that she has defended her titles more times than two of them. She warns them that she will take their tag titles and become Becky 3 belts.
This brings out Lacey Evans who gloats that she is the reason Becky lost the SD title. Becky tells Lacey and the IIconics to get into the ring as she could knock their heads off. Lacey tells her that she is alone at which point, Nikki Cross offers to her partner. As they are still one short, Becky asks Alexa Bliss to join in and she only has to pose around as she and Nikki would take care of things.
#9 Becky Lynch, Nikki Cross and Alexa Bliss vs the IIConics and Lacey Evans – Tag Team Match
Becky and Billie start the match. Becky takes Kay down but Kay quickly tags in Royce to take her place. Royce takes Lynch down but Becky bridges up to her feet. Cross eventually tags in and takes control for a moment before Royce shoves her into a turnbuckle. The IIconics double team her for a moment. Evans tags herself in so she can take over while Nikki is already on the defensive. Bliss is drinking coffee at ringside. Cross takes a lot of punishment in the corner before Becky finally gets the hot tag. She takes it to everyone on the other team while Evans just walks away from the match. The Man hits Kay with a Bexploder and a flying dropkick. She hits a leg drop from the second rope for the pin and the win.
Winners- Becky Lynch, Nikki Cross and Alexa Bliss with a pinfall
#10 Bray Wyatt's Firefly Fun House
Another segment of Bray Wyatt's Firefly Fun House. We get the remixed version of the theme song this time and get the introduction of every character once more: Abby the Witch, Mercy the Buzzard, Ramblin' Rabbit, and Bray Wyatt. We also get to see some happy kids but their expressions changed and we see "LET HIM IN" written on their foreheads. Wyatt's new masked character is standing there and repeats 'Let me in'. That's it.
#11 Mick Foley unviels the 24/7 title
Mick Foley comes out and says Raw has been missing the R-A-W part of the show and it's time to get Raw again. Mick Foley unveils a new belt and says it is called the 24/7 title. It has literally 24/7 written on it. Part of the crowd boos since it is not called the hardcore title. Foley says a champion will be crowned tonight and the title can be won by anyone on any roster from RAW, SmackDown, NXT, 205 Live or NXT UK or by any of the WWE legend.
A ton of Superstars run to the ring to be the first person to grab the title to claim it as their own. Anderson and Gallows both grab the belt at the same time. EC3 knocks it out of their hands before No Way Jose takes him out. Titus O'Neil grabs the belt to become the champion. As he celebrates and runs up the ramp, Robert Roode rolls him up and get the three count from a referee to become a new champion. Soon enough all the other stars engaged in the scuffle chase him as he runs away to backstage. The referee takes the belt and follows them.
#12 Drew McIntyre vs the Miz
McIntyre hits the Miz with a chop to take him down. The fight goes outside and Miz goes after the leg of McIntyre. He manages to keep McIntyre on the defensive before McIntyre throws him across the ring with a belly to belly. He hits a vertical suplex and brings The Miz to his feet so he can inflict more punishment. Miz avoids a suplex out of the ring. He tries to powerbomb Drew but could only trip him on the apron. McIntyre drops him on the barricade and knocks him into the crowd before bringing him back to ringside with a suplex.
Miz hit a sunset flip powerbomb to avoid a superplex. Miz hits a few It Kicks and a hurricanrana. Drew avoids the Skull Crushing Finale and hits the reverse Alabama slam for a two count. Shane hits Miz behind the ref's back but he still kicks out at two. Miz locks McIntyre in the Figure Four. Drew chops Miz until he releases the hold. Miz sends him out of the ring and hits a dropkick through the ropes. He tries to go after Shane, but he runs away. He comes back and takes out Miz from behind while the ref is distracted. McIntyre nails him with the Claymore for the pin and the win.
Winner- Drew McIntyre with a pinfall
Shane McMahon asks Drew to set up Miz for Coast to Coast. Before he could, Roman Reigns enters to make the save. He hits McIntyre with a superman punch and Shane and McIntyre run away.
#13 Will Roode survive with his championship?
Backstage, the hoard of Superstars is still in chase of Robert Roode who have his belt now. He meets R Truth who helps him to hide inside the back of his car. Truth sends the chasers in another direction before asking Roode to come out. He brings out a referee from his car and crashes Roode into his car to get the pin. Truth gets into the car and drives away with the title belt.
#14 Kofi Kingston and Seth Rollins vs Baron Corbin and Bobby Lashley – No Disqualification Tag Team Match
Kofi enters first and is throwing around pancakes. Seth Rollins is attacked from behind by Baron Corbin and as Kofi Kingston rushes to save him, Bobby Lashley comes out and attacks him.
Kofi and Lashley are going at it as the bell rings. Kingston counters Lashley and hits a splash only for Corbin to break the pin. Rollins has already been taken out and he's struggling to get back up on the ropes. Seth Rollins gets slammed against the barricade by both Lashley and Corbin. Seth Rollins gets stopped in his tracks when attempting a suicide dive and slammed towards the timekeeper's area. Kingston is isolated.
Seth Rollins is back in it and he starts slamming a steel chair on both Lashley and Corbin. Corbin stops him but he eventually eats an enziguri while Lashley hits a superkick to the face. Corbin receives the same and Rollins now has all the momentum on his side. Bobby Lashley stops him but Kofi Kingston sends Lashley outside along with Corbin, allowing Rollins to hit a suicide dive. Kofi Kingston hits trouble in paradise and pins Corbin.
Winners- Kofi Kingston and Seth Rollins
Lashley spears Kofi and Rollins just after the pin. They send him out with a steel chair. Brock Lesnar's music hits and he comes out waving the MITB briefcase. Both Kofi Kingston and Seth Rollins are ready for him though. Lesnar retreats and Heyman tells him that next week, they'll announce to the world who they want to face and leave. Corey Graves comments that Lesnar has kept us on the edge for three hours for nothing.