WWE RAW Live Results and Updates- 11 March 2019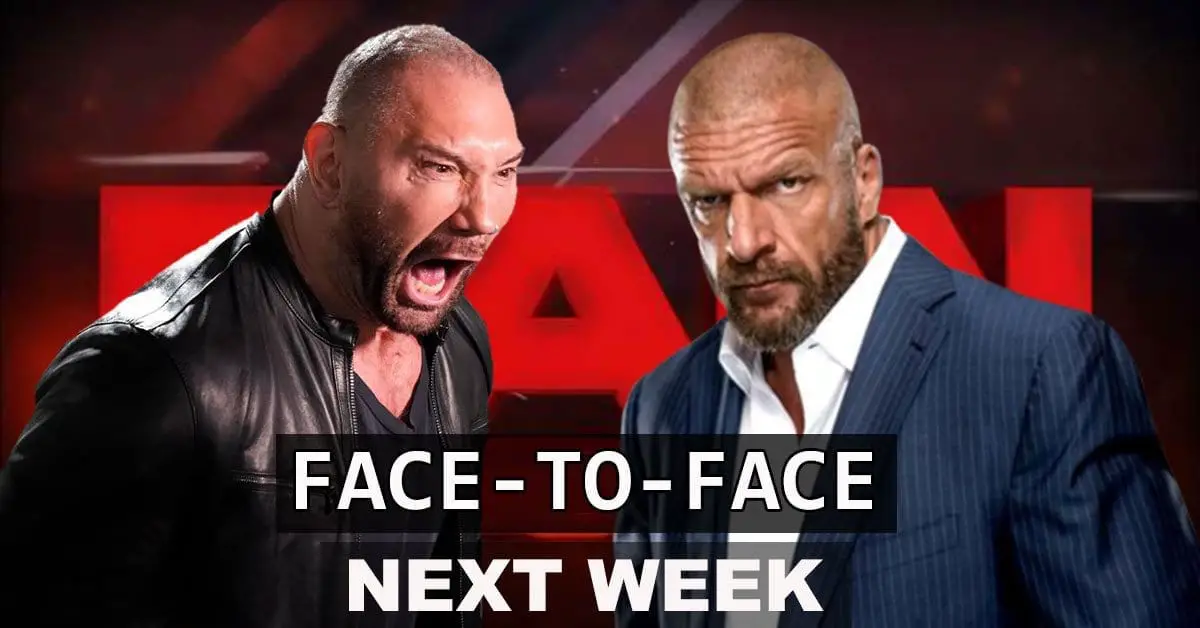 This week's Monday Night RAW will be live from PPG Paints Arena, Pittsburgh, Philadelphia and will deal with fall outs from last night's Fastlane event while also moving towards WrestleMania. Bautista is seen in the town in the day. So, his face off with Triple H will now happen after a week's delay. Finn Balor will defend the Intercontinental Championship against Bobby Lashley while we will see more from the Shield and other storylines. You can check the complete preview here. We will bring all the action as the show will proceed. Please keep refreshing the page for the latest updates.
1. The Shield's Farewell!
Raw opens with The Shield entering through the crowd for their farewell address. Reigns say that the last few months taught him that life is short, and tomorrow isn't guaranteed. If last night was the last time, then there are no regrets. He thanks Rollins and Ambrose for having his back. Reigns have not had a singles match in months, and he plans to change that. Reigns said that Ambrose has a business to take care of too, and he has no idea what that is. He tells Rollins that at WrestleMania, he's going to burn it down.
2. Seth Rollins-Paul Heyman Promo!
Reigns and Ambrose leave so Rollins can talk about WrestleMania and appears Paul Heyman. They trade some verbal jabs and Rollins says Lesnar has been having a harder time beating people who are of his size like AJ Styles, Daniel Bryan, and Finn Balor and he is going to capitalize over that. Heyman gives excuses for the times he nearly lost, saying that when he faced Styles, he was preparing for Jinder Mahal. When he was preparing for AJ Styles, he faced Daniel Bryan. And when he was preparing for Braun Strowman, he got Finn Balor. Heyman continues saying that Lesnar had no time to prepare for his recent opponents and that is why they did well against him. He gives us another special video about Lesnar. As Rollins is focused on Heyman, Shelton Benjamin appears out of nowhere and delivers a series of German suplexes to Rollins. Shelton Benjamin was Brock Lesnar's partner in OVW wrestling.
3. Seth Rollins vs Shelton Benjamin
The match starts as we return from the break. Shelton takes down Rollins and mocks him a bit. They lock up again and Benjamin counters a headlock to take Seth down again. Rollins backs Benjamin to the corner and hits a blockbuster from the middle rope. Seth avoids a German suplex by flip and goes for a suicide dive, but Benjamin hops onto the apron and hits a knee to the face.
Benjamin throws Rollins from barricade to apron several times. Heyman in the commentary admits he paid Benjamin to attack Rollins. He also informs that Lesnar will be at RAW next week. When they get back in the ring, Rollins begins to make a comeback. He hits a springboard clothesline for a near fall. Shelton tries to hit an F5 but Rollins counters and hits the Stomp for the pin and the win.
Winner- Seth Rollins with a pinfall
Roman Reigns vs Baron Corbin is mentioned for tonight.
4. Finn Balor(c) vs Bobby Lashley – Intercontinental Championship Match
Lashley starts by planting Balor in the middle of the ring before he takes him to the corner. After a blow at the back of the head, he holds Balor in a chin lock. Balor hits a dropkick after a lariat but Lashley quickly takes back the control by putting Balor in the corner. Balor goes for the enziguri at the apron but Lashley counters. Lashley goes for the suplex at the apron but Balor counters and dropkicks him to send him at the ringside. Balor then hits a running kick as we head to break.
Back from the break, Lashley has Balor in a chin lock. During the commercial, Lashley has sent Balor into the barricades, ribs first. Lashley goes for the powerbomb but Balor counters. Lashley hits a side slam on the apron and gets a near fall. After a punch, Lashley puts Balor in a shoulder stretch. Balor comes back with some high flying moves and then counters Lashley to hit a stomp. Lashley sends him into the corner with a shoulder block. Balor rolls up Lashley to get a nearfall. Lashley sends Balor into the turnbuckle face first but Balor counters with a dropkick. He was going up for the Coup De Grace when Lio Rush rings the bell and distracts Balor. The referee asks Balor to continue and Balor fights with Rush at the apron. As he goes for the springboard, Lashley hits a spear and gets the pin to win the championship.
Winner- Bobby Lashley with a pinfall
5. Why Ronda caused the DQ?
Ronda Rousey heads out and we get the recap from Fastlane last night where Ronda caused the DQ to give a win to Becky. She starts by asking the crowd to shut up and that everyone booing her is cowards who are hiding in the crowd. She caused DQ last night because she wants to expose both Becky and Charlotte at WrestleMania and that anyone who believes in their charades is a fool. She will embarrass and humiliate both Becky and Charlotte and move out of WrestleMania as still the RAW Women's Champion.
Dana Brooke comes out to stand up to Ronda and she won't let Ronda disrespect WWE, WWE Universe, Female Locker Room. Brooke says that she is not a household name and she is not on TV for a few weeks but all she needs is a chance. She reminds Ronda that she usually throws an open challenge the night after a PPV and that she accepts the challenge. Ronda has had enough. She hits Brooke with a kick in the midsection. Brooke moves out of the ring but Ronda brings her back and hits the Piper's Pit. She was going for the armbar but several referees appear to stop her. A referee eats a punch from Ronda before she leaves after picking up her title belt and jacket.
6. Aleister Black and Ricochet vs Booby Roode and Chad Gable – Tag Team Match
Black and Gable start with punches and Gable quickly tags in Roode. Black backdrops Gable out of the ring but Roode plants him with spinebuster. Gable gets slammed by Roode onto Black, and Gable makes a quick tag back and keeps pressure with an arm stretch until Roode is tagged back in. Roode hits a backbreaker before putting in a chin lock. Black powers out of it and tags in Ricochet. Forearm on Roode, swing blade on Gable, another clothesline on Gable. Gable makes the blind tag and grabs him for a German suplex while Roode hits a blockbuster at the same time. Ricochet and Roode trade near falls before Black tags in and hits a kick to the head. Ricochet hits a GTS on Roode and takes out Gable with springboard kick at the apron while Black hits Roode with Black Mass for the win
Winner- Ricochet and Aleister Black with a pinfall.
As the winners were leaving, the Revival attacks them from behind at the ramp.
7. A Moment of Bliss at WrestleMania
Bliss says that one billion fans have been buzzing all night to know the host of WrestleMania. She recounts Kim Kardashian, the Rock and the New Day as the previous hosts and introduces us to the host for this year. And that is Alexa Bliss herself. She acts like she is on an award show and says that it is such as honour for WWE that she is hosting WrestleMania this year. Someone in the crowd yells- 'You deserves this' and Bliss says, 'ya, she does' and leaves after that.
8. A Gift for Strowman!
Caruso asking Strowman whether he was right in jacking up the SNL host Collins by his neck. He was saying he has no regrets doing that when an agent comes to Strowman and tells him that his car is here. After the break, we see Strowman standing beside a brand new car gifted to him by Colin Jost on behalf of SNL. He asks him not to treat it like Mr. McMahon's limousine because there are no title matches to screw him out of. Strowman gets pissed off and rips the car into shreds and hands the broken door to the agent, telling him to send it to Colin Jost and tell him that the two of them will "Get these hands" at WrestleMania.
9. Pittsburg walks with Elias
Elias is in his hometown, starts by saying that Braun might not have appreciated the gift from Collins but the crowd will appreciate his gift. He says he pledged not to come back to his hometown of Pittsburgh until he was a star, and here he is. He then goes on to piss off the crowd again, as usual, referencing things about Pittsburg and Antonio Brown. No Way Jose and his congo line interrupt him and Elias decks him to the floor before hitting Drift Away at the ramp.
Lacy Evans comes out for the customary ramp walk. She says something to Corey Graves and it seems like they may have teased some angle between them. As she goes back, Nia Jax and Tamina comes out and have a staredown with Evans at the entrance.
10. Nia Jax vs Natalya
Natalya comes out and says that no one ever has her back in reality. She thought Ronda is with her but she turned out to be different but there is one person who always backed her and that is Beth Pheonix. Pheonix escorts Nattie to the ring.
Natalya starts the match with a forearm but Jax levels her with a clothesline. She continues her attack but soon enough Beth Pheonix comes into the ring and attacks Nia to cause a DQ. Tamina also comes in the ring but Beth sends her out of the ring with a forearm.
Winner- Nia Jax with a disqualification
Sasha Banks and Bayley attacks Nia and Tamina backstage and some referees and backstage crew separate them.
11. Hunter-Animal Faceoff!
Some luxury cars arrive at the arena and Bautista comes out of one of them. After the break, Hunter makes his way to the ring. He is not in the suit but in jeans and jacket. He waits for the animal as crowd chants, 'Bautista!'. The Animal comes out with a mic and stands at the entrance waiting for his personal security. Hunter asks Bautista to come to the ring and whether the security is for Hunter's protection. Bautista replies that the security is there since he is not stupid and learned from the two of the dirtiest stars in WWE- Hunter and Ric Flair. Bautista tells Hunter to give him what he wants and he will leave but Triple H says he won't give anything to him just because he has become a Hollywood star and if he will not come to the ring, he will walk past the Guardians of the Independent or whatever his security is called to get to him. They go back and forth with Bautista asking for the WM match while Hunter keeps telling him to come to the ring until Hunter gives in and agrees to the match. Bautista thanks Hunter to end his career at WrestleMania and says that he will also end Hunter's career at WrestleMania. Bautista was about to leave when Hunter calls him back and tells him that the match will be No Holds Barred.
12. Kurt Angle announces retirement!
He says, "years ago he left Pittsburgh to the Olympics and won the Gold Medal with a broken freaking neck." He announces that at WrestleMania he will compete at his farewell match and says thank you to the WWE officials, superstars and fans to make his career so memorable. He says he wants one last match in his hometown and Apollo Crews comes out for the match.
Crews take down Angle before Angle counters and put him on in an arm stretch. After coming to a stalemate in the corner, Angle hits a belly to belly suplex before Crews takes over the control. Angle hits triple German suplexes but Crews kicks out at two. Crews hit a step-up enziguri and go to the top. He misses the splash as Angle moves away. Angle slam on Crews to get the pin.
Winner- Kurt Angle with a pinfall
13. McIntryre attacks Roman Reings!
Roman enters for his match against Corbin and was gracing the audience response when Drew McIntyre attacks him from behind. After some punches, Drew sends him to the ring post. As the action moves out of the ring, Reigns tried to come back but Drew hits a Claymore Kick. Drew waits for Roman to get up and hits another Claymore Kick. Some referees come out to stop McIntyre while a doctor checks Roman. Seth Rollins also comes out after things get cool down to check on Roman. Rollins helps Roman to get to the back.
Ambrose joins them backstage and asks Roman to get himself checked. As Roman and Rollins get into the trainer's room, Ambrose goes to Triple H and asks for no DQ, falls counts anywhere match against Drew McIntyre. Hunter agrees to his demands and Ambrose moves towards the ring.
14. Dean Ambrose vs Drew McIntyre
McIntyre comes out with mic, asking if Ambrose is going to take the beating like a man or crumble like his brother, Roman Reigns. Dean attacks him at the ramp itself. They continue to fight amidst the crowd as Ambrose keeps control with some huge blows. McIntyre finally gets some blows going as he strikes Ambrose face into the steel railing. He sends Ambrose to face first into the barricade. McIntyre is trying to throw Ambrose into the fans, but Ambrose bites his hand and jumps onto him with forearms. Dean Ambrose and Drew McIntyre move down, and it's revealed that in the break, they went into the concession stand to brawl. They're back ringside and McIntyre slings Ambrose on the padding outside. McIntyre goes for the pin outside but fails to get it. The Scottish Terminator hits a belly to belly suplex on the floor before grabbing the steel steps and using them as a weapon. He hits Dean with the steps a second time but still can't keep him down for a pin. Ambrose hits a low blow to give himself some breathing room. He jumps on McIntyre and beats him down. McIntyre tries to torture Ambrose, who hits him right down in the nether region. McIntyre dumps a few chairs onto Ambrose. Ambrose places McIntyre onto the carrier box and sends it crashing into the other to disorient McIntyre. McIntyre clears the announce table but Ambrose avoids a side suplex. Ambrose places McIntyre on the table and he then takes a low blow. McIntyre shoves a pencil into Ambrose's eyes. Ambrose gets thrown in head first to the screen twice. Ambrose eats a claymore kick with his head trapped in a railing. Ambrose gets pinned down behind the commentary desk.
Winner- Drew McIntyre with a pinfall
All this punishment near the commentary desk was happening right in front of Renee Young all this time. Dean Ambrose tries to stand up once again only to be hit by one more Claymore Kick to close the show.