RAW Preview- 13 May 2019: MITB Exhibition
This is the preview for RAW 13 May 2019 episode with the segments advertised from WWE.
Date: 13 May 2013, 8/7 PM EST
Location: The O2 Arena, London, England
Double contract signing for Becky Two Belts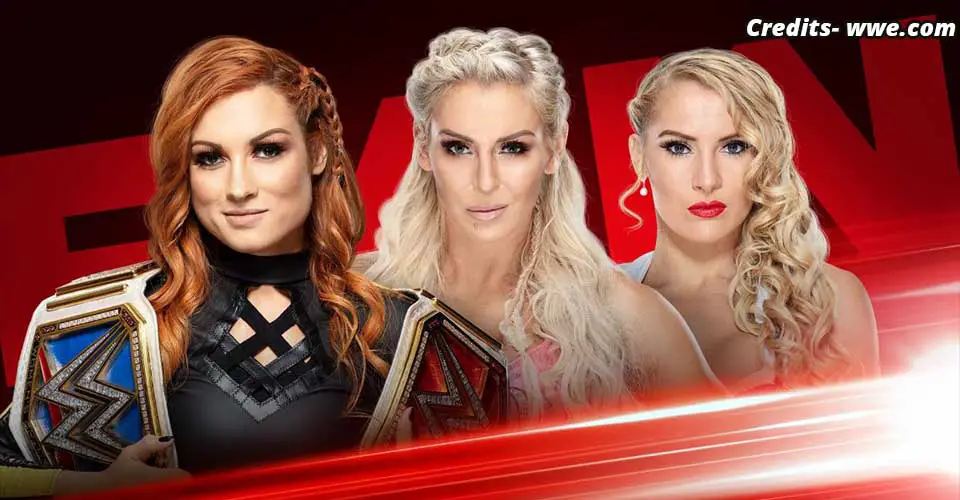 At the go home show for Money in the Bank, Becky Two Belts will get the double contracts signed. Both Charlotte Flair(as per wildcard rule) and Lacey Evans will have a simultaneous face-off with their opponent at Money in the Bank and there was never a situation with such odds against Becky Lynch. Should we be ready to see Becky taking a beating or will she dominate both of them?
Roman Reigns returns for "Miz TV"
Elias and Shane McMahon have formed a partnership and by the looks, it looks like their opponents at Money in the Bank are also going to form one as Miz will host Roman Reigns at the Miz TV. Just hope it does not turn into another tag team match between the pairs.
Women's Fatal 4-Way Match for "Money" momentum
WWE has not built the Money in the Bank matches that much but just before the show, there will be three matches on RAW itself. First of them will be between the RAW side of Women participants- Naomi, Alexa Bliss, Natalya and Dana Brooke. Although the match might not mean so much more than a psychological misdirection.
Ricochet takes flight against Baron Corbin
Just like women, Men MITB match participants will also face off but in separate matches. First such match will be between Ricochet and Baron Corbin. With the pairing, it seems writing is on the wall for Ricochet. WWE is building Corbin for some time and it seems highly unlikely that he will get a win here.
Braun Strowman locks up with Drew McIntyre
The other MITB exhibition match is the battle of monsters- Braun Strowman and Drew McIntyre. Don't expect this match to reach a conclusion.
Seth Rollins and AJ Styles brace for monumental title collision
Tension has been brewing between Seth Rollins and AJ Styles ever since their match was announced for MITB. AJ seems to be leading towards a heel turn but will it come this week? Or will it come at the MITB itself? And how will Rollins respond to Styles' betrayal from last week during their tag team match?
Rambling Rabbit rambles no more
Bray Wyatt's Firefly Fun House is the best thing about WWE programming in the last three weeks. Time and again Wyatt has shown us that despite his promises that he is a changed man, he keeps showing us the maniacal side of himself. The more pertinent question is: when will he return to WWE in person? Money in the Bank seems to be a logical point.
PPV Preview Chronology