WWE RAW Matches & Preview- 28 October 2019
Check out the preview and matches announced for the WWE Monday Night RAW episode of 28 October 2019 (10/28/2019).
Date- 28 October 2019
Time- 8 PM EST(29 October 2019 12 AM GMT/5:30 AM IST)
Location- Enterprise Arena, St. Loius, MO, US
Seth Rollins vs Erick Rowan – Falls Count Anywhere Match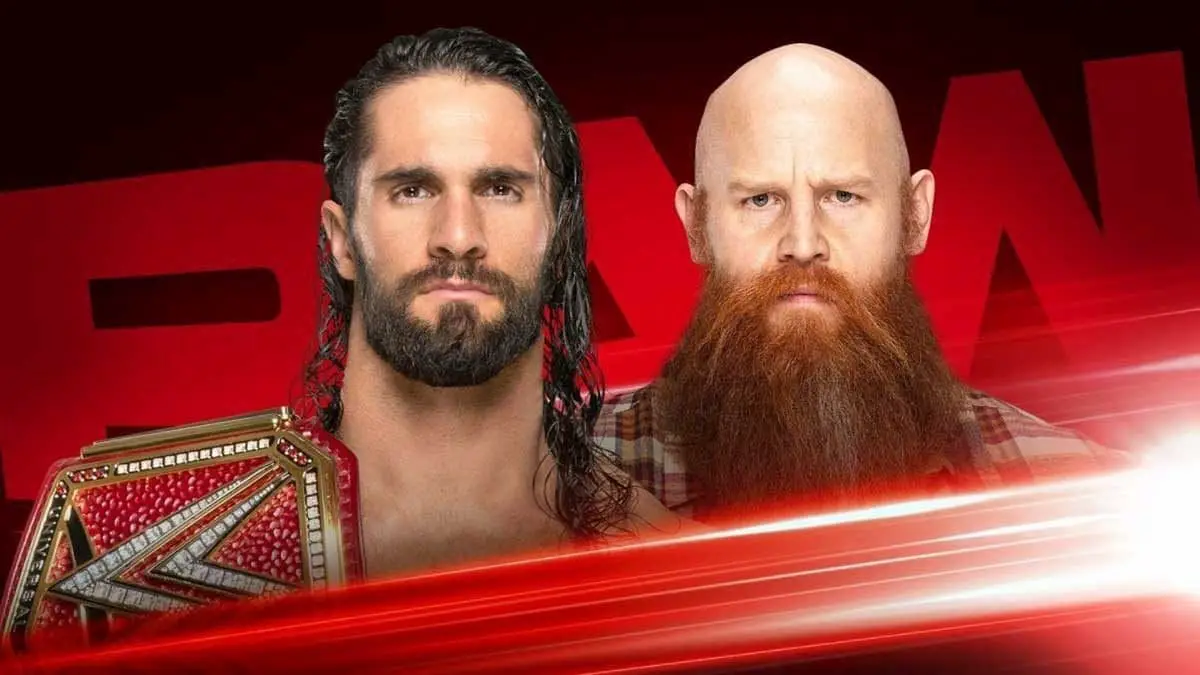 Erick Rowan had an eventful last few months where he transitioned from Daniel Bryan's sidekick to the main villain on his own against Roman Reigns. He also reunited with his Bludgeon Brothers teammate Luke Harper. But that reunion was short-lived as they are on different brands now. With a new start on RAW, Rowan will face the WWE Universal Champion Seth Rollins in a Falls Count Anywhere match.
It is not clear whether this is the start of a new rivalry. But the Falls Count Anywhere stipulation will also be there in Rollins' match at Crown Jewel against the Fiend. So, maybe this match will set up how the match vs the Fiend would end.
Becky Lynch vs Kairi Sane
While Becky's double title reign started on an underwhelming feud against Lacey Evans, she started getting that momentum back with the rivalries against the Natalya and then Sasha Banks. Her recent feud is against Asuka, who has held a better record against Becky and remains the only woman to force Becky to submit in the last one year. But before that, Becky will have to get through another excellent performer in Kairi Sane. Sane has shown flashes of her abilities since coming to the main roster, but this match could grant her the opportunity to unleash her full talent. I am already excited for this contest.
Rusev and Lana in Divorce Kings' Court with Jerry Lawler
It's another fidelity storyline in WWE and another one between Rusev and Lana. And they are heading for a Divorce apparently. So, Jerry Lawler's King's court will turn into the Divorce(King) Court. There have been more absurd ideas in WWE.
Drew McIntyre vs Ricochet
Ricochet and Drew McIntyre will once again battle at RAW this week. Ricochet defeated McIntyre in the first round of 2019 King of the Ring Tournament. McIntyre returned the favor last week by defeating Ricochet upon his return last week. With both men at one win apiece, they will once again show face-off at RAW this week with some bragging rights on stake for their respective teams(Team Hogan and Team Flair).
Hulk Hogan and Ric Flair to Appear
Hulk Hogan and Ric Flair will continue with their series of appearances on RAW this week to hype the match at WWE Crown Jewel 2019. Crown Jewel will feature a 10 men tag tea match between Team Hulk Hogan and Team Ric Flair, with both legends working at the coach for the respective teams.