WWE RAW Live Results- 14 Sept 2020: In Your Face Edition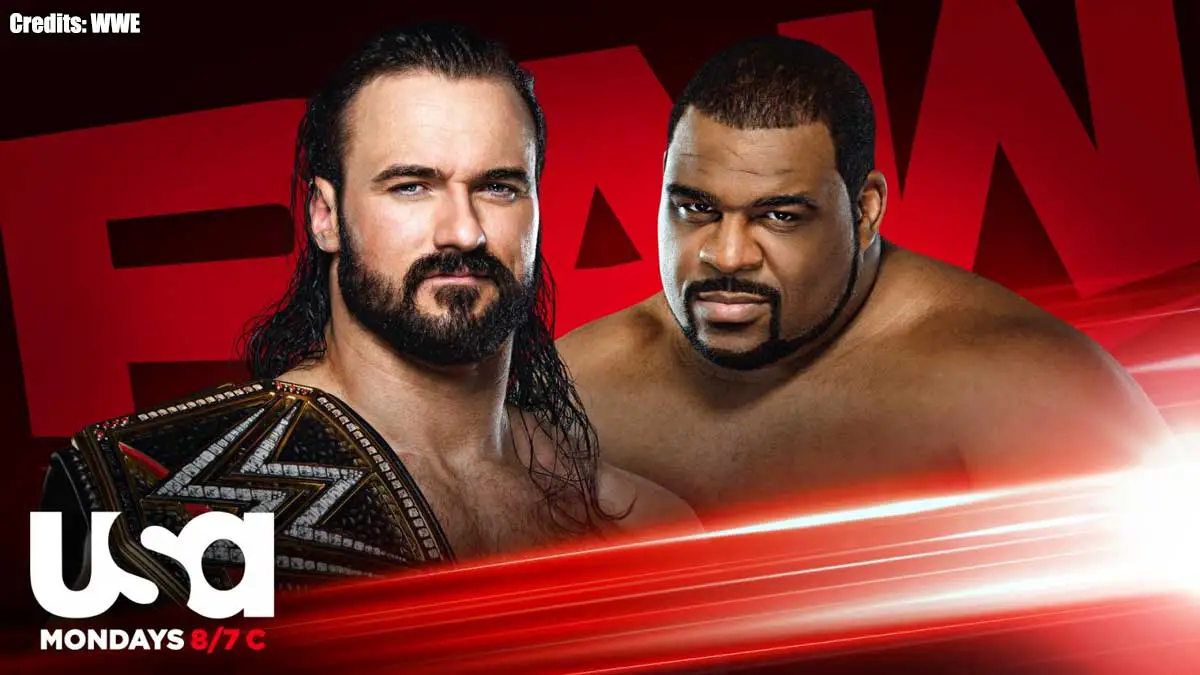 After using the same tactics with recent PPVs, WWE is now advertising this week's RAW episode with the tag line "In Your Face." What this tag line will mean in terms of the storyline from the episode? Let's preview.
Location– Amway Center, Orlando, FL, US
Start Time– 8 PM EST(15 September 12 AM GMT/5:30 AM IST)
WWE Champion Drew McIntyre opens the show with a promo. He addresses how Randy Orton and he had sent each other to hospital in last few weeks and their match at Clash of Champions should be an ambulance match. Adam Pearce interrupts and tell him Orton may not be cleared for COC. If Keith Lee defeats McIntyre tonight, he will replace Orton at Clash of Champions in case he is not able to compete. Lee comes out to the ring and has a tense moment with McIntyre.
The Street Profits defeated Cesaro & Shinsuke Nakamura after a top rope splash from Montez Ford on Cesaro.
Backstage, Angel Garza is flirting with Lana when Zelina Vega walks up and starts arguing with him. Andrade and Garza turn to brawling before we cut for the break.
Cedric Alexander defeated Ricochet with a surprise Lumbar check to get the pin.
RETRIBUTION appears on the big screen to cut another promo against WWE being a corrupt machine and not giving them a proper opportunity. They declare and confirm themselves to be Retribution.
Mickie James gets an interview backstage and talks about how this could be her last opportunity at RAW Women's Championship.
MVP and Lashley tell Adam Pearce to upgrade the security to deal with RETRIBUTION and warns him about the consequences.
Asuka defeated Mickie James to retain WWE RAW Women's title. The finish was abrupt as the referee declared James could not continue after Asuka lock.
After that match, Zelina Vega comes out and rants about wasting her best years managing two selfish men- Andrade and Garza. She tells Asuka how she has wasted the title and she is coming after her. Asuka also fires back in Japanese as we cut to commercial.
Keith Lee is in a backstage interview where he terms Drew McIntyre a good friend and does not want to take advantage of his jaw injury. But he still wants to be WWE Champion.
Bobby Lashley defeated Erik in a short match with a submission from Full Nelson.
Kevin Owens cuts a promo against Aleister Black whom he will face later tonight.
Braun Strowman shows up at RAW and confronts Shane McMahon. Strowman is going to RAW Underground.
Seth Rollins and Murphy are at backstage. They discuss what the Mysterio family did to Murphy last week and Rollins tells him it is all in past. Rollins asks him to be ready for tonight when Rollins faces Dominik. Rollins smacks on Murphy's face and shouts at him to not commit any mistake.
Seth Rollins defeated Dominik in a steel cage match, getting the pin after the stomp. During the match, Murphy ends up smacking Rollins in the face with the steel gate when he tried to prevent Dominik leave the cage.
After the match, Rollins slams Murphy into the cage and then into the barricade before beating him up some more.
RAW Underground: Dolph Ziggler gets better of some enhancement talent. Riddick Moss comes up and start brawling with Ziggler. Braun Strowman comes to the ring and runs over both of them.
Drew McIntyre is backstage for an interview. Keith Lee comes up to and the argument turns into a brawl.
RAW Underground: Titus O' Niel is pumped up and wants to enter underground. Strowman dominates over Riddick Moss. Titus attacks Strowman next and gets overwhelmed.
Kevin Owens defeated Aleister Black after lights started flickering in the arena and Owens takes advantage to hit a stunner.
Another brawl breaks out between Drew McIntyre and Keith Lee. Adam Pearce comes up and stops them and threaten to cancel their match if they don't.
The Riott Squad defeated Natalya & Lana in a short match. After the match, Shayna Baszler and Nia Jax beat up Natalya and Lana.
RAW Underground:
Raw Results Chronology