WWE Power Rankings: 17-23 Feb 2019
In a PPV week, the rankings generally gets loopsided with performances at PPV, but here we are with some pleasant surprises for the week of 17-23 February 2019.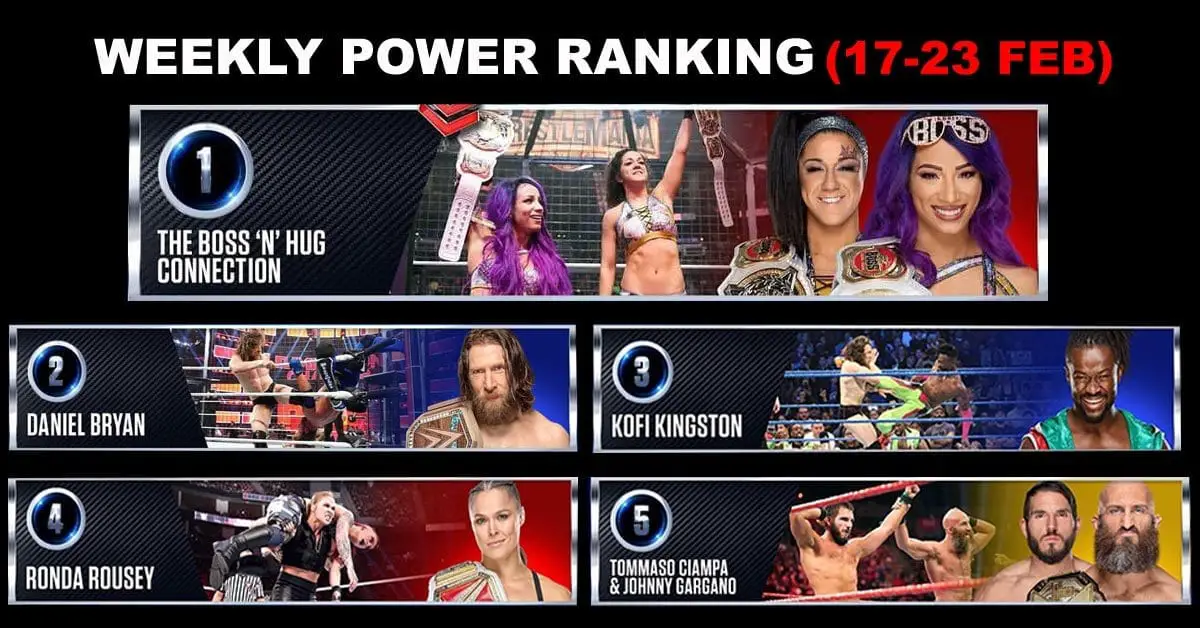 5. Tommaso Ciampa and Johnny Gargano
DIY duo reunited on their RAW and SmackDown debut and went on to get two emphatic victories over two solid teams in the main roster. First were the RAW Tag Team Champions and their old Rival from NXT days, the Revival while the other were ex-SmackDown Tag Team Champions the Bar. Although they are eventually going towards a breakup again soon, it was fun while it is going to last to see them together.
4. Ronda Rousey
Ronda Rousey managed to beat Ruby Riott twice in two days to defend her title. She literally squashed Ruby in their match at Elimination Chamber when he was able to get the win in under 2 minutes. However, Becky Lynch did beat the hell out of her and on the next night, Ruby was able to put in a much better performance to trouble Ronda. But in the end, Ronda prevailed and has her eyes set on Wrestle Mania.
3. Kofi Kingston
What a week it was for Kofi since he replaced Mustafa Ali in the Chamber match. That marathon performance in the Gauntlet match had fans reeling for more. From then onwards, his performance in the Elimination Chamber match and then pinning Bryan again this week, are all due to the reaction from that Gauntlet match. WWE would never have imagined fans getting behind him so much that they now have to rethink the Wrestle Mania card for WWE Championship match.
2. Daniel Bryan
And the man who Kofi has managed to pin twice but on wrong matches, Daniel Bryan has managed to hang on to his title for now despite the Kofimania. He might be portrayed as the heel for now, but his in-ring work is as good as always and fans still get behind him when he gets going. Everyone would be eagerly waiting for his clash with Kofi in the singles match at Fastlane.
1. The Boss N Hug Connection
Sasha Banks and Bayley were the most deserving of becoming the inaugural Women's Tag Team Champions among the teams present inside the chamber. And on top of that, the women's division managed to put on a better match in the Chamber than the Men's Tag Team match in 2017. Sasha and Bayley will be defending their title against the RAW, SmackDown and even NXT roster and they seem ready for the challenge.