Pat McAfee v Austin Theory Added to WWE WrestleMania 38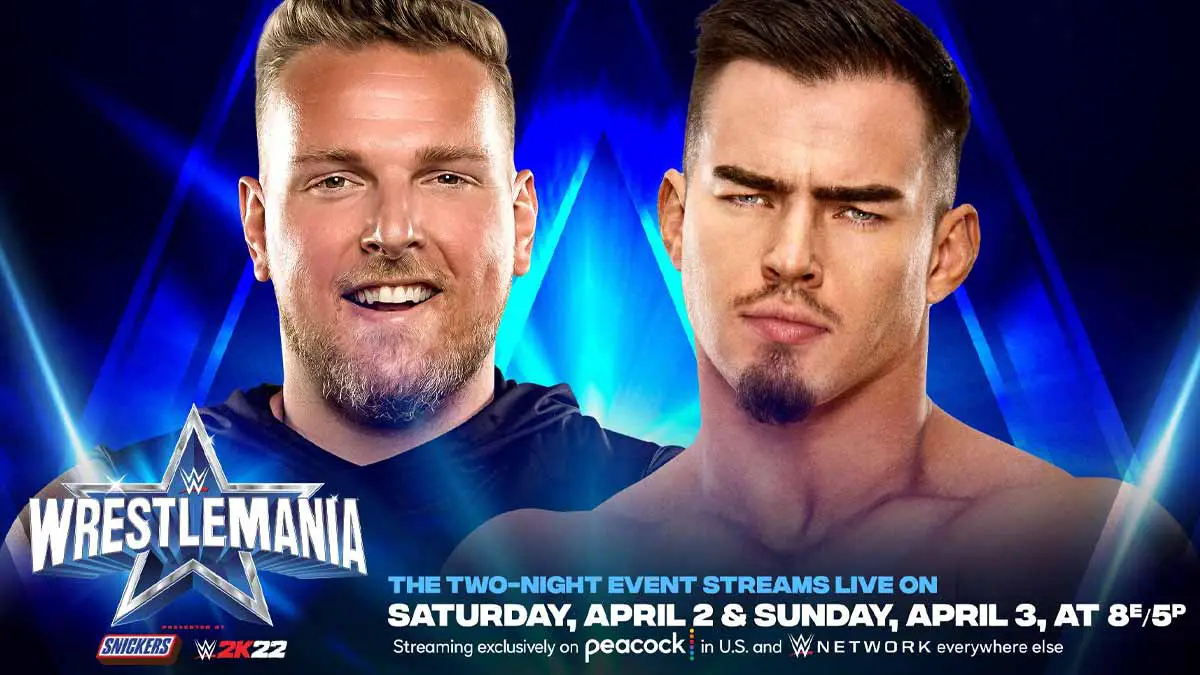 Austin Theory will face Pat McAfee at WWE WrestleMania 38.
WWE President Vince McMahon offered McAfee a match at this year's WrestleMania when he appeared on his show for an interview. Although, his opponent was not revealed at the time.
On last night's SmackDown, RAW star Austin Theory appeared on SmackDown and revealed that Vince McMahon has chosen him to be McAfee's opponent. Theory also said that Mr. McMahon suckered McAfee into this match. He also claimed that he will beat McAfee to a pulp at WrestleMania. Theory went on to slap McAfee before leaving.
This brought out an irate response from McAfee who hurled explicits on the commentary towards Theory's behavior. The match was later confirmed by WWE for WrestleMania 38. However, it is not revealed on which night – Saturday or Sunday – will the match take place.
Austin Theory has been working as Vince McMahon's protege since the turn of this year. McMahon was seen mentoring him on WWE RAW over several weeks in backstage segments. Theory also offered to accompany McMahon to the Pat McAfee show as his muscle. McMahon, however, declined him saying that it will not be required.
Pat McAfee has previously wrestled in NXT twice as he feuded with Adam Cole in 2020. He lost to Cole in a singles match at NXT TakeOver 30 while the Undisputed ERA also defeated McAfee's team in the WarGames match.
Keep tuned in for the latest news and updates from WWE.