GCW & JCW Jersey J-Cup Session 1 & 2 Results, Match Card, Time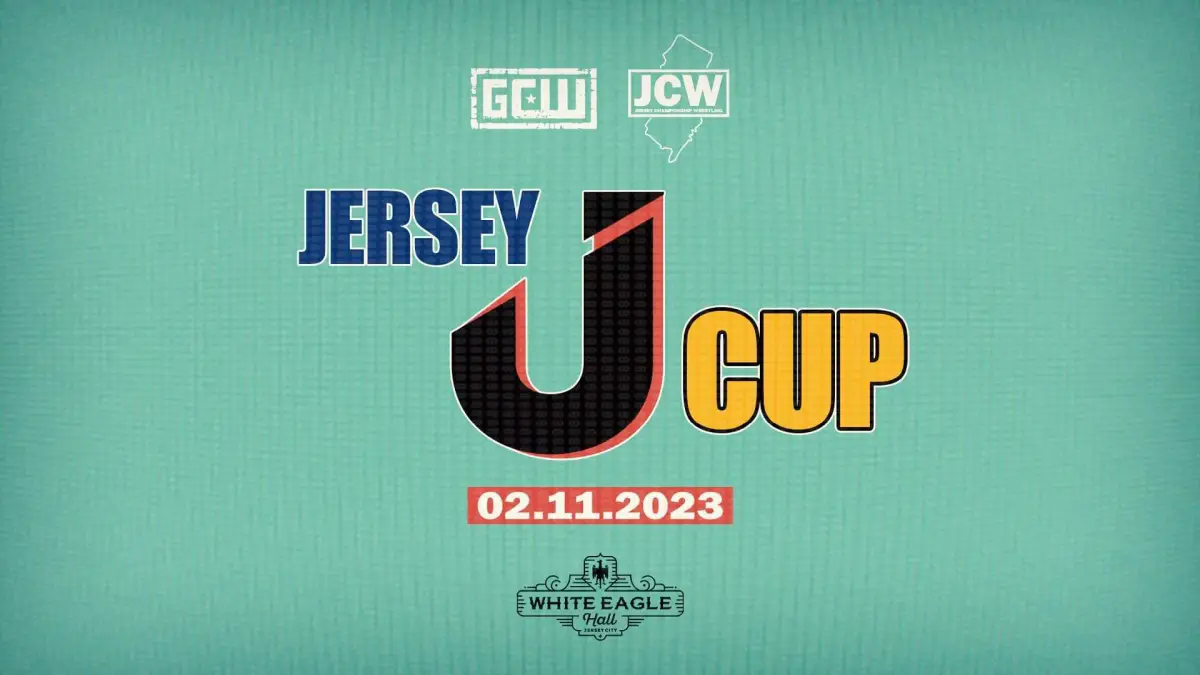 GCW & JCW presented the annual Jersey J-Cup 2023 session 1 & session 2 events on February 11, 2023. Session 1 featured the first-round matches of the tournament. Session 2 featured quarterfinals, semifinals and final match of Jersey J-Cup Tournament 2023.
7 singles matches were booked for round 1 along with a 6-way scramble. The winners of these matches qualified for the quarterfinals of the Jersey J-Cup tournament 2023. The singles match included Jonathan Gresham vs Mike Bailey, Billie Starkz vs Charles Mason, Joey Janela vs Starboy Charlie, and Tony Deepen vs Lio Rush.
Blake Christian vs Alex Price, Arez vs Komander, and Alex Shelley vs Jordan Oliver were the other singles match. The six-way scramble featured Yoya, Cole Radrick, Dante Leon, Dyln McKay, Marcus Mathers and Jack Cartwheel.
Session 1 started from 2 PM ET onwards on Fite TV. Session 2 started from 8 PM ET. Scroll below for results from GCW & JCW Jersey J-Cup 2023 session 1 & session 2 with match card, start time, match card and more details.
RESULTS
Session 1
Jordan Oliver def. Alex Shelley – Jersey J-Cup 2023 First-Round Match
Cole Radrick def. Yoya, Dante Leon, Dyln McKay, Marcus Mathers & Jack Cartwheel – Jersey J-Cup 2023 First Round Six-Way Scramble Match
Joey Janela def. Starboy Charlie – Jersey J-Cup 2023 First-Round Match
Blake Christian def. Alec Price – Jersey J-Cup 2023 First-Round Match
Lio Rush def. Tony Deppen – Jersey J-Cup 2023 First-Round Match
Charles Mason def. Billie Starkz – Jersey J-Cup 2023 First-Round Match
Mike Bailey def. Jonathan Gresham – Jersey J-Cup 2023 First-Round Match
Komander def. Arez – Jersey J-Cup 2023 First-Round Match
Session 2
Mike Bailey def. Komander – Jersey J-Cup 2023 Second Round Match
Jordan Oliver def. Charles Mason – Jersey J-Cup 2023 Second Round Match
Joey Janela def. Lio Rush – Jersey J-Cup 2023 Second Round Match
Blake Christian def. Cole Radrick – Jersey J-Cup 2023 Second Round Match
Jordan Oliver def. Joey Janela – Jersey J-Cup 2023 Semi-Final Match
Mike Bailey def. Blake Christian – Jersey J-Cup 2023 Semi-Final Match
The SAT def. Jimmy Lloyd & Marcus Mathers, Alec Price & Dante Leon, Brat Pack (Billie Starkz & Starboy Charlie) – 4 Way Tag Team Match
Jordan Oliver def. Mike Bailey – Jersey J-Cup 2023 Final Match