Brock Lesnar Returns To Put Seth Rollins in the Hospital
WWE Universal Champion returned to RAW this week and attacked Seth Rollins, his opponent for SummerSlam, in a brutal manner, so much so that Rollins had to be sent to hospital.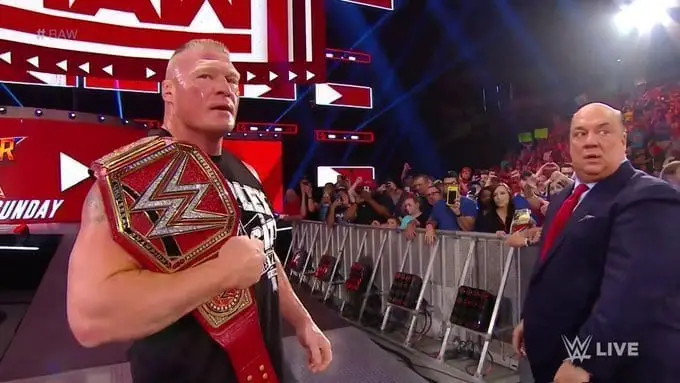 This week at Raw, Seth Rollins was facing Dolph Ziggler to avenge the attack on Shawn Michaels by Ziggler. However, the Architect's match with Ziggler was cut short by a surprise return from Universal Champion Brock Lesnar. The Beast Incarnate entered the ring and was aided by Dolph to get his first move on Rollins.
Lesnar wasted little time in sending Rollins to the floor with a series of suplexes, before delivering a nasty-looking F5 into the ring post. Lesnar then rolled him back into the ring and delivered not one, not two, but three even more brutal F5s sending Rollins into a steel chair ribs-first. The beatdown was so brutal that Rollins started coughing out blood in real. Lesnar only stopped the beatdown when Paul Heyman started begging him.
Seth Rollins was escorted backstage on a stretcher and put inside an ambulance to be sent to the hospital, as his girlfriend Becky Lynch and former SHIELD partner Roman Reigns looked on. Just moments later, a wild brawl started as The O.C. and Samoa Joe proceeded to attack Roman and the Usos. Meanwhile, Lesnar returned to stop the ambulance and rolled out Rollins from it. Then, Lesnar delivered one more F5, sending Rollins into the stretcher.
Seth Rollins is set to face Brock Lesnar in an attempt to reclaim the WWE Universal Championship at SummerSlam. The show is scheduled for 11 August 2019 at Scotiabank Arena, Toronto, Ontario, Canada.
Seth Rollins Health Update from WWE
WWE has posted on their website that Seth Rollins is reportedly undergoing a series of evaluations and we will have more details as they become available.