Becky Lynch-Ronda Rousey-Charlotte Flair WrestleMania 35 Complete Storyline
This is the complete storyline for the Becky Lynch vs Ronda Rousey vs Charlotte Flair, RAW Women's Championship and SmackDown Women's Championship- Winner Takes all Match at Main Event of WrestleMania 35.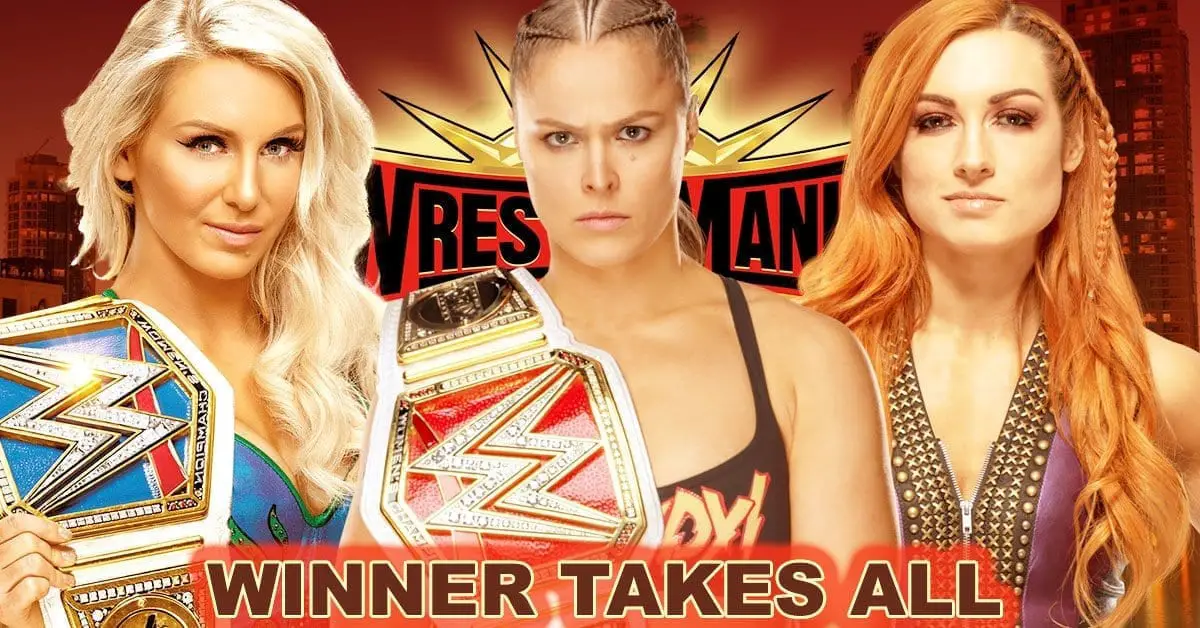 #1 Survivor Series 2018: At Survivor Series, Becky Lynch, SmackDown Women's Champion at the time, was to face Ronda Rousey who was the RAW Women's Champion. But Becky got into a Locker Room Brawl and ended up with a concussion and a fractured nose which deemed her unfit to compete in the match. Charlotte Flair replaced her in the match which Ronda Rousey won.
#2 Tables, Ladders, Chairs 2018: Becky defended her title against Asuka and Charlotte Flair in a Ladder's match. As Charlotte and Becky were on the Ladder, going for the title belt, Ronda Rousey interfered in the match and tripped the ladder. Becky and Charlotte became incapacitated and Asuka became the SmackDown Women's Champion.
#3 Royal Rumble 2019: Becky Lynch lost her SmackDown Women's Championship match against Asuka. Later on the show, Becky replaced Lana in the Women Royal Rumble Match. Nia Jax attacked her during the match which lead a knee injury. Becky won the Royal Rumble after eliminating Charlotte Flair.
#4 RAW- 28 January 2019: Becky chose to face Ronda Rousey for the RAW Women's Championship at WrestleMania.
#5 RAW- 4 February 2019: Stephaine McMahon suspended Becky for refusing to get the medical evaluation done on her injured knee. Becky attacked Stephaine and security carried her out of the arena.
#6 RAW- 11 February 2019: Becky gets the medical clearance and gets unsuspended. Vince McMahon suspended Becky again and replaced her with Charlotte Flair in the WrestleMania match against Ronda Rousey.
#7 Elimination Chamber 2019: A day prior to the event, Becky attacked Charlotte in a WWE Live event where Charlotte hit Becky to cause another knee injury. Becky appeared at the Elimination Chamber event and attacked both Ronda and Charlotte.
#8 RAW- 25 February 2019: Becky attacks Ronda again and got arrested for trespassing in WWE. Ronda asked Mr. McMahon to reinstate Becky to WrestleMania match and threatened to relinquish her title if her demands were not met.
#9 RAW- 4 March 2019: Stephaine McMahon gives a match to Becky against Charlotte at Fastlane in order to qualify for WrestleMania. Ronda Rousey turned heel and attacked both Charlotte and Becky.
#10 Fastlane 2019: An injured Becky faced Charlotte who took full advantage of the injury. Ronda attacked Becky during the match to cause a disqualification and give the win to Becky.
#11 SmackDown- 19 March 2019: Becky and Charlotte appeared in the Kevin Owens Show. They cut into each other during their promo. The segment ended up with a brawl.
#12 RAW- 25 March 2019: Becky, Ronda and Charlotte participate in Beat the Clock Challenge. Becky wins the challenge. The same night, after the storyline getting prominent, it was announced that this match will main event the WrestleMania 35.
#13 SmackDown- 26 March 2019: Charlotte defeated Asuka to become the SmackDown Women's Championship.
#14 RAW- 1 April 2019: The match between three of them was announced as the Winner Takes All. Becky, Ronda and Charlotte faced the Riott Squad in a tag team match. After they won the match, Ronda attacked Becky while Charlotte also joined in the fight. They got arrested by Police(kayfabe).