AEW Full Gear 2019 Preview & Predictions
Check out the matches preview and predictions for AEW Full Gear 2019 PPV show.
Date- 9 November 2019
Pre-Show Start Time- 7 PM EST(9 November 2019 12 AM GMT/5:30 AM IST)
Main Show Start Time- 8 PM EST(9 November 2019 1 AM GMT/6:30 AM IST)
Location- Royal Farms Arena, Baltimore, MD, US
Chris Jericho vs Cody Rhodes – AEW World Championship Match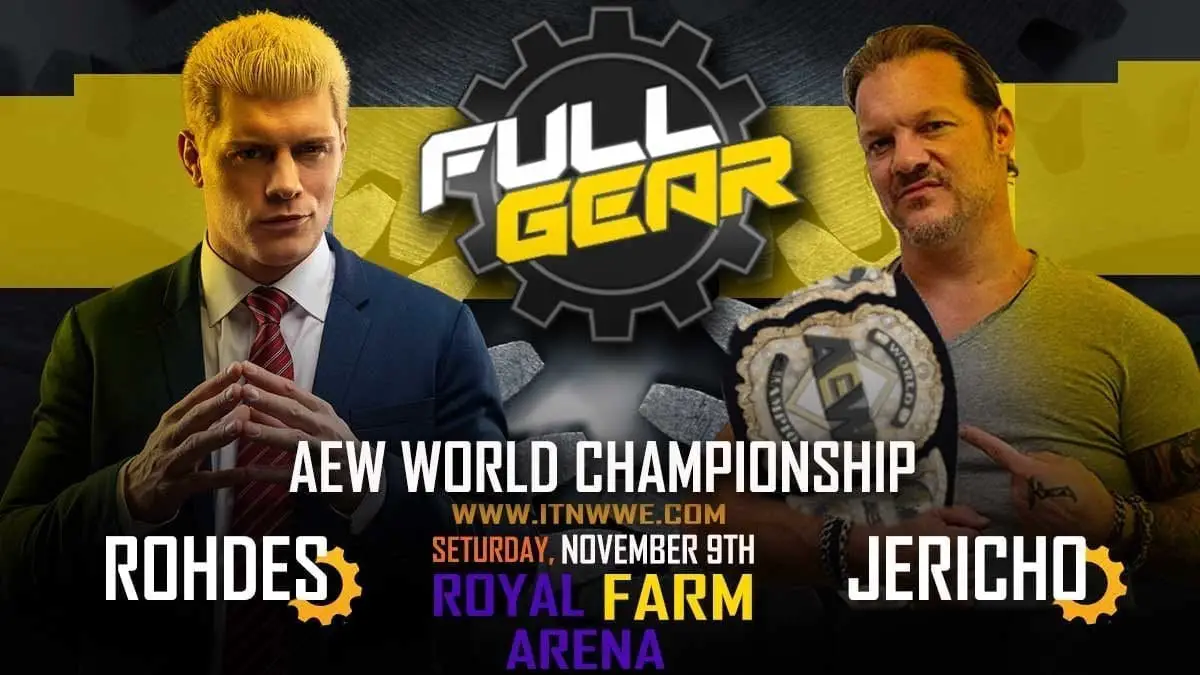 Preview- This will be the first PPV title defense for Chris Jericho after he won it at AEW All Out 2019. His challenger, Cody Rhodes was chosen due to his superior singles record at the time. He had two wins and a draw at the time of the announcement. The storyline is based around the larger picture of the tussle between Chris Jericho's Inner Circle and the Elites.
The match is set for a 60 minutes time limit. Additionally, a panel of 3 esteemed judges will be sitting at the ringside who will give a definite result in case the match gets drawn. The judges also have to make sure that there will be no interruptions from any of the Inner Circle members during the match. As if all that was not enough, Cody Rhodes raised the stakes further when he announced that he will never challenge for the World Championship again if he loses to Jericho at Full Gear.
I am not of the opinion that AEW will once again book a time limit draw(they already have had 3 time-limit draws in their short history). And booking it that way will be a mistake if they want to create credibility around their World title.
Prediction– Chris Jericho has been the hot favorite to retain the title here. But those odds might have come down a bit after Cody's announcement. Still, I believe Jericho will be winning this one.
Riho vs Emi Sakura- AEW Women's Championship Match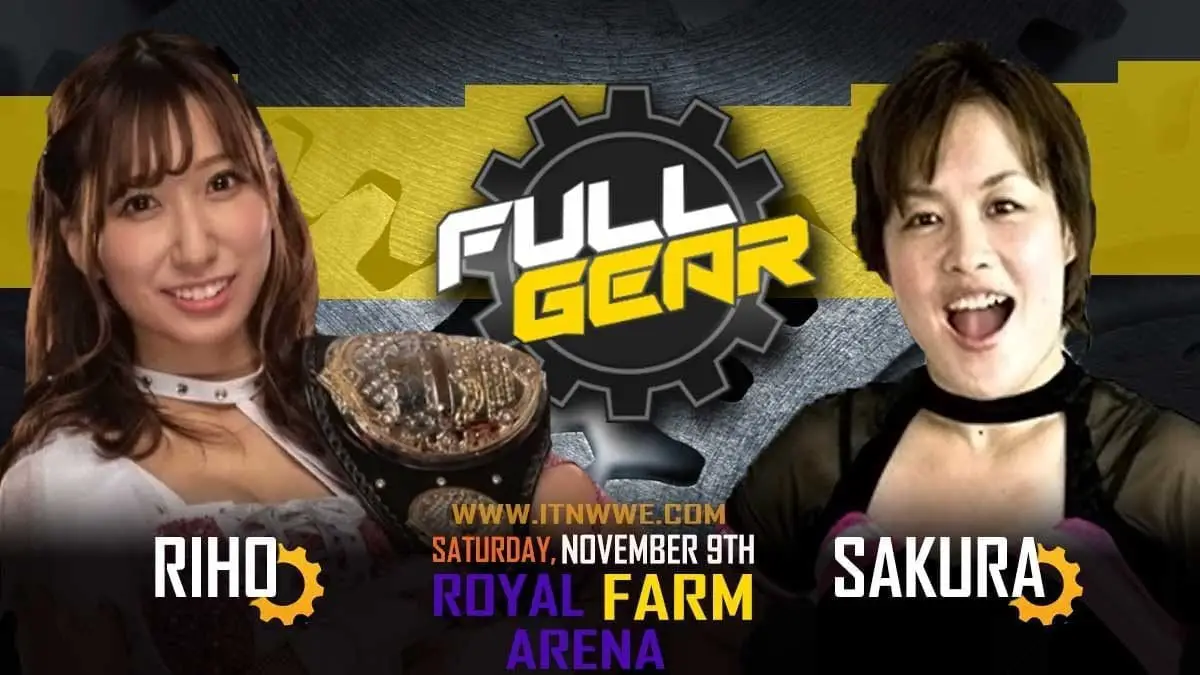 Preview- This match has the least of the build among all the matches on the card. It simply boiled down to Emi Sakura having the undefeated record in the singles matches. But Sakura had been in only one singles match and that too a fatal 4-way match on AEW Dark. Overall, her record is 2 wins and 2 losses, and to give that logic to book her in the title match is lame.
Another side of this match is the student vs master dynamic of this clash. Sakura has been a mentor for Riho since the start of her career and these two had reportedly put on great matches in Japan. The AEW fans have ultimately chosen this fact as more of a buildup for the match.
Prediction– It is clear that AEW did not want Riho to lose this match and she is not booked against any of the top 5 names of their division, despite what they are trying to make it look. Riho to get the win.
SoCal Uncensored vs Lucha Bros vs Private Party – AEW World Tag Team Championship Match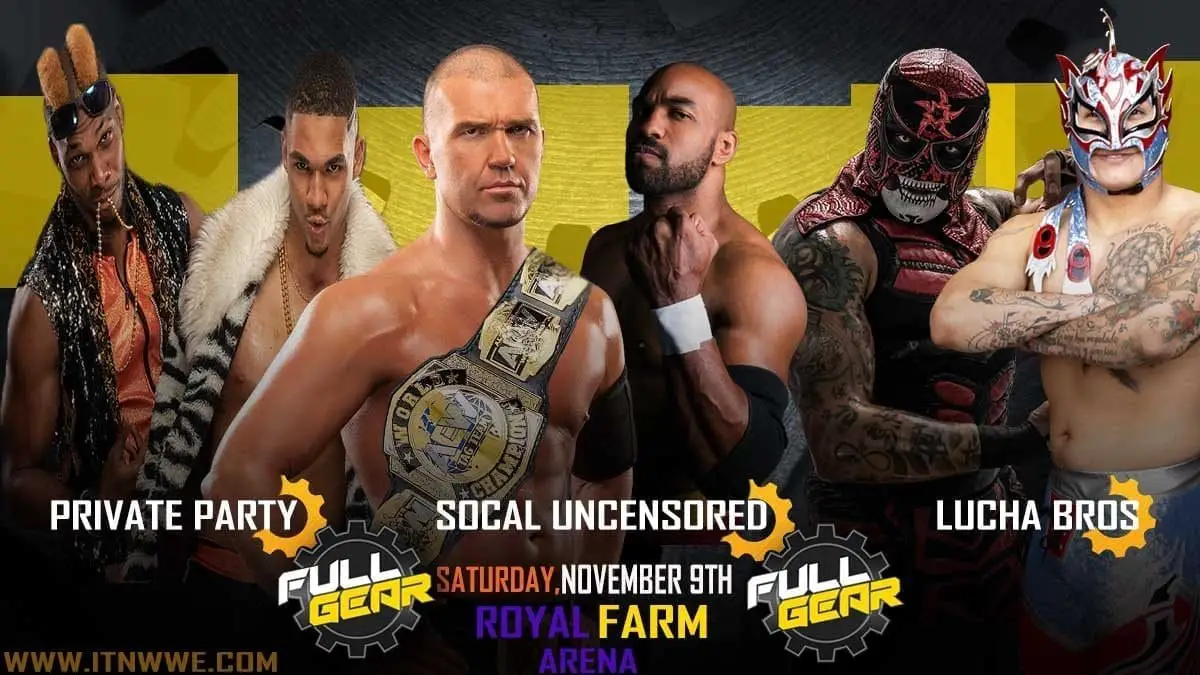 Preview– The feud between SCU and Lucha Bros have been going on since the start of AEW Dynamite. SCU defeated Lucha Bros in the final of the AEW Tag Team Tournament and become the first tag team champs in AEW. But that win came courtesy of a roll-up, hence Lucha Bros are getting another opportunity I guess. The third team is added to avoid the "rematch" and it one of the semifinalists from the tournament, Private Party.
Prediction- SCU to retain the title at AEW Full Gear 2019.
Jon Moxley vs Kenny Omega – Light Out Unsanctioned Match
Preview- The second PPV match for Jon Moxley and his second lights out unsanctioned match. This also means that this will be the actual main event after the main event title match. It will not be counted in AEW's win-loss record, which really made Jon Moxley upset. But that is probably done in order to protect either of them from a loss in their record. Moxley is currently undefeated in singles matches but Omega has lost two of the three PPV singles matches. Also, if Moxley wins this one, ideally he would have been the next in line for the World Championship title shot. But since this win won't count, he can be kept away from the title scene a bit longer.
Coming to the storyline, AEW has blurred the lines for heel and face in this feud. Moxley has always been maniacal but Omega has also gained a mean streak in this feud. The match is definitely going to be full of barbed wire weapons.
Prediction- Jon Moxley is far too important to get a loss here and Kenny Omega indispensable in the environment. Moxley to take the win.