AEW Dynamite Live Results August 24, 2022- Punk vs Moxley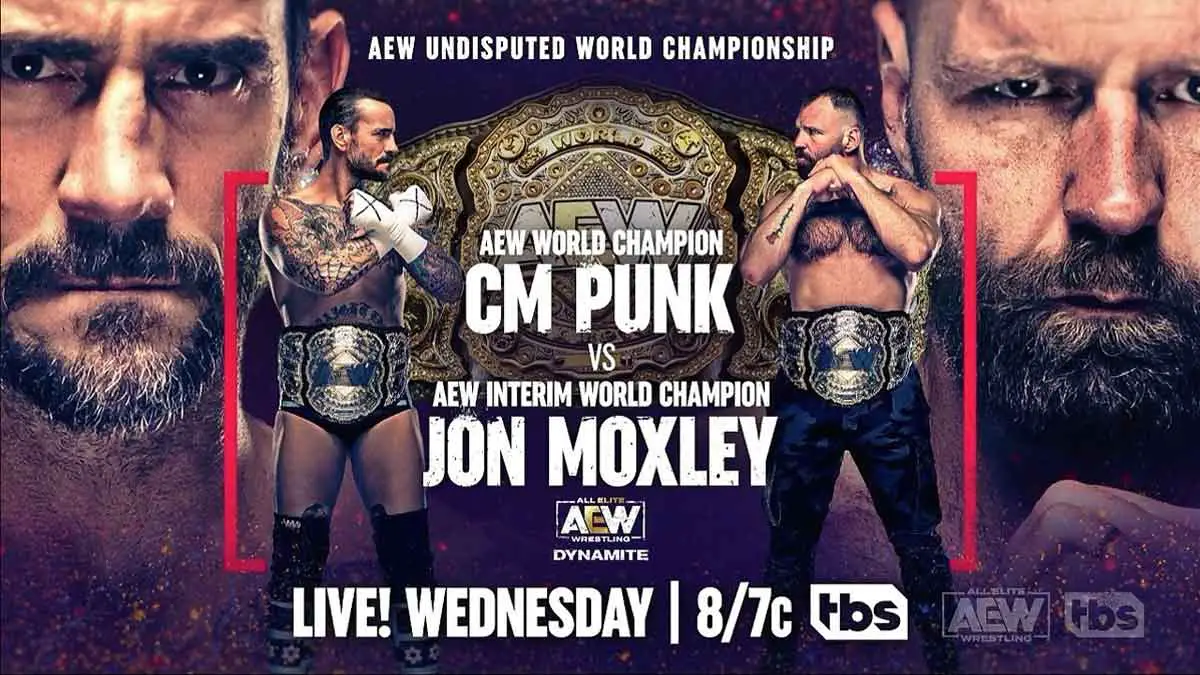 Welcome to the live results blog for AEW Dynamite August 24, 2022 episode which will feature AEW World Title Unification match between CM Punk and Jon Moxley.
For the uninitiated, Punk is the AEW World Champion, but Moxley was crowned the interim champion after Punk was sidelined with an injury. With Punk returning two weeks back, AEW has booked a title unification match to crown an undisputed champion.
Additionally, another first-round match for AEW Trios Championship will take place as Death Triangle takes on Will Ospreay & Aussie Open. Britt Baker will be in singles action as she takes on Kilynn King. Ricky Starks will be addressing the crowd as his turmoil continues.
Dax Harwood will try to add to his impressive singles performances this year as he faces Jay Lethal. Billy Gunn will try to teach Colten Gunn a lesson in the ring in another singles match. Expect more storylines to build up towards All Out PPV, which is just 10 days away now.
Tune in below for the complete results and live updates from AEW Dynamite August 24, 2022 episode with winners, highlights and videos.
Live Updates
Garcia, Jericho and Danielson
Chris Jericho is out to the ring and says he is here to work out the issues with Daniel Garcia face to face. Garcia comes out now. Jericho asks the crowd to shut up as he starts to talk about what happened last week as he slapped his hand away after an intense match with Bryan Danielson. He just wants Garcia to apologize for his behavior. Garcia replies that Jericho knew how special that moment was for him to share the ring with Bryan. He always dreamt of having that kind of match and anyone that wants to have kind of match, he wants for them to have the same kind of feeling. But, Jericho ruined that moment for him.
Jericho says he is sorry, but adds that Garcia will have many more such moments as he is one of the greatest sports entertainer. He just wants Garcia to apologize and says that he is a sports entertainer. Garcia is conflicted. Bryan Danielson's music interrupts them as he comes out. Bryan tells Garcia that he can be anything he wants to be, but he agrees with the crowd that he is a wrestler. Jericho once again tells Garcia that he is a sports entertainer. Garcia has had enough. He tells Jericho that he can not do this and wants Jericho to leave him alone. Garcia goes to leave. Jericho tries to stop him. Garcia shoves Jericho away and Jericho falls back.
Garcia is instantly regretting this as he walks back. Jericho gets up and Bryan tells him that he is entertained. Jericho asks Bryan why do people think that he is the greatest wrestler in the world. Jericho says he is the last student from the Stu Hart Dungeon and remembers every move he was taught as he is the Lionheart. Bryan tells him to ask his mentor, Owen Hart, the fans and everyone who is the greatest wrestler in the world. He proposes a match between them. Jericho replies that they can face off at All Out, but he also has something for him. Jake Hager runs over Bryan with a clothesline from behind. Jericho and Hager pose briefly before leaving to the back.
Dax Harwood vs Jay Lethal
They lock up and Lethal starts with toss. Harwood htis a shoulder tackle and hip toss. Lethal hits an armdrag in reply. Harwood hits an armdrag and countes a bodyscissors as they come to stalemate. Lethal hits a cartwheel dropkick after a hip toss. Harwood hits him with a chop which starts a series of chops from both men. Harwood hits a back body drop and another big chop in the corner. Harwood unloads from the second rope and Lethal hits a Russian Leg Sweep from there to take us to a break.
Some back and forth action after the break. Lethal puts on the figure four leg lock. Harwood reaches the ropes to break it. Harwood goes for a sharpshooter but Lethal blocks it with upkicks. Lethal hits a kick to the back of the knee. Harwood blocks lethal injection and hits slingshot powerbomb to get a near fall. Lethal goes for a dragon screw but Dax counters with a pin attempt. Harwood puts Lethal in the sharpshooter but lets him go when Sonjay Dutt gets on the apron. Dax ends up knocking off Dutt off the apron.
Dax hits a crossbody from the ropes. He follows up with more chops and uppercuts. Lethal goes for a backslide. Dax counters, but Lethal rolls him again and uses the trunks to get the pin.
Winner – Jay Lethal
After the match, Sonjay Dutt announces that Jay Lethal's partners for All Out will be Motor City Machine Guns.
---
Thunder Rosa is backstage with Tony Schiavone and is almost in tears as she announces that she is injured and unable to defend the AEW Women's Championship at All Out. She informs that there will be an interim champion crowned at All Out which will feature Toni Storm.
Billy Gunn vs Colten Gunn
Colten comes out with his brother Austin. Billy Gunn comes out with The Acclaimed with Max Caster rapping alongside. They lock up. Colten tosses Billy over and poses in the corner. Billy hits him with a shoulder tackle and Colten moves out of the ring to regroup.
Colten sends Billy into the corner. Billy counters and stomps on Colten in the corner viciously. The referee has to separate him. Billy is conflicted now. Stokeley Hathaway hits Caster with boombox and Austin sends Bowens into the steel steps. Colten hits a low blow on Billy and hits a neckbreaker to get the pin.
Winner – Colten Gunn
Stokeley Hathaway gets into the ring and offers his card to Austin and Colten. They take the card and seemingly joins his stable. They start beating up Billy again. Shane Strickland and Keith Lee run out. Austin and Colten run away.
We get a backstage face off between the two teams from tonight's Trios Championship Tournament match.
Britt Baker vs Kilynn King
Kilynn starts with a kick to midsection. Baker avoids a kick and hits her with a sling blade. Kilynn hits her with a dropkick. Baker counters with an elbow shot and unloads in the corner. Kilynn hits a thrust kick before Baker sends her face first into the turnbuckle. Baker gets a two-count with a crucifix. Baker shoves Kilynn away and gets punched a few times in reply.
Kilynn blocks her attacks and hits a German suplex. She hits Urinage to get a two-count. Kilynn is sent into the turnbuckle again before Baker hits a couple of superkicks. Baker then hits the curbstomper before bringing out her gloves. Baker puts on the lockjaw to get the submission.
Winner – Britt Baker
Baker takes the mic and says she wrestled her entire title reign with a broken arm. She adds that she still has half of the Thunderstorm to deal with. Toni Storm comes out but she gets attacked from behind by Jamie Hayter. Hikaur Shida runs out with a kendo stick to force them to withdraw.
---
Swerve in Our Glory and the Acclaimed are backstage. Lee says they love the Acclaimed but they saved them because they want them safe for All Out. Acclaimed reply that they do not require saving as they are the best homegrown tag team in AEW.
CM Punk(c) vs Jon Moxley(ic) – AEW World Championship Unification Match
Jon Moxley walks out through the crowd with William Regal. They lock up and Punk pushes Mox to the corner. They break up but Mox unloads on Punk in the corner. Punk starts to hit back and unloads on Mox in the other corner. Mox hits a headbutt and Punk hits a roundhouse kick. Punk is down and selling a leg injury. Mox takes advantage and unloads on Punk with big shots. He goes for a leg lock. Moxley hits Death Rider. Moxley hypes up and hits another Death Rider to get the pin.
Winner – Jon Moxley
A medical team is out immediately to check on CM Punk. Jon Moxley gets his title and starts to celebrate. Punk is helped to the back now. He watches Moxley celebrate from the ramp before heading to the back. Moxley continues to celebrate in the crowd.
---
Christian Cage is backstage with Tony Schiavone. Tony informs us that Christian has an injured arm after Jungle Boy's attack. Christian cuts a promo talking about Jungle Boy and how he gave him an Olive branch last week. He accepts Jungle Boy's Challenge.
---
Ricky Starks comes out to the ring. He starts to talk about thinking that he had a real friend in Powerhouse Hobbs. Starks revealed that Hobbs checked on him every week when he broke his neck. He then says that people wants to see you do good, but they never want to see you do better than them. Hobbs was once his friend but now he is a "low-down dirty slimeball scheming snake." And he needs to cut off this snake's head. Starks challenges Hobbs for a match at AEW All Out.
---
Jon Moxley is backstage and cuts a promo against the people were writing him off. He says the answer to any problem in pro-wrestling is always Jon Moxley.
United Empire(Will Ospreay, Kyle Fletcher and Mark Davis) vs Death Triangle(PAC, Rey Fenix & Penta Oscuro) – AEW Trios World Championship Tournament Round 1 Match
Ospreay and Fenix run the ropes, ducking each other on the way for about 9-10 times before coming to a stalemate. Ospreay hits a big boot to Fenix which brings in Penta into the ring. This starts a sequence hwere everyone start coming into the ring. Fenix hits a double springboar cutter on Davis and Fletcher. Ospreay nails Fenix with a kick. PAC and Penta hit Ospreay with a back body drop to send him to the floor. Death Triangle hit United Empire with suicide dives.
Fenix nails Ospreay with a kick to chest. Penta and PAC tag one by one to keep Ospreay under control for a while with chops and chest slaps. Fenix comes in with an ax handle. A dropkick from him takes us to a break.
Ospreay reverses a whip from Fenix and Aussie Open trip him on the apron. Ospreay sends PAC and Penta off the apron and takes them out with moonsault. Ospreay jumps at Fenix with a dropkick in the corner as Aussie Open held him. Fenix is worked upon by Aussie Open now. Davis hammers in with some elbows before hitting a body slam. Fletcher then hits a body slam on Fenix after toying with him for a while. Fenix fights back against them and hits a double jump armdrag. Penta hits them with a crossbody before hitting more quick moves. Davis blocks Fear Factor before Ospreay nails Penta with springboard kick. Aussie Open hit some quick double team moves on Penta. Fenix makes the save by breaking the pin. We cut to another break.
Penta hits a thrust kick on Ospreay as we return. PAC tags in and knocks off Aussie Open from the apron. He hits Ospreay with a German suplex. Fenix walks the ropes and hits Ospreay with a kick when he tries to hang onto the ropes. PAC hits a German suplex to get a two-count on Ospreay. Lucha Bros and Aussia Open face off in the middle and go back and forth. Ospreay and PAC take their respective opponents out with double hurricanranas.
PAC and Ospreay trade shots in the middle after a face off. PAC hits spinning kicks. Ospreay hits a thrust kick and then counters with Oscutter. Ospreay goes to set up PAC on the top rope but PAC trips him. PAC hits an avalanche brainbuster to take us to another break.
Ospreay is fighting off PAC and Fenix on the top rope. He lands on his feet after Fenix hits him with a hurricanrana. Fenix drops him with a kick. Penta and Fenix take out Aussie Open on the floor. Ospreay gets his knees up on Black Mass to get a close two-count. PAC reverses the Storm Breaker. Lucha Bros and Aussie Open take each other out one by one. PAC and Ospreay are once again left in the ring alone. PAC hits Oscutter with a DDT.
Fletcher pulls Ospreay out of the ring. PAC hits Aussie Open with a moonsault on the floor. The man with a cardboard on his head is in the front row. PAC gets distracted by him and removes the cardboard. It is not Kip Sabian under the box though. Sabian instead attacks PAC from behind and drops him on the floor. Davis hits clothesllines to Fenix. Penta is knocked off the apron by Fletcher. Aussie Open hold Fenix and Ospreay hits Oscutter to get the pin.
Winner – United Empire