AEW Dynamite January 4, 2023 Results & Live Updates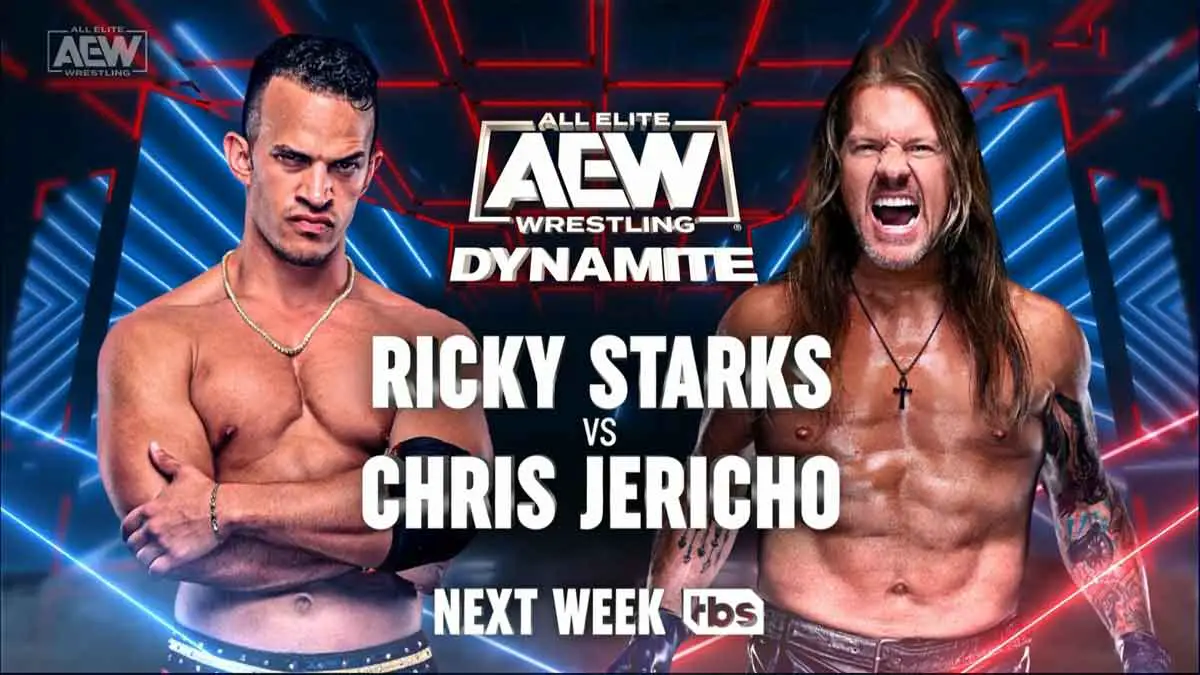 Welcome to the live results blog for AEW Dynamite episode of January 4, 2023, which will be air live from Seattle, WA, featuring AEW Tag Team Championship match and AEW TNT Championship match.
The Acclaimed will defend tag team titles against Jay Lethal and Jeff Jarrett on this week's Dynamite episode. Samoa Joe is also set to defend TNT title against Darby Allin. Bryan Danielson will take on Tony Nese in a match which is set up by AEW World Champion MJF. MJF himself is set for an appearance due to contractual obligations.
Jade Cargill and Red Velvet will face Skye Blue and Keira Hogan. Ricky Starks will face Chris Jericho on January 4 edition of AEW Dynamite. AR Fox and Swerve Strickland are set to bring their long standing rivalry to AEW. We will also hear from Jon Moxley as well as from Adam Page on his medical condition.
Tune in below as we post results from AEW Dynamite episode of January 4, 2023, with live updates, winners, highlights and complete action.
RESULTS
Ricky Starks defeated Chris Jericho in a singles match via pinfall.
The Acclaimed (Max Caster & Anthony Bowens)(c) defeated Jeff Jarrett & Jay Lethal in a tag team match via pinfall to retain AEW World Tag Team Championship.
Bryan Danielson defeated Tony Nese in a singles match via pinfall.
Swerve Strickland defeated AR Fox in a singles match via pinfall.
Jade Cargill & Red Velvet defeated Kiera Hogan & Skye Blue in a tag team match via pinfall.
Darby Allin defeated Samoa Joe(c) in a singles match via pinfall to win AEW TNT Championship.
LIVE UPDATES
Chris Jericho vs Ricky Starks
Huge reactions for both men as they come out. Jericho starts with a throw and plays on crowd reaction. Ricky hits a shoulder tackle after the arm wringers. Jericho slaps him and draw quick punches from him. Jericho slips to the floor and Ricky throws him into the steel steps. Jericho catches him with a kick as he was returning to the ring. Jericho hits chops before a whip from corner to corner. Jericho hits quick clotheslines in the other corner,
Ricky hits a kick and a slap to the chest before hitting Old School. He drops Jericho face-first from front-chancery. Matt Menard picks Ricky's leg and Jericho capitalizes with a blow. Ricky counters a springboard move with a punch. They are fighting on the apron and Jericho hits a suplex from the apron to the floor. We cut to a break.
Jericho is hitting punches as we return. Ricky falls down after a chop. He explodes from the corner with a clothesline. They trade chops and forearms. Ricky hits a clothesline and a dropkick. Jericho blocks Roshambo once but Ricky manages to hit a powerbomb moments later for a near fall. Jericho jabs at him. Ricky gets his knees up as Jericho hits a lionsault. Ricky hurts his knees as he hits moonsault and Jericho moves away.
Ricky hits a superkick for a two-count. Jericho avoids a corner splash and hits Codebreaker for a near fall. Ricky blocks Judas Effect and Jericho blocks Roshambo. Jericho goes for double leg takedown and puts Ricky in the Walls of Jericho. Ricky tries to get to the ropes but Jericho pulls him back into the ring. Ricky reaches the ropes but the referee was distracted by Angelo Parker. Menard hits Ricky with a bat and he fades away.
The referee checks on Ricky and he wakes up after a few seconds. Ricky rolls up Jericho into an inside cradle for a near fall. Ricky drops Menard and Parker from the apron before hitting a spear on Jericho to get the pinfall.
Winner – Ricky Starks
Rest of the Jericho Appreciation Society come out to attack Starks. Action Andretti runs out with a steel chair and lays it on everyone. Tay Melo and Anna Jay come into the ring and Andretti refuses to hit them. Melo hits him with a low blow. Others beat up Andretti. A table is set up on the floor. Hager hits a powerbomb on Starks through the table. JAS pose in the ring to end the segment.
Hangman and Mox Face-to-Face
Tony Schiavone is in the ring and he brings out "Hangman" Adam Page. Page informs that he is not medically cleared to compete as of tonight. He adds that his recovery might get behind if he engages in brawl this week. Page says he will get a scan tonight and will likely be cleared for next week. He does not care about where he fights Moxley, he will knock his d### in the dirt.
Jon Moxley's music hits and he comes out. Moxley says he is surprised that Page is here. Moxley's mic goes off in the arena and he has to wait to get it ok. He says he is sick of all sympathy cards for Page. Page says he is not mad at being knocked out by Moxley. He is angry about how he called him out and made a joke about him. Moxley almost took his career from him and Moxley felt threatened. He did not come back for revenge, but he is here for that now.
Page says he will face him at the Forum. Moxley replies that only joke here is that Page thinks it will end differently next time. He adds that Page will not get up the next time he drops him.
---
We get a video promo from Samoa Joe on Darby Allin where he recaps their last match and how Darby attacked him from behind. Joe says Darby will pay the price of insolence in his kingdom.
The Acclaimed (Max Caster & Anthony Bowens) vs Jeff Jarrett & Jay Lethal – AEW World Tag Team Championship
Caster says TNA means "Total Non-Stop Acclaimed" in his entrance rap. Bowens and JJ start the match. JJ takes a cheap shot at Caster. Bowens pushes him to the corner and hits chops and kicks. JJ pushes him back and throws him to the corner. Lethal comes in for a bit of back and forth before hitting a guillotine leg drop. Caster tags in and hits a Samoan drop on Lethal. He puts on ankle lock but Lethal gets to the ropes.
Bowens hits Scissor Me Timbers leg drop as Caster holds up Lethal. They do the same with Jarrett before Billy Gunn comes into the ring for "Scissoring." Lethal goads Gunn into attacking him and the referee boots Gunn from the ringside. We cut to a break.
Lethal puts on a chinlock on Bowens as we return. He hits a body slam before missing an elbow drop. Jarrett tags in and knocks Caster off the apron to stop the tag. Bowens tees off on Jarrett and hits a back suplex. Bowens and Lethal get the tags. Caster comes in hot to drop both opponents with quick moves. Caster hits a crossbody on Lethal on the floor before another crossbody in the ring and Jarrett breaks the pin.
Caster hits a dropkick after taking care of Jarrett. Bowens tags in but Jarrett blocks a double team by pushing Caster off the top. Jarrett and Lethal hit a double team move on Bowens for a near fall. Jarrett throws Caster into the steel steps as Lethal puts on figure four. The referee boots Satnam Singh from ringside. Jarrett hits Bowens with The Stroke. Lethal covers Bowens. Bowens gets his leg on the ropes but Satnam Singh removes it. The referee counts the pin.
Jarrett and Lethal are given the titles. The referee Audrey Edwards comes into the ring and tells the match referee about what happened. The match is restarted. Caster gets involved to take care of Jarrett. Bowens counters Lethal's roll-up and gets the pinfall himself.
Winners – The Acclaimed
Britt Baker and AEW Women's Champion Jamie Hayter are interviewed by Tony Schiavone. They say Saraya does not get what AEW is about. They talk about their rocky beginnings and working to the top of the women's division. Baker says whoever Saraya is looking for, Hikaru Shida and Toni Storm are two fantastic wrestlers, and why has Saraya not made a decision yet. Baker says Shida is the killer and she is the pillar of women's division.
---
Jack Perry challenges Big Bill and Lee Moriarty for a tag team match in his hometown next week as he teams up with Hook.
Bryan Danielson vs Tony Nese
Huge cheers for Bryan as the mast was bout to start. Woods grabs his boot to cause a distraction. Nese attacks Bryan from behind before dropping him on the ropes. Nese hits a running knee but Bryan kicks out of the pin. Bryan sends him to the corner and hits side kicks. Bryan takes a running start and hits a clothesline.
Bryan hits Yes! kicks now. Nese picks his leg on the last kick and slams him with a buckle bomb. Nese misses running knee into the turnbuckle. Bryan hits Busaika Knee to drop Nese for good. He hits his signature stomps to the face before putting labell lock and Nese is put to sleep. Bryan gets a technical submission win.
Winner – Bryan Danielson
Bryan takes the mic after the match and says he is feeling "froggy" and wants another match. He calls out MJF. MJF comes out to the stage amid heavy boos. MJF denies facing him tonight. He says he does not care about the fans at all and gets his cheque regardless of wrestling a match. MJF starts taking shot at Bryan. He says if Lance Storm and Dean Malenko would have a baby, it will still be a better wrestler than Bryan. He says just because Bryan looks like a Goat, he is not a GOAT.
MJF says Bryan's mother might not have found a potential suitor in Washington before having Bryan. Bryan also takes a shot at MJF's birth. MJF continues to babble as draw "A##hole" chants. Bryan says enough talking and he wants to beat up MJF. Bryan was coming for him but MJF stops him and says win and losses matter in this company as this is real wrestling. So, Bryan has to become a #1 contender.
MJF says Bryan will become the #1 contender if he wins every week from now to February 8. And he will give him a shot at the World title at Revolution. Bryan says that's how it is gonna go and he will beat him at Revolution. MJF says Bryan will never become will not happen though as he runs this company. Bryan says he is ready to agree to MJF's conditions if he agrees for Bryan to pick up the stipulation. MJF agrees. Bryan says the match will be a one-hour Iron man match.
MJF does not agree at first but the crowd boos him and goads him into agreeing to it. Bryan says he will expose MJF that he does not have cardio and footwork. And once he exposes MJF, Bryan will kick his head off.
AR Fox vs Swerve Strickland
They both hit a forearm. Fox lands a right on the apron. Swerve hits a knee on the floor before avoiding a kick from Fox. Fox avoids a senton and both man land on the floor. Swerve's affiliates stand beside him to intimidate Fox. Fox hits a senton on Swerve on the floor. Back to the ring, Fox hits a corkscrew brainbuster before hitting a corner clothesline. Swerve distracts the referee and his affiliate takes a cheap shot at Fox. Swerve hits leg drop on Fox on the floor to take us to a break.
Swerve hits some blows to the back of Fox's head. Fox hits an upkick and ducks a clothesline. He hits an enzuigiri. Swerve counters with a German suplex before hitting double knees for a near fall. Fox comes back with a bunch of innovative moves to get a near fall. Swerve is handed a knuckle as the referee was distracted. Swerve hits an Avalanche Death Valley Driver on the apron. He sets up and hits diving double stomp for the pin and the win.
Winner – Swerve Strickland
Saraya is with Toni Storm and Hikaru Shida and says what Baker and Hayter were saying was just gatekeeping. She says she has realized that AEW Women's Division is the best in the world and she has two best wrestlers alongside her. She says Toni Storm will be her partner next week. Hikaru Shida does not like it.
---
The Gunn Club come out and they have FTRIP graphics on the screen. They give a eulogy for FTR. They talk about how FTR lost AAA, IWGP and ROH titles since their rivalry started. They ask for a moment of silence before FTR's music hits. The Gunn Clubs appear shocked but it's all fake. They says FTR can wrestle for any promotion across the world but they will never wrestle for AEW ever again.
Jade Cargill & Red Velvet vs Kiera Hogan & Skye Blue
Velvet does not stop for Cargill to finish her entrance on the ramp. Cargill is not happy with this. Velvet starts against Blue. She stomps on Blue's foot before she misses a dropkick. They trade pin attempts. Hogan tags in and hits a stomp for a two-count. Blue comes back and hits a DDT for a two-count. Cargill tags in as we cut to a break.
Blue slips out of a fireman's carry and tags in Hogan. Cargill hits Hogan with "Fire of Eye" for a two-count. Cargill says something to Velvet before tagging her in. Hogan hits quick tackles on Velvet before a forearm in the corner. Velvet counters a suplex on Hogan. Cargill tags back and knocks off Blue and hits a chokeslam on Hogan. Cargill goes to tag Velvet but Velvet walks off. Hogan rolls up Cargill for a near fall. Cargill hits her with a pump kick to get the pinfall.
Winners – Jade Cargill & Red Velvet
Velvet raises her hands from the ramp as her name is announced. Cargill stares her down and shows off her title.
Samoa Joe(c) vs Darby Allin – AEW TNT Championship
Darby hugs Nick Wayne who is in the front row. Samoa Joe comes out and chokes Wayne. Darby hits Joe with his skateboard. He hits a stomp on Joe's back with his skateboard. Darby brings a ladder and hits a senton on Joe on the ramp.
Darby takes Joe to the ring and the bell rings. Darby hits a dropkick. Joe rolls to the floor. Darby goes to attack him but Joe hits him with an Urinage on the steel steps. We cut to a break.
Joe is in control as we return from the break. Joe hits kicks to the chest and blows to the back. He misses an elbow drop. Darby jumps on his back for a choke. Joe hits a senton to drop Darby and puts on an ankle lock briefly. Darby jumps on Joe. Joe catches him and hits him with a double knee breaker. He hits a senton on Darby's knees and gets a two-count.
Joe takes his time deliberating his next move. He sets up Darby for Muscle Buster but Darby slips out. Joe saves himself from a German suplex by holding onto the ropes. Darby hits a German suplex as Joe ends up ripping off the turnbuckle pad. Joe goes for a choke but Darby breaks free. Joe puts on Coquina Clutch and Darby drops to his knees.
Darby wakes up and fights back. He slams Joe's face into the exposed turnbuckle. Darby hits Code red before hitting a Coffin Drop. Darby hits another Coffin drop to get the pinfall.
Winner – Darby Allin
Sting comes out after the match to celebrate with Darby. The show goes off the air as they continue to celebrate.