AEW Battle of the Belts 3 Results, Live Updates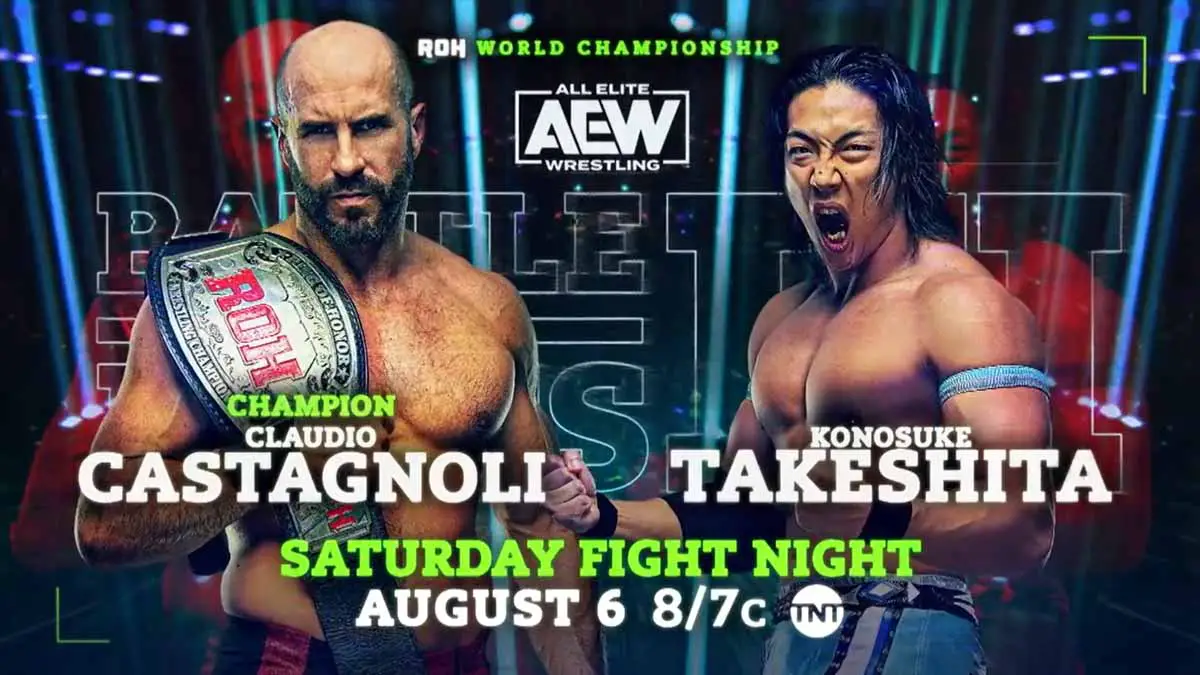 AEW will air Battle of the Belts 3 event on TNT in US and we will be posting all the results and live action here on August 6, 2022.
Three battles are announced for three belts for the night. First belt on the line will be AEW Women's Championship which will see Thunder Rosa defend the title against Jamie Hayter. Second belt on the line will be AEW TNT Championship with Wardlow facing Jay Lethal.
ROH World Championship is the third belt in the contest where Claudio Castagnoli will make his first defence against Konosuke Takeshita. The event was pre-taped yesterday and the spoilers are present here on this link.
If you have stayed away from the spoilers, here we will post results from AEW Battle of the Belts 3 event here with live action, all the updates, winners and highlights.
Live Updates
Wardlow(c) vs Jay Lethal – AEW TNT Championship
Dutt distracts Wardlow and Lethal attacks Wardlow from behind. Lethal hits a suplex but Wardlow is quickly back to his feet. Wardlow hits a big boot, back body drop and clotheslines Lethal to the floor. Satnam Singh stands in front of Wardlow to delay him. Lethal hits a dropkick from in between the ropes. He continues to hit quick moves and nails Wardlow with an enzuigiri in the ring. Wardlow hits a body slam.
Lethal hits two back to back dropkicks but he then starts to play possum when Wardlow does not go down. Lethal attacks him from behind when the referee tries to stop Wardlow. Wardlow misses a running tackle in the corner and goes to the floor. Lethal hits him with a suicide dive. Lethal slams Wardlow's leg into the ringpost as we cut to a break.
Wardlow kicks away Lethal but he comes back from the ropes for a jackknife cover. Wardlow counters a cover and goes for powerbomb. Lethal avoids it. Wardlow blocks Lethal Injection. Lethal also avoids powerbomb once again. Wardlow hits him with a headbutt and a big lariat. Wardlow removes his sling and hits the powerbomb to get the pin.
Winner – Wardlow
Sonjay Dutt attacks Wardlow from behind just as the pin gets complete. Satnam Singh comes in and puts his boot on Wardlow. Wardlow is removing his boot but Lethal puts his leg in figure four. Lethal lets the lock go. Wardlow gets up and starts to fight back. He goes for a powerbomb on Satnam but Lethal hits a kick on Wardlow's leg and Satnam counters with a back body drop. Lethal and Dutt bring in a table and Satnam drives Wardlow through it with a chokeslam. The heels pose in the middle as Lethal has the TNT title.
Thunder Rosa(c) vs Jamie Hayter – AEW Women's Championship
Hayter attacks Rosa from behind and unloads on the mat. She now kicks Rosa in the corner. Baker is taking cheap shots from the floor as the referee was dealing with Hayter. Hayter continues to be in control as she keeps Rosa on the mat. She starts to hit chops. Rosa fires one back but Hayter hits a couple of more. A shoulder tackle drops Rosa to the mat again. Rosa hits back with a knee and a dropkick.
Hayter rolls to the floor and interrupts a suicide dive with a forearm. Hayter goes to throw Rosa into the barricade. Storm gives Rosa some pep talk. Rosa hits Hayter with some chops. Hayter goes for the suplex but Rosa counters with a DDT. Back to the ring, Rosa gets a two-count. Baker has picked up the women's title and Rosa gets distracted by this. Hayter nails her with a shot to knock her off the top. Hayter hits a backbreaker on the steel steps to take us to a break.
Rosa is firing back with elbow strikes as we return from the break. Hayter trade shots with her. Rosa hits a Northern Light suplex and bridges for a two-count. Rosa hits a dropkick to send Hayter to the floor. She follows with a blockbuster on the floor. Back to the ring, Rosa hits a crossbody to get a two-count. Hayter has Rosa on her shoulder but Rosa escapes. Hayter hits a backbreaker to get another two-count. Hayter then hits a sheer drop brainbuster to get a close two-count. Baker chokes Rosa from the floor when the referee gets engaged with Hayter. Storm attacks her and hits her with a DDT. Rosa gets a two-count with sunset flip. She gets the pin with another roll-up.
Winner – Thunder Rosa
Claudio Castagnoli(c) vs Konosuke Takeshita – ROH World Championship
Takeshita avoids the running uppercut. They both avoid moves in quick succession and come to a stalemate. They lock up and Claudio takes Takeshita to the floor to puts on a leg lock. Takeshita is back to his feet and Claudio brings him down to work on his arm. Takeshita powers up to his feet. Claudio muscles him back to the mat for a couple of pin attempts. Claudio counters a monkey flip and sends Takeshita flying. The crowd cheers and they restart.
Claudio brings him down with an inside trip. Takeshita hits an elbow drop on Claudio's leg to get a two-count. Takeshita hits a hiptoss now. Takeshita has front chancery. Claudio counters with a chinlock now. Claudio hits a shoulder tackle, runs the ropes, blocks a hiptoss and brings down Takeshita. Takeshita comes back with armdrag and Claudio slips to the floor. Takeshita misses a jump on Claudio and Claudio pushes his back into the apron. Claudio hits an elbow shot at his back when they return to the ring. A tilt-a-whirl backbreaker takes us to a break.
Takeshita nails an elbow as we return. Claudio hits a forearm on his back. Takeshita hits an elbow from the corner. Takeshita hits a hurrincanrana coming off the top rope. Takeshita runs the ropes and hits a flying clothesline. Takeshita sends Claudio to the floor with a low bridge. A tope con hilo from Takeshita brings down Claudio. Back to the ring, Claudio recovers to nail Takeshita with an uppercut when he was on the top rope. Claudio hits an avalanche gutwrench suplex to get a close two-count.
Claudio swings Takeshita around for a while. Takeshita is dizzy and he gets nailed with uppercuts in the corner. Takeshita counters with big boot and blue thunderbomb to get a near fall. Claudio fires back with a boot. Takeshita slams his face into the turnbuckle. They are back to the second rope. Takeshita hits a body shot and a turnbuckle DDT. Takeshita hits a frog splash from the top to get a near fall.
Claudio catches the knee strike and then catches Takeshita with an uppercut midair. Claudio puts on the sharpshooter now. He transitions into a crossface when Takeshita was going for the ropes. Takeshita counters with a roll up for a two-count. Claudio hits kicks and uppercuts. Claudio lands on his feet when Takeshita hits a German suplex. Quick back and forth and Takeshita drops Claudio with a jumbo lariat to get a near fall.
Claudio nails an uppercut. Takeshita gets a two-count with a backslide. A driving knee and a brainbuster gets Takeshita another near fall. Takeshita removes his elbow pad and nails Claudio with an elbow shot. Takeshita counters back body drop with a roll-up for a two-count. Claudio hits an uppercut and a stomp before Takeshita counters with a hurricanrana for a near fall. Claudio hits a death valley driver to counter a jumping knee. They trade shots in the middle. Claudio hits a springboard uppercut. Claudio hits elbows to soften up Takeshita and then hits a powerbomb to get the pin.
Winner – Claudio Castagnoli
The show goes off the air as Claudio gets his title back.