Denver Broncos NFL 2022-23 Schedule, Tickets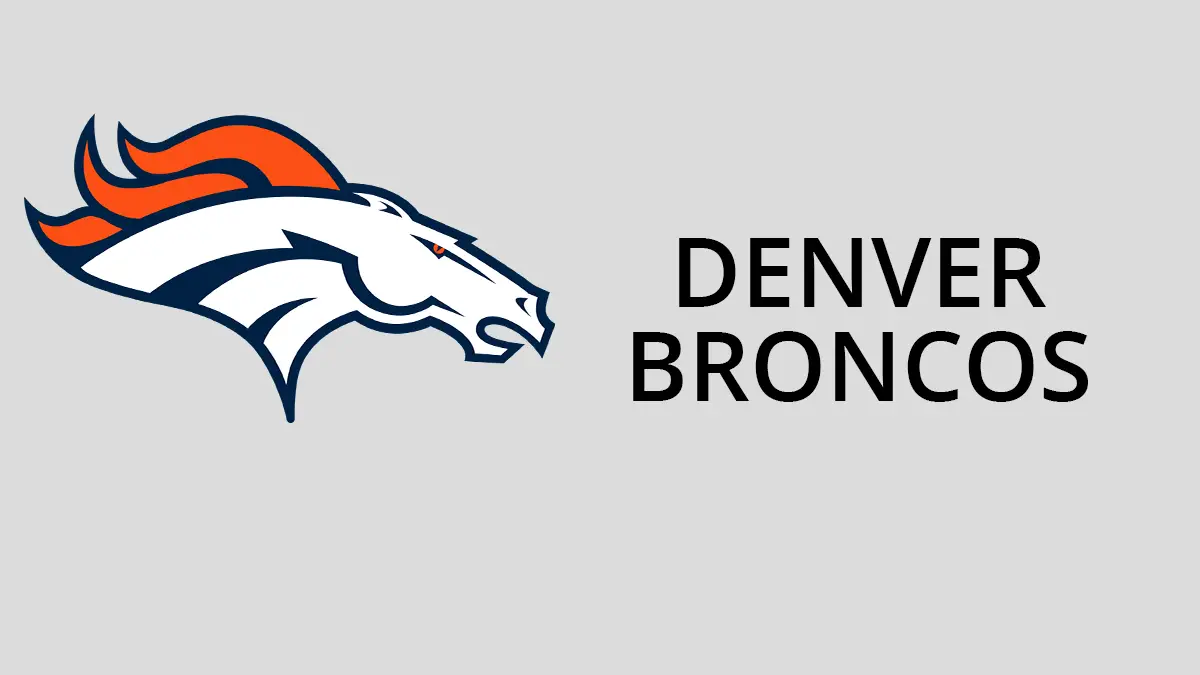 Denver Broncos Football team is a member of AFC West Division in NFL 2022-23 season. Broncos play their home games at Empower Field at Mile High in Denver, CO while their headquarter is at UCHealth Training Center in Dove Valley, CO.
They opened NFL 2022-23 season with an away game against Seattle Seahawks on Sept 12. The first home match for the team came against Houston Texans on Sept 18. Their last away game in league phase is schedule vs Kansas City Chiefs on January 1 before they wrap up the league phase against Los Angeles Chargers at home on January 8.
Below is the complete schedule for Denver Broncos with all home and away games in NFL 2022-2023 season, along with tickets, start time, and TV Channels airing these games.
Regular Season
| Match | Date | Time | Location | Tickets | TV Channels |
| --- | --- | --- | --- | --- | --- |
| vs Kansas City Chiefs | Dec 11, 2022 | 8:20 PM | Empower Field at Mile High, Denver, CO (Home) | Start From $123 | NBC |
| vs Arizona Cardinals | Dec 18, 2022 | 4:05 PM | Empower Field at Mile High, Denver, CO (Home) | Start From $86 | FOX |
| vs Los Angeles Rams | Dec 25, 2022 | 4:30 PM | SoFi Stadium, Inglewood, CA (Away) | Start From $67 | CBS/Nickelodeon |
| vs Kansas City Chiefs | Jan 01, 2023 | 1:00 PM | Arrowhead Stadium, Kansas City, MO (Away) | Start From $73 | CBS |
| vs Los Angeles Chargers | Jan 08, 2022 | – | Empower Field at Mile High, Denver, CO (Home) | Start From $84 | – |
Previous Games Scores
| Matchup | Date | Location | Results |
| --- | --- | --- | --- |
| vs Dallas Cowboys (Preseason) | August 13, 2022 | Empower Field at Mile High, Denver, CO, US | DEN 17 – DAL 7 |
| vs Buffalo Bills (Preseason) | August 20, 2022 | Highmark Stadium, Orchard Park, NY, US | BUF 42 – DEN 15 |
| vs Minnesota Vikings (Preseason) | August 27, 2022 | Empower Field at Mile High, Denver, CO, US | DEN 23 – MIN 13 |
| vs Seattle Seahawks | September 12, 2022 | Lumen Field, Seattle, WA (Away) | SEA 17 – DEN 16 |
| vs Houston Texans | Sept 18, 2022 | Empower Field at Mile High, Denver, CO | DEN 16 – HOU 9 |
| vs San Francisco 49ers | Sept 25, 2022 | Empower Field at Mile High, Denver, CO | DEN 11 – SF 10 |
| vs Las Vegas Raiders | Oct 02, 2022 | Allegiant Stadium, Las Vegas, NV | LV 32 – DEN 23 |
| vs Indianapolis Colts | Oct 06, 2022 | Empower Field at Mile High, Denver, CO | IND 12 – DEN 9 / OT |
| vs Los Angeles Chargers | Oct 17, 2022 | SoFi Stadium, Inglewood, CA (Away) | LAC 19 – DEN 16 / OT |
| vs New York Jets | Oct 23, 2022 | Empower Field at Mile High, Denver, CO | NYJ 16 – DEN 9 |
| vs Jacksonville Jaguars | Oct 30, 2022 | Wembley Stadium, London, England | DEN 21 – JAC 17 |
| vs Tennessee Titans | Nov 13, 2022 | Nissan Stadium, Nashville, TN (Away) | TEN 17 – DEN 10 |
| vs Las Vegas Raiders | Nov 20, 2022 | Empower Field at Mile High, Denver, CO (Home) | TEN 17 – DEN 10 |
| vs Carolina Panthers | Nov 27, 2022 | Bank of America Stadium, Charlotte, NC (Away) | CAR 23 – DEN 10 |
| vs Baltimore Ravens | Dec 04, 2022 | M&T Bank Stadium, Baltimore, MD (Away) | BAL 10 – DEN 9 |