Denver Broncos NFL 2023-24 Schedule, Tickets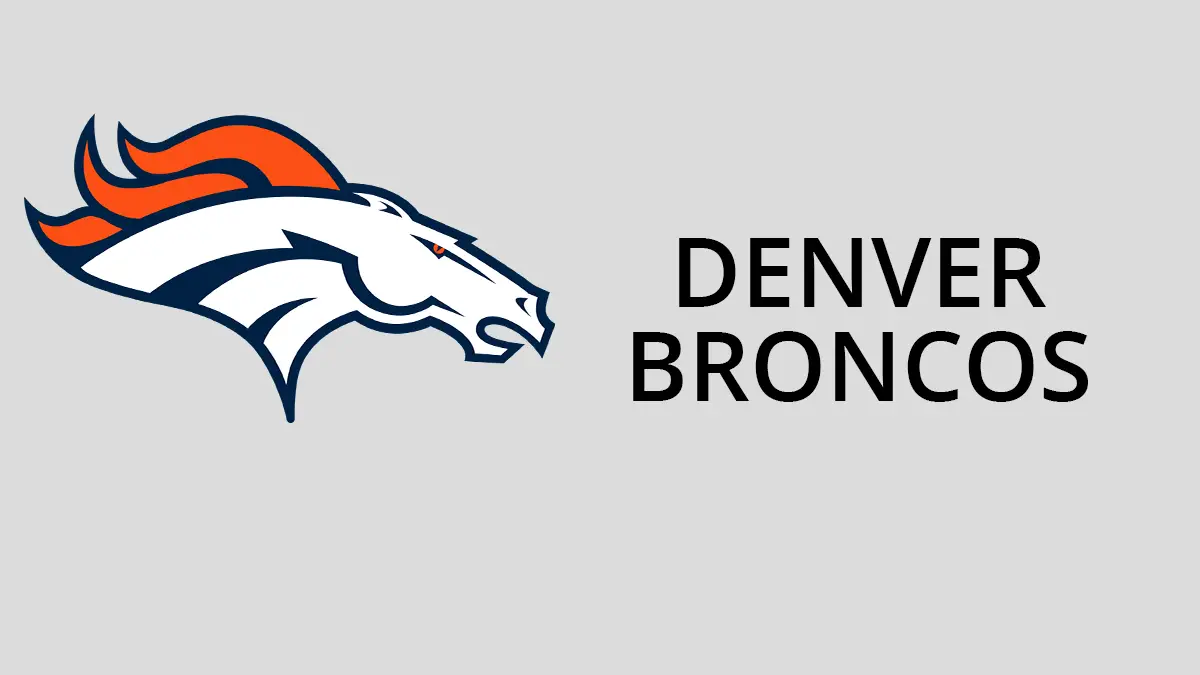 Denver Broncos Football team is a member of AFC West Division in NFL 2023-24 season. Broncos play their home games at Empower Field at Mile High in Denver, CO while their headquarter is at UCHealth Training Center in Dove Valley, CO.
They open NFL 2023-24 season with a home game against Las Vegas Raiders on Sept 10. The first away match for the team will come against Washington Commanders on Sept 17. Their last away game in league phase is scheduled vs Las Vegas Raiders on January 7 after their last home match against Los Angeles Chargers on December 31.
Below is the complete schedule for Denver Broncos with all home and away games in NFL 2023-2024 season, along with tickets, start time, and TV Channels airing these games.
Pre-Season
| Date | Matchup | Location | Time | Ticket |
| --- | --- | --- | --- | --- |
| August 11, 2023 | vs Arizona Cardinals | State Farm Stadium, Glendale, AZ | 10:00 p.m. | Buy Ticket |
| August 19, 2023 | vs San Francisco 49ers | Levi's Stadium, Santa Clara, CA | 8:30 p.m. | Buy Ticket |
| August 26, 2023 | vs Los Angeles Rams | Empower Field at Mile High, Denver, CO | 9:00 p.m. | Buy Ticket |
Regular Season
| Date | Matchup | Location | Time | Ticket |
| --- | --- | --- | --- | --- |
| September 10, 2023 | vs Las Vegas Raiders | Empower Field at Mile High, Denver, CO | 4:25 p.m. | Buy Ticket |
| September 17, 2023 | vs Washinton Commanders | Empower Field at Mile High, Denver, CO | 4.25 p.m. | Buy Ticket |
| September 24, 2023 | vs Miami Dolphins | Hard Rock Stadium, Miami Gardens, FL | 1 p.m. | Buy Ticket |
| October 01, 2023 | vs Chicago Bears | Soldier Field, Chicago, IL | 1 p.m. | Buy Ticket |
| October 08, 2023 | vs New York Jets | Empower Field at Mile High, Denver, CO | 2:25 p.m. | Buy Ticket |
| October 12, 2023 | vs Kansas City Chiefs | GEHA Field at Arrowhead Stadium, Kansas City, MO | 8:15 p.m. | Buy Ticket |
| October 22, 2023 | vs Green Bay Packers | Empower Field at Mile High, Denver, CO | 4:25 p.m. | Buy Ticket |
| October 29, 2023 | vs Kansas City Chiefs | Empower Field at Mile High, Denver, CO | 4:25 p.m. | Buy Ticket |
| November 13, 2023 | vs Buffalo Bills | Highmark Stadium, Orchard Park, NY | 8:15 p.m. | Buy Ticket |
| November 19, 2023 | vs Minnesota Vikings | Empower Field at Mile High, Denver, CO | 8:20 p.m. | Buy Ticket |
| November 26, 2023 | vs Cleveland Browns | Empower Field at Mile High, Denver, CO | 4:05 p.m. | Buy Ticket |
| December 03, 2023 | vs Houston Texans | NRG Stadium, Houston, TX | 4:05 p.m. | Buy Ticket |
| December 10, 2023 | vs Los Angeles Chargers | SoFi Stadium, Inglewood, CA | 4:25 p.m. | Buy Ticket |
| December 17, 2023 | vs Detroit Lions | Ford Field, Detroit, MI | TBD | Buy Ticket |
| December 24, 2023 | vs New England Patriots | Empower Field at Mile High, Denver, CO | 8:15 p.m. | Buy Ticket |
| December 31, 2023 | vs Los Angeles Chargers | Empower Field at Mile High, Denver, CO | 4:25 p.m. | Buy Ticket |
| January 7, 2024 | vs Las Vegas Raiders | Allegiant Stadium, Las Vegas, NV | TBD | Buy Ticket |
Also Check