UFC 287 PPV Payouts & Salaries w/ Bonus & Sponsorships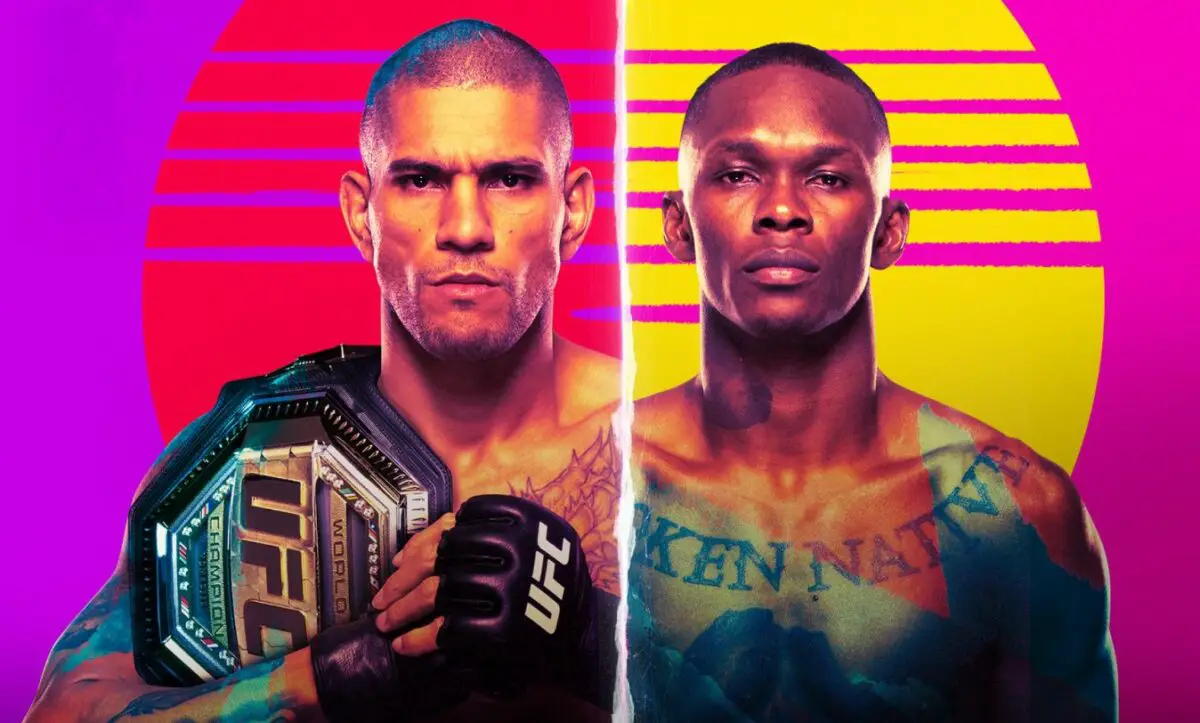 UFC 287 salaries figures will see only the main event fighters Israel Adesanya and Alex Pereira earning more than a million in total payout in estimated figures.
Just like at UFC 281, Israel Adesanya is expected to make $2 million in base salary apart from promotional guideline pay of $32,000. As per estimates, Middleweight Champion Alex Pereira will get around $500,000 in base salary. If the event manages 600,000 PPV buys, both Adesanya and Pereira will make an additional $600,000 in PPV bonuses.
Gilbert Burns is expected to make similar salary as UFC 283 with $300,000 in base salary. Hometown boy Jorge Masvidal is expected to take home $500,000 in base salary. Check below for the complete of payouts, salaries, promotional guideline pay and performance bonuses from UFC 287 PPV.
1. Alex Pereira – $1,142,000
Base Salary – $500,000
Promotional Pay – $42,000
PPV Bonus – $600,000
2. Israel Adesanya – $2,682,000
Base Salary – $2,000,000
Promotional Pay – $32,000
PPV Bonus – $600,000
Performance Bonus – $50,000(Performance of the Night)
3. Gilbert Burns – $316,000
Base Salary – $300,000
Promotional Pay – $16,000
4. Jorge Masvidal – $521,000
Base Salary – $500,000
Promotional Pay – $21,000
5. Rob Font – $316,000
Base Salary – $150,000
Win Bonus – $100,000
Promotional Pay – $16,000
Performance Bonus – $50,000(Performance of the Night)
6. Adrian Yanez – $44,500
Base Salary – $40,000
Promotional Pay – $4,500
7. Kevin Holland – $266,000
Base Salary – $150,000
Win Bonus – $100,000
Promotional Pay – $16,000
8. Santiago Ponzinibbio – $81,000
Base Salary – $75,000
Promotional Pay – $6,000
9. Raul Rosas Jr. – $18,400
Base Salary – $14,400
Promotional Pay – $4,000
10. Christian Rodriguez – $25,600
Base Salary – $9,600
Win Bonus – $12,000
Promotional Pay – $4,000
11. Kelvin Gastelum – $256,000
Base Salary – $100,000
Win Bonus – $100,000
Promotional Pay – $16,000
Performance Bonus – $50,000(Fight of the Night)
12. Chris Curtis – $106,000
Base Salary – $50,000
Promotional Pay – $6,000
Performance Bonus – $50,000(Fight of the Night)
13. Michelle Waterson-Gomez – $86,000
Base Salary – $75,000
Promotional Pay – $11,000
14. Luana Pinheiro – $28,500
Base Salary – $12,000
Win Bonus – $12,000
Promotional Pay – $4,500
15. Gerald Meerschaert – $91,000
Base Salary – $75,000
Promotional Pay – $16,000
16. Joseph Pyfer – $28,000
Base Salary – $12,000
Win Bonus – $12,000
Promotional Pay – $4,000
17. Cynthia Calvillo – $61,000
Base Salary – $50,000
Promotional Pay – $11,000
18. Lupita Godinez – $86,000
Base Salary – $40,000
Win Bonus – $40,000
Promotional Pay – $6,000
19. Ignacio Bahamondes – $30,000
Base Salary – $12,000
Win Bonus – $12,000
Promotional Pay – $6,000
20. Trey Ogden – $16,000
Base Salary – $12,000
Promotional Pay – $4,000
21. Steve Garcia – $54,500
Base Salary – $25,000
Win Bonus – $25,000
Promotional Pay – $4,500
22. Shayilan Nuerdanbieke – $29,500
Base Salary – $25,000
Promotional Pay – $4,500
23. Sam Hughes – $56,000
Base Salary – $25,000
Win Bonus – $25,000
Promotional Pay – $6,000
24. Jacqueline Amorim – $16,000
Base Salary – $12,000
Promotional Pay – $4,000