UFC 285: Shavkat Rakhmonov vs Geoff Neal Live Blog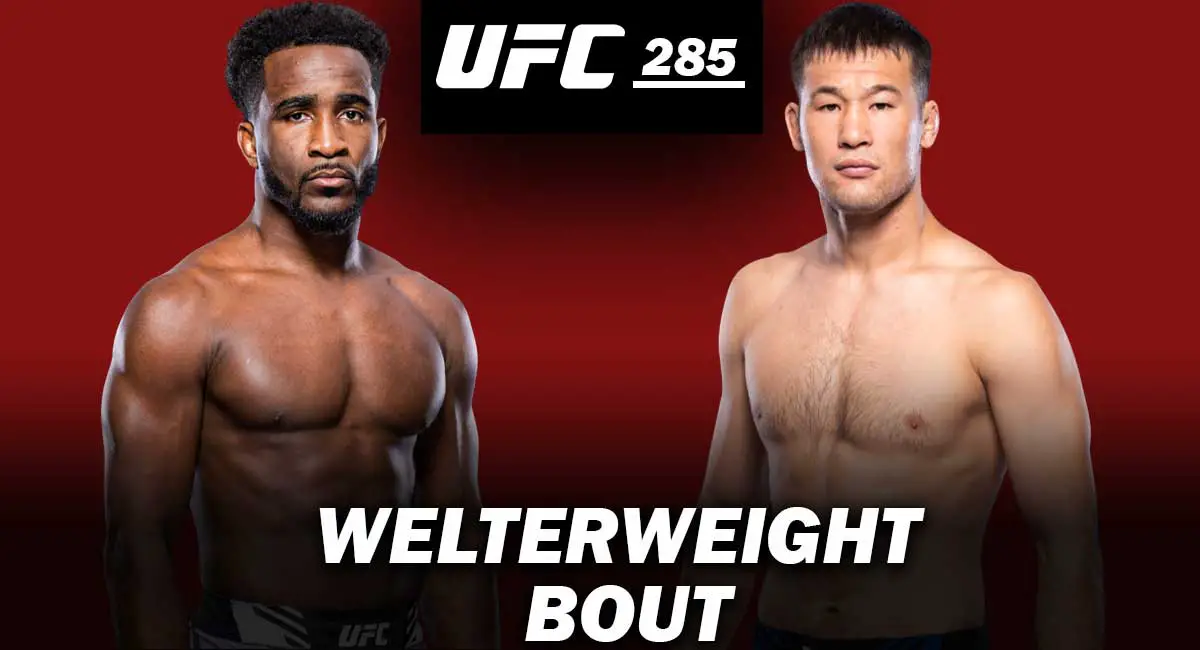 Shavkat Rakhmonov and Geoff Neal will clash in a catchweight bout at 175 lbs on the main card of UFC 285 PPV. The bout was at welterweight but Neal missed weight and it had to be turned into a bout at 175 lbs.
Rakhmonov will take part in his 5th UFC bout after making his debut at UFC 254 against Alex Oliveira. Considered as the next big thing, Rakhmonov remains undefeated in his 16 bouts so far and has finished each and every one of his fights either via knockout or submission. After his debut in UFC, Rakhmonov has beaten Michel Prazeres, Carlston Harris, and Neil Magny.
Geoff Neal has turned around his recent slump and has two wins in a row to take his UFC record to 7-2. Neal lost to Stephen Thompson and Neil Magny before beating Santiago Ponzinibbio and Vicente Luque. His earlier wins includes the likes of Belal Muhammad, Niko Price and Mike Perry.
This bout was earlier scheduled for January 14 Fight Night event but it got postponed due to Neal's injury. Will that injury still haunt Neal? Tune in below to find out as we post live updates, play-by-play, and round-by-round result from Shavkat Rakhmonov vs Geoff Neal bout from UFC 285.
Live Updates
Previous bouts are over now, and we await the pre-fight proceedings to take over. We are into the pre-fight video package now. Neal talks about his sepsis infection and how it affected him a couple of years back. Shavkat talks about the hard work that goes to get success in this sport. Shavkat walks out first. Neal walks out next shortly afterward. Bruce Buffer introduces both fighters. Shavkat is in blue corner while Neal is in the red one. Herb Dean is the referee. We are ready to go now.
They touch gloves before starting. Neal is backing up straight away. Shavkat is in southpaw stance. Shavkat goes for a high kick and connects. Neal closes the distance and they get into a clinch against the cage. Neal lands a right when they separate at the end of the first minute. Shavkat lands a body kick but Neal connects a combo. Shavkat also lands a good punch. Back-and-forth shots. Shavkat lands a knee to the body. Neal blocks an attempt to trip. They continue to tussle while being on their feet. Shavkat lands another clean punch.
Neal lands a high kick but Shavkat catches his leg. He could not do much with that though. Shavkat fires some good punches. He has lost his mouthpiece with that high kick earlier. The referee has not noticed it yet. Neal looks to counter and he counters with a bodykick and a punch. Neal connects some punches to hurt him. Shavkat connects a good right to stagger Neal and gets him against the cage in a clinch. The commentators tell the referee about the mouthpiece finally and he stops the fight to tell Shavkat to get the mouthpiece now. Shavkat connects with more punches. Neal fires back with a couple of shots to end the round.
Good shots from both sides as round two starts. Neal avoids a couple of jabs before Shavkat lands a front kick. He connects a punch on the body while Neal looks for a counter. Shavkat lands a knee and more body kicks. Neal is just looking to counter. Shavkat gets him in a clinch once again and keeps control for 30 seconds. Neal goes for a high kick but does not connect well. Shavkat raises his guard when Neal goes a combo. Neal keeps up the good work with combo shots.
Shavkat fires back with forearm shots halfway into the round before pushing Neal back to the cage. Shavkat lands more punches when they return to the middle. Neal resets after Shavkat lands a knee. Neal connects a combo. They get into the clinch again but it is Neal who initiated this. Back to the middle, Shavkat connects a combo of punches. Neal counters and lands an inside kick. shots lands from both sides in the final 15 seconds.
Neal is in southpaw stance while Shavkat is in orthodox stance. Shavkat lands a couple of body kicks. Neal hits back with a kick of his own. Neal staggers Shavkat with a couple of punches. Shavkat closes the distance to recover. Neal hits a couple of more punches before Shavkat gets his punches going. Shavkat puts him against the cage in a clinch. Shavkat hits a knee to ribs and keeps control to pin him against the cage. Shavkat hits more knee strikes before they return to the middle.
Neal throws a couple of punches but eats one from Shavkat also. Shavkat stuns him with a big right. Shavkat takes a good look at him before following up with more punches and knee strikes. Neal is pinned to the corner now and eats more shots from Shavkat. He manages to defend a takedown still, though. Shavkat is on his back and hits knee strikes to the back of Neal's leg. Shavkat now puts on a choke and Neal taps out with just a minute to go into the round.
Shavkat Rakhmonov won via submission(rear naked choke) at 4:17 in round 3.