UFC 285 Payouts, Salary, PPV, Sponsorship & Peformance Bonus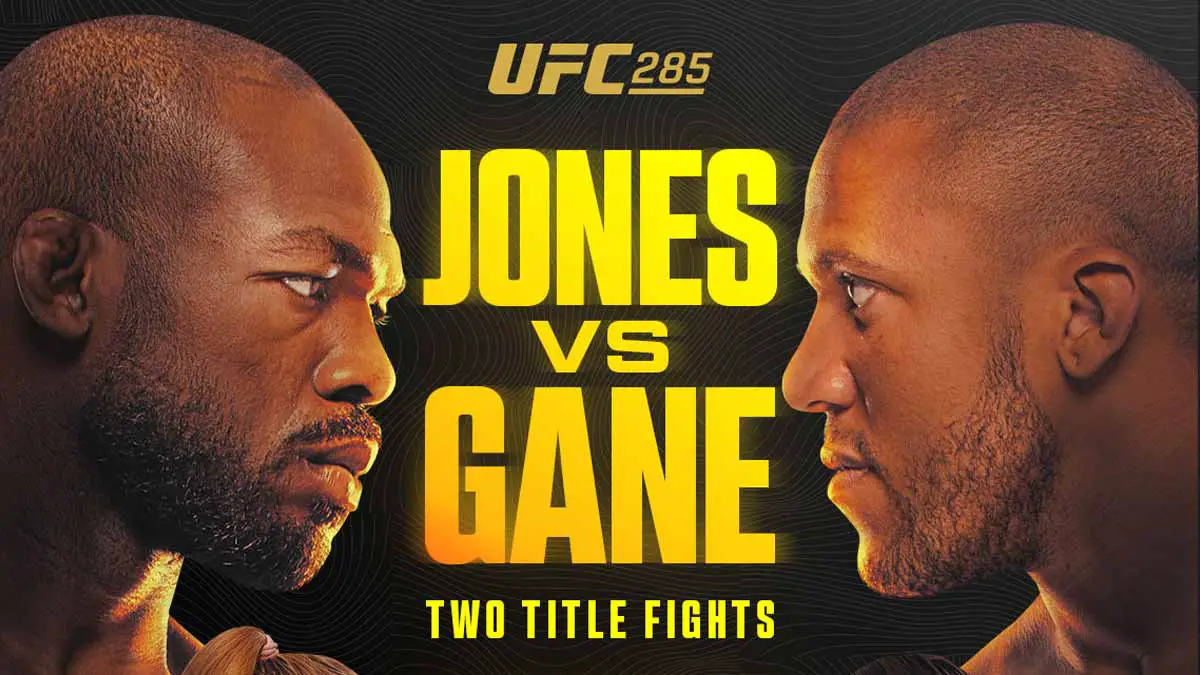 UFC 285 might end up being the card with the highest payout since UFC 264 when all is said and done. Jon Jones is likely to make more than $3 million in total payout.
Jones is getting $2 million in base salary while he is expectedly getting double points as PPV bonus than usual. With an expected 600,000 PPV buys for UFC 285, Jones will end up making $1.2 million in PPV bonus. Ciryl Gane, the other fighter in main event, is going to make around $500,000 in base salary.
Valentina Shevchenko is expected to make $500,000 in base salary and $600,000 in PPV bonus. Alexa Grasso is expectedly making only $182,000 in total salary for his title fight against Shevchenko. The list of salaries, win bonuses and other payout details for all the fighters from UFC 285 PPV are as below:
1. Jon Jones – $3,732,000
Base Salary – $2,000,000
PPV Bonus – $1,200,000
Promotional Pay- $32,000
Performance of the Night – $50,000
2. Ciryl Gane – $532,000
Base Salary – $500,000
Promotional Pay- $32,000
3. Valentina Shevchenko – $1,142,000
Base Salary – $500,000
PPV Bonus – $600,000
Promotional Pay- $42,000
4. Alexa Grasso – $332,000
Base Salary – $150,000
Win Bonus – $100,000
Promotional Pay- $32,000
Performance of the Night – $50,000
5. Geoff Neal – $69,000
Base Salary – $63,000(after removing 30% fine of $27,000 for missing weight)
Promotional Pay- $6,000
Fight of the Night – $50,000
6. Shavkat Rakhmonov – 201,500
Base Salary – $87,000(including $27,000 fine from Geoff Neal for missing weight)
Win Bonus – $60,000
Promotional Pay- $4,500
Fight of the Night – $50,000
7. Mateusz Gamrot – $126,000
Base Salary – $60,000
Win Bonus – $60,000
Promotional Pay- $6,000
8. Jalin Turner – $66,000
Base Salary – $60,000
Promotional Pay- $6,000
9. Bo Nickal – $102,000
Base Salary – $24,000
Win Bonus – $24,000
Promotional Pay- $4,000
Performance of the Night – $50,000
10. Jamie Pickett – $42,000
Base Salary – $36,000
Promotional Pay- $6,000
11. Cody Garbrandt – $186,000
Base Salary – $100,000
Win Bonus – $75,000
Promotional Pay- $11,000
12. Trevin Jones – $34,500
Base Salary – $30,000
Promotional Pay- $4,500
13. Derek Brunson – $121,000
Base Salary – $100,000
Promotional Pay- $21,000
14. Dricus du Plessis – $104,500
Base Salary – $50,000
Win Bonus – $50,000
Promotional Pay- $4,500
15. Viviane Araújo – $54,000
Base Salary – $48,000
Promotional Pay- $6,000
16. Amanda Ribas – $126,000
Base Salary – $60,000
Win Bonus – $60,000
Promotional Pay- $6,000
17. Julian Marquez – $28,500
Base Salary – $24,000
Promotional Pay- $4,500
18. Marc-André Barriault – $86,000
Base Salary – $40,000
Win Bonus – $40,000
Promotional Pay- $6,000
19. Ian Garry – $64,500
Base Salary – $30,000
Win Bonus- $30,000
Promotional Pay- $4,500
20. Song Kenan – $46,000
Base Salary – $40,000
Promotional Pay- $6,000
21. Cameron Saaiman – $42,000
Base Salary – $22,000(including $6,000 fine from Martinez due to weight miss)
Win Bonus – $16,000
Promotional Pay- $4,000
22. Leomana Martinez – $18,500
Base Salary – $14,000(after excluding 30% fine of $6,000 due to weight miss)
Promotional Pay- $4,500
23. Jessica Penne – $36,000
Base Salary – $30,000
Promotional Pay- $6,000
24. Tabatha Ricci – $44,500
Base Salary – $20,000
Win Bonus – $2000
Promotional Pay- $4,500
25. Da'Mon Blackshear – $20,000
Base Salary – $16,000
Promotional Pay- $4,000
26. Farid Basharat – $36,000
Base Salary – $16,000
Win Bonus – $16,000
Promotional Pay- $4,000
27. Esteban Ribovics – $20,000
Base Salary – $16,000
Promotional Pay- $4,000
28. Loik Radzhabov – $64,000
Base Salary – $30,000
Win Bonus – $30,000
Promotional Pay- $4,000