Road To UFC 2023: Brackets, Card, Dates, Start Time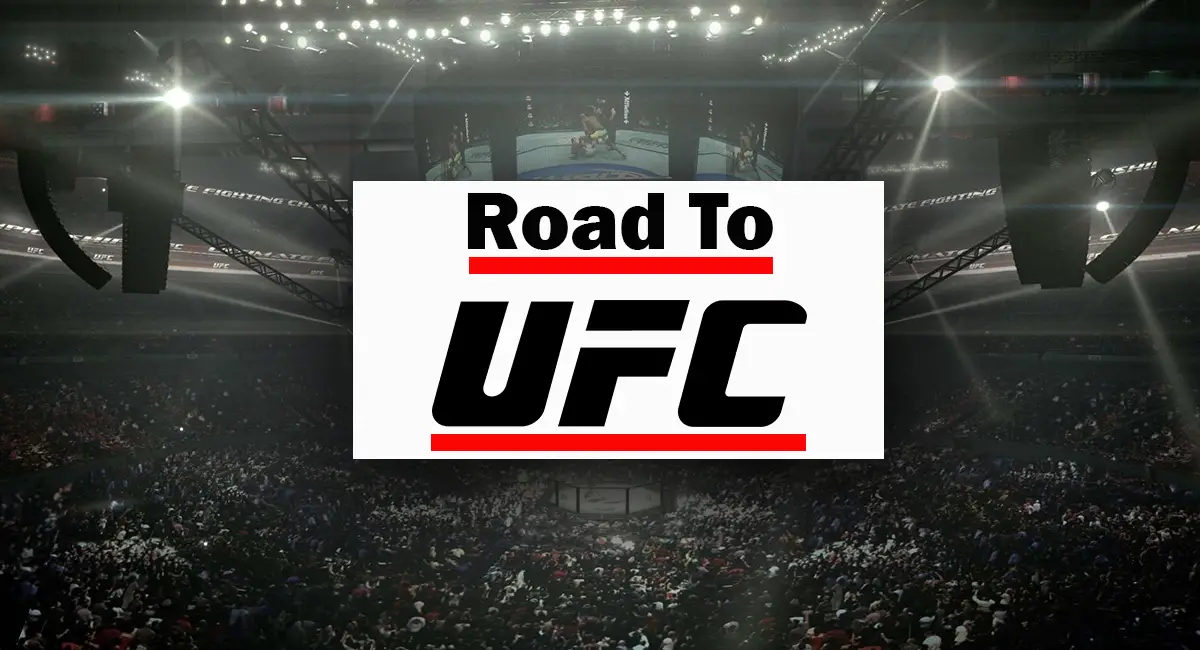 Road to UFC 2023 is an MMA event series held by UFC to recruit top Asian prospects. Under the series, the promotion will hold tournaments in flyweight, featherweight, bantamweight and lightweight weight classes with the winners getting an UFC contract. This second such series by UFC after Road to UFC 2022.
A total of 6 episodes will air under the series comprising quarterfinals and semifinals bout in all these weight divisions. Episodes 1 to 4 aired from UFC Performance Institute in Shanghai, China, on May 27 and 28, and featured quarterfinal bouts. Episodes 5 and 6 will air from Singapore Indoor Stadium in Kallang, Singapore on August 27. The final bouts of these tournaments are expected to take place on another UFC card, possibly taking place in Asia.
Check below for details on Road to UFC 2023 series with complete fight cards, results, tournament brackets, and more details.
Episode 1
Date: May 27, 2023
Start Time: 6:00 a.m. EST
Location: UFC Performance Institute, Shanghai, China
Keisuke Sasu (Japan) vs Sang Won Kim (Korea) – Featherweight Tournament Quarterfinal Bout

Sang Won Kim won via KO (right hand) at 1:42 of round 2

Mark Climaco (Philippines) vs Jung Hyun Lee (South Korea) – Flyweight Tournament Quarterfinal Bout

Mark Climaco won via unanimous decision(30-27, 30-27, 30-27)

Yi Zha (China) vs Abdul Azeem Badakhshi (Afghanistan) – Featherweight Tournament Quarterfinal Bout

Zha Yi won via submission(armbar) at 2:28 of round 1

Rei Tsuruya (Japan) vs Ronal Siahaan (Indonesia) – Flyweight Tournament Quarterfinal Bout

Rei Tsuruya won via submission(kimura) at 3:41 of round 2

Top Noi Kiwram (Thailand) vs Nyamjargal Tumendemberel (Mongolia) – Flyweight Bout

Nyamjargal Tumendemberel won via split decision(29-28, 29-28, 28-29)
Episode 2
Date: May 27, 2023
Start Time: 8:00 a.m. EST
Location: UFC Performance Institute, Shanghai, China
Kaiwen Li (China) vs Kai Lu (China) – Featherweight Tournament Quarterfinal Bout

Kaiwen Li def. Kai Lu via KO at 1:11 of round 2

Sumit Kumar (India) vs SeungGuk Choi (Japan) – Flyweight Tournament Quarterfinal Bout

Seung Guk Choi won via unanimous decision (29-28, 29-28, 29-28)

Kouya Kanda (Japan) vs Yibugele (China) – Featherweight Tournament Quarterfinal Bout

Kouya Kanda won via unanimous decision (30-27, 30-27, 29-28)

Ji Niushiyue (China) vs Billy Pasulatan (Indonesia) – Flyweight Tournament Quarterfinal Bout

Jiniushiyue won via TKO (punches) at 1:56 of round 1

Taiyilake Nueraji (China) vs Han Seul Kim (South Korea) – Welterweight Bout

Taiyilake Nueraji won via KO (Elbow) at 1:38 of round 2
Episode 3
Date: May 28, 2023
Start Time: 6:00 a.m. EST
Location: UFC Performance Institute, Shanghai, China
Zhu Rong vs Sung Chan Hong – Lightweight Tournament Quarterfinal Bout

Zhu Rong won via TKO at 2:17 in round 1

Shuya Kamikubo vs Baergeng Jieleyisi – Bantamweight Tournament Quarterfinal Bout

Shuya Kamikubo won via split decision(30-27, 28-29, 29-28)

Kazuma Maruyama vs Sang Uk Kim – Lightweight Tournament Quarterfinal Bout

Sang Uk Kim won via submission (D'arce choke) at 3:08 of round 1

Long Xiao vs Shohei Nose – Bantamweight Tournament Quarterfinal Bout

Long Xiao won via Split decision(29-28, 28-29, 29-28)

Chris Hofmann vs Sang Hoon Yoo – Welterweight Bout

Sang Hoon Yoo won via TKO (knee and punches) at 3:10 of round 3
Episode 4
Date: May 28, 2023
Start Time: 8:00 a.m. EST
Location: UFC Performance Institute, Shanghai, China
Won Bin Ki vs Bahatebole Batebolati – Lightweight Tournament Quarterfinal Bout

Bahatebole Batebolati won via disqualification at 2:22 of round 2

Chang Ho Lee vs R. Singh – Bantamweight Tournament Quarterfinal Bout

Chang Ho Lee won via TKO (Strike) at 3:52 of round 1

Windri Patilima vs Shin Haraguchi – Lightweight Tournament Quarterfinal Bout

Shin Haraguchi won via TKO at 1:25 in Round 2

Eperaim Ginting vs Daermisi Zhawupasi – Bantamweight Tournament Quarterfinal Bout

Daermisi Zhawupasi won via submission(rear-naked choke) at 0:58 of Round 1

Sim Kai Xiong vs Peter Danesoe – Flyweight Bout

Peter Danesoe won via KO at 4:23 in round 1
Episode 5
Date: August 27, 2023
Start Time: 4:00 AM ET
Location: Singapore Indoor Stadium, Kallang, Singapore
Li Kai Wen vs Koya Kanda – Featherweight Semifinal

Winner: Li Kai Wen won via unanimous decision (30–27, 29–28, 29–28)

Jiniushiyue vs Seung Guk Choi – Flyweight Semifinal

Winner: Jiniushiyue won via unanimous decision (30–27, 30–27, 30–27)

Yi Zha vs Sang Won Kim – Featherweight Semifinal

Winner: Yi Zha won via unanimous deicision (29–28, 29–28, 29–28)

Rei Tsuruya vs Mark Climaco – Flyweight Semifinal

Winner: Rei Tsuruya won via unanimous decision (30–27, 29–28, 29–27)

Peter Danasoe vs Nyamjargal Tumendemberel – Flyweight Non-Tournament

Winner: Nyamjargal Tumendemberel won via Submission (rear-naked choke) at 1:12 of round 1
Episode 6
Date: August 27, 2023
Start Time: 6:00 AM ET
Location: Singapore Indoor Stadium, Kallang, Singapore
Shin Haraguchi vs Bahatebole Batebolati – Lightweight semifinal

Winner: Shin Haraguchi won via unanimous deicision (30–27, 29–28, 29–28)

Daermisi Zhawupasi vs Chang Ho Lee – Bantamweight Semifinal

Winner: Chang Ho Lee won via TKO (punches) at 3:35 of round 3

Rongzhu vs Sang Wook Kim – Lightweight Semifinal

Winner: Rongzhu won via unanimous deicision (30–26, 29–28, 29–28)

Xiao Long vs Shuya Kamikubo – Bantamweight Semifinal

Winner: Xiao Long won via majority decision(29–28, 29–27, 28–28)
Tournament Brackets
Flyweight
Rei Tsuruya def. Ronal Siahaan – Quarterfinal 1
Mark Climaco def. Jung Hyun Lee – Quarterfinal 2
Jiniushiyue def. Billy Pasulatan – Quarterfinal 3
Seung Guk Choi def. Sumit Kumar – Quarterfinal 4
Rei Tsuruya def. Mark Climaco – Semifinal 1
Jiniushiyue def. Seung Guk Choi – Semifinal 2
Rei Tsuruya vs Jiniushiyue – Final
Featherweight
Zha Yi def. Wuziazibieke Jiahefu – Quarterfinal 1
Sang Won Kim def. Keisuke Sasu – Quarterfinal 2
Kouya Kanda def. Yibugele – Quarterfinal 3
Kaiwen Li def. Kai Lu – Quarterfinal 4
Zha Yi def. Sang Won Kim – Semifinal 1
Kaiwen Li def. Kouya Kanda – Semifinal 2
Zha Yi vs Kaiwen Li – Final
Bantamweight
Long Xiao def. Shohei Nose – Quarterfinal 1
Shuya Kamikubo def. Baergeng Jieleyisi – Quarterfinal 2
Daermisi Zhawupasi def. Eperaim Ginting vs – Quarterfinal 3
Chang Ho Lee def. Rana Rudra Pratap Singh – Quarterfinal 4
Long Xiao def. Shuya Kamikubo – Semifinal 1
Chang Ho Lee def. Daermisi Zhawupasi – Semifinal 2
Long Xiao vs Chang Ho Lee – Final
Lightweight
Sang Uk Kim def. Kazuma Maruyama – Quarterfinal 1
Zhu Rong def. Sung Chan Hong – Quarterfinal 2
Shin Haraguchi def. Windri Patilima – Quarterfinal 3
Bahatebole Batebolati def. Won Bin Ki – Quarterfinal 4
Zhu Rong def. Sang Uk Kim – Semifinal 1
Shin Haraguchi def. Bahatebole Batebolati – Semifinal 2
Shin Haraguchi vs Zhu Rong – Final