One 161 Results Live, Petchyindee vs Tawanchai Card, Start Time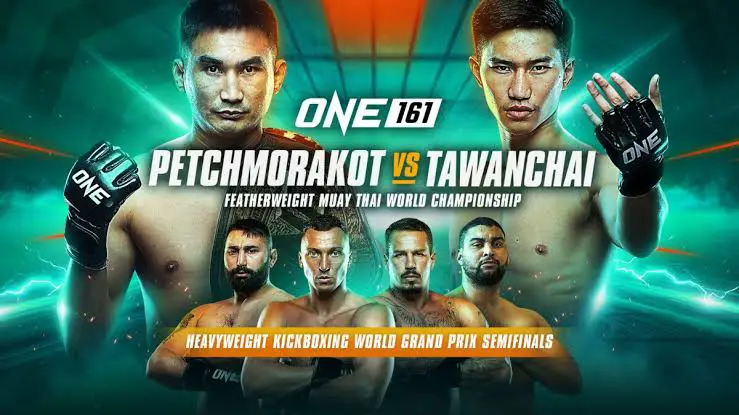 One Championship returns in September with ONE 161: Petchyindee vs Tawanchai event on September 29, 2022.
ONE Muay Thai Featherweight champion Petchmorakot Petchyindee will headline the event with his title defense against Tawanchai PK Saenchai. Petchyindee defended this title earlier in May against Jimmy Vienot also. Tawanchai has been in action twice this year with matches against Saemapetch Fairtex and Niclas Larsen.
The event will also feature semifinal bouts for Heavyweight Kickboxing World Grand Prix between Roman Kryklia and Guto Inocente, and Iraj Azizpour and Bruno Chaves. India's Ritu Phogat returns to action in an Atomweight bout against Tiffany Teo.
Tune in below to catch results live from One Championship's ONE 161: Petchyindee vs Tawanchai event from prelims and main card.
Results
Lead Card (6 am EST)
| No. | Bout | Bout Type/Weightclass | Winner |
| --- | --- | --- | --- |
| 1 | Matheus Felipe vs. Ali Foladi | Middleweight MMA bout | Ali Foladi won via KO at 4:20 of round 1 |
| 2 | Rodrigo Marello vs. Ruslan Bagdasarian | Bantamweight Submission Grappling bout | Rodrigo Marello won via submission at 0:15 of round 1 |
| 3 | Ferrari Fairtex vs. Han Zi Hao | Muay Thai Bantamweight bout | Ferrari Fairtex won via unanimous decision |
| 4 | Sangmanee PK.Saenchai vs. Zhang Chenglong | Muay Thai Bantamweight bout | Sangmanee PK.Saenchai won via split decision |
| 5 | Capitan Petchyindee vs. Alaverdi Ramazanov | Muay Thai Bantamweight bout | Alaverdi Ramazanov won via split decision |
Main Card (8:30 am est)
| No. | Bout | Bout Type/Weightclass | Winner |
| --- | --- | --- | --- |
| 1 | Oumar Kane vs. Batradz Gazzaev | Heavyweight MMA bout | Oumar Kane won via TKO at 2:15 of round 2 |
| 2 | Ritu Phogat vs. Tiffany Teo | Women's Atomweight MMA bout | Tiffany Teo won via submission at 4:52 of round 1 |
| 3 | Zhang Lipeng vs. Saygid Izagakhmaev | Lightweight MMA bout | Saygid Izagakhmaev won via unanimous decision |
| 4 | Iraj Azizpour vs. Bruno Chaves | Heavyweight Kickboxing World Grand Prix semifinal bout | Iraj Azizpour won unanimous decision |
| 5 | Roman Kryklia vs. Guto Inocente | Heavyweight Kickboxing World Grand Prix semifinal bout | Roman Kryklia won via KO(punches & kick) at 0:52 of round 1 |
| 6 | Petchmorakot Petchyindee(c) vs. Tawanchai PK.Saenchai | ONE Featherweight Muay Thai World Championship | Tawanchai PK.Saenchai won via unanimous decision |