UFC 274: Charles Oliveira vs Justin Gaethje 155 lbs Title Fight Confirmed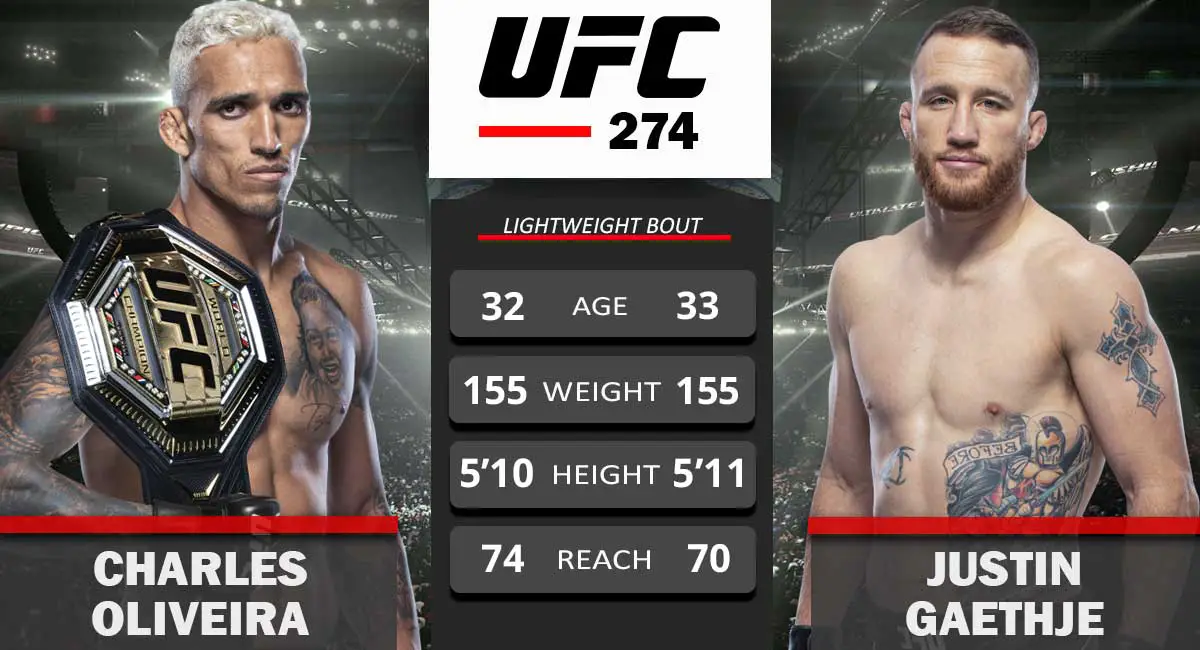 Another Brazilian Champion will defend his title at UFC 274.
Lightweight Champion Charles Oliveira(32-8-1) will defend the title against Justin Gaethje( at May 7 event. The fight is confirmed to ESPN by UFC President Dana White. UFC earlier announced that Light Heavyweight Champion Glover Texeira, another UFC champion from Brazilian Origin, will defend the title against Jiri Prochazka.
UFC was looking for Brazilian Champions to defend the title as the PPV was earlier planned to take place in the country. But that does not seem to be the case anymore. The promotion is now looking for another location, which is not confirmed at this time.
The match against Gaethje will be Oliveira's second title defense. On a 10-fight winning streak currently, Oliveira won the vacant title at UFC 263 by beating Michael Chandler via second-round KO. He then successfully defended the title against Dustin Poirier at UFC 269 last month via third-round submission.
After his first defense, Oliveira got called out by McGregor for Brazil vs Ireland 2 via Twitter. "Do Bronx" also expressed the desire that he would like to face Conor McGregor in his home country in May. "It may be in welterweight, lightweight, or middleweight, with my title on the line or not. Just choose and I'll be ready," he told Sherdog in an interview.
With the rumors going on about the possible Oliveira vs McGregor lightweight title bout, #1 contender Justin Gaethje was ready to riot if he was to be denied the title shot. The former interim champion is 5-1 in his last 6 UFC bouts. The one loss during this period came against Khabib Nurmagemodov in the lightweight title unification bout. Gaethje has since defeated Michael Chandler at UFC 268.