LFA 131: Argueta vs Silva Results, Card, Date, Time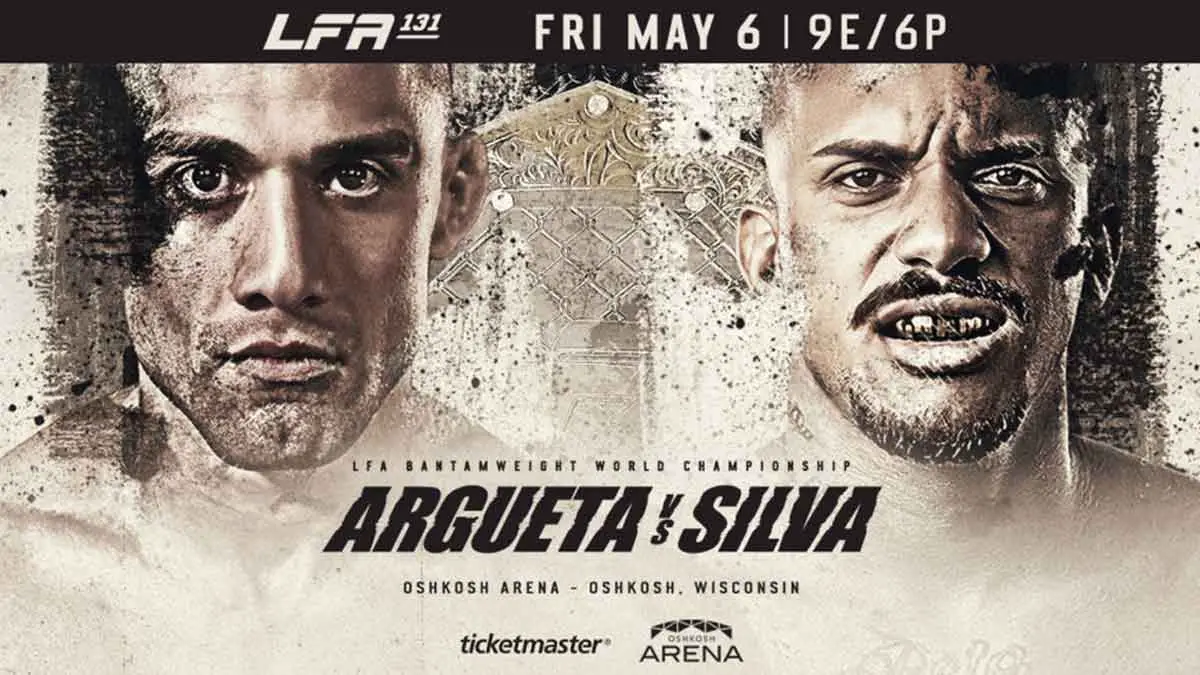 Legacy Fighting Alliance promotion will present LFA 131: Argueta vs Silva event on May 6, 2022, from Oshkosh Arena in Oshkosh, WI.
Airing via UFC Fight Pass, the event will feature the vacant bantamweight title fight between Daniel Argueta and Diego Silva. Argueta, a former TUF participant, will enter the bout after defeating Mairon Santos and Rodney Mondala in his last two fights in LFA. Silva makes his LFA debut, but has won his last bout in CES against Andre Soukhamthath in March this year.
5 more bouts are announced for the main card with 6 more scheduled in the prelims. Tim Hiley and Darrius Flowers clash in a middleweight co-main event. The main card will start airing from 9 PM EST on May 6 while the prelims will be unaired.
Keep reading to get the complete details on LFA 131: Argueta vs Silva event.
Results & Card
Prelims Card
| No. | Bouts | Weight Classes | Winner |
| --- | --- | --- | --- |
| 1. | Andre Sellars vs. Jeremy Strobel Jr. | Bantamweight | Jeremy Strobel Jr. won via TKO at 1:11 of round 3 |
| 2. | Malaquias Jarmon vs. Dalton Holmes | Catchweight | Dalton Holmes won via TKO at 1:32 of round 1 |
| 3. | Randy Rivera-Santiago vs. Edwin Jimenez | Flyweight | Edwin Jimenez won via split decision |
| 4. | Maria Henderson vs. Jena Williams | Women's Strawweight | Maria Henderson won via submission at 1:31 of round 3 |
| 5. | Leslie Hernandez vs. Christy Tyquiengco | Women's Strawweight | Christy Tyquiengco won via split decision |
| 6. | Tristan Overvig vs. Nick Klein | Light-Heavyweight | Nick Klein won via unanimous decision |
Main Card
No.
Bouts
Weight Classes
Winner
1.
David Evans vs, Gary Konkol
Featherweight
David Evans won via unanimous decision (30-26, 30-26, 30-25)
2.
Austin Lutchen vs. Kegan Gennrich
Lightweight
Kegan Gennrich won via unanimous decision (30-27, 30-27, 30-26)
3.
Hamza Salim vs. Roland Dunlap
Middleweight
Hamza Salim won via unanimous decision (29-28, 29-28, 29-28)
4.
Jalin Fuller vs. Myktybek Orolbay Uulu
Welterweight
Myktybek Orolbay Uulu won via Unanimous Decision (30-27, 30-27, 30-26)
5.
(Co-Main Event)
Tim Hiley vs. Darrius Flowers
Middleweight
Darrius Flowers won via KO at 0:43 of round 1
6.
(Main Event)
Daniel Argueta vs. Diego Silva
Vacant Bantamweight Title Fight
Daniel Argueta won via split decision (48-47, 47-48, 49-46)