UFC 279: Li Jingliang vs Daniel Rodriguez Live Blog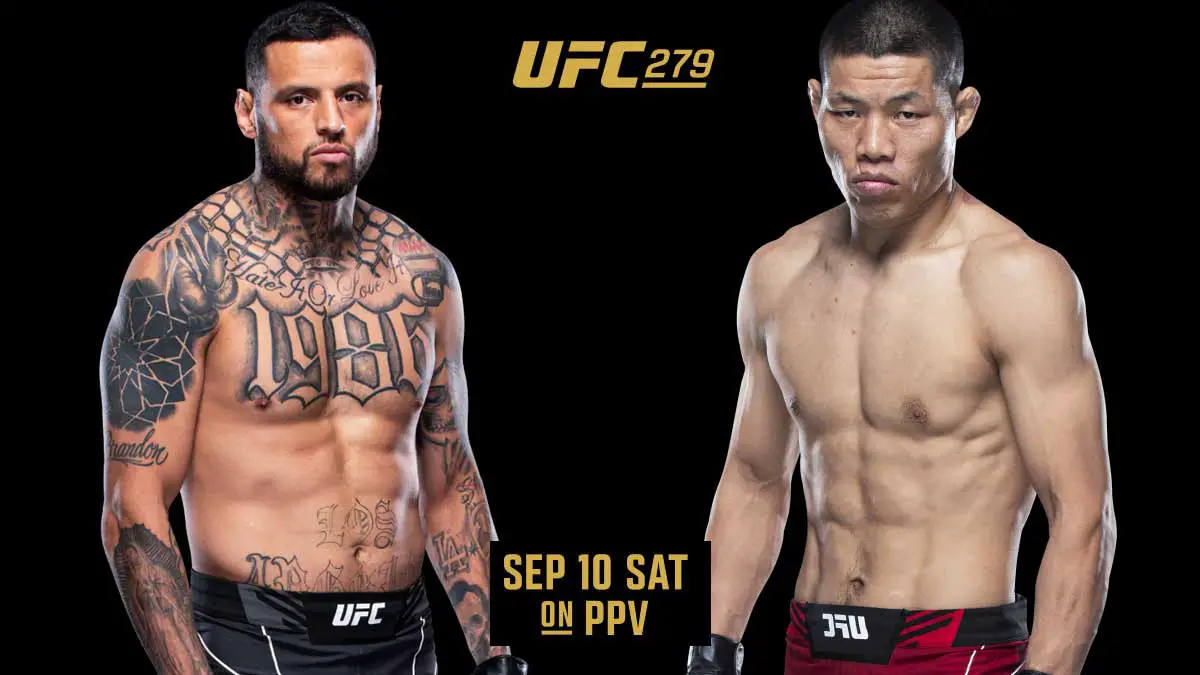 Li Jingliang vs Daniel Rodriguez is one of the rearranged bouts at UFC 279 PPV on the main card at 180 lbs catchweight.
Jingliang was supposed to face Tony Ferguson in a welterweight in the co-main event. However, he has agreed to be shifted to one bout earlier and onto 180 lbs catchweight despite making 170 lbs for welterweight. Rodriguez was facing Kevin Holland before, but has to prepare for a new opponent in a matter of hours.
Li Jingliang has bounced back from his loss to Khamzat Chimaev last year with a win over Muslim Salikhov. Daniel Rodriguez also comes into this bout with a win over Kevin Lee earlier this year. Who will continue the winning streak after so much distraction and chaos?
Check below for round-by-round and play-by-play live updates from Li Jingliang vs Daniel Rodriguez 180 lbs catchweight bout from UFC 279 PPV.
Live Updates
Pre-fight video package has started. Daniel Rodriguez makes his way out. Li Jingliang walks out now. His entrance music does not start until he is halfway out. Bruce Buffer does the official introduction and we are ready to go.
Round 1: Both men are feeling out each other. Li counters with a swing. Li hits a low kick, DR hits a punch as he was unbalanced a bit. DR hits an inside kick. Li with a couple of punches as 100 seconds are gone. DR replies with a swing. Li catches a kick but could not do anything on it. DR hits a high kick. Li replies with body kicks after a while. They both go for inside kicks as we get to final minute. Li catches another kick and hits a low kick to trip Rodriguez. Rodriguez is back to his feet quickly. The bell rings before Li could hit a high knee.
Round 2: Li hits outside calf kicks. Some exchange between them. DR catches Li's leg but could not capitalize. DR hits a jab. Li with an inside kick. He follows up with a combo. Another combo from Li. An inside leg kick from Li. DR hits a kick to his thighs. Leech hits more inside kicks. He counters a calf kick with a punch. Li keeps catching DR in counters as we are down to 3 minutes in this round. Li catches DR's leg again. DR hits a punch as Li was trying to sneak one in. Li hits more calf kicks before a quick exchange between them. Li landed a hard one in that exchange. DR hits outside kicks. A jab from DR. Li catches the leg again and is able to take him down. The bell rings before he could do anything.
Round 3: DR is pushing Li towards the cage but Li brings it back to the middle with his shots. DR lands jab. Li reaches out for a punch but DR counters with more jabs. Back and forth action with much more urgency but nothing hard lands. Li catches the leg again after being hit with a kick. Li dodges a jab. Li hits a punch behind the ears. Rodriguez lands a good punch himself. DR goes for an uppercut on body. DR pushes Li back again with some body kicks. Li shows some good movement to avoid jabs. DR counters with more shots as we get to the final minute. Li goes for body shots. DR counters with more jabs. DR misses a high kick. DR misses his jab as we get to the final bell.
Official Decision: Daniel Rodriguez won via split decision(29-28, 28-29, 29-28).