Islam Makhachev Next Fight: vs Charles Oliveira, UFC 294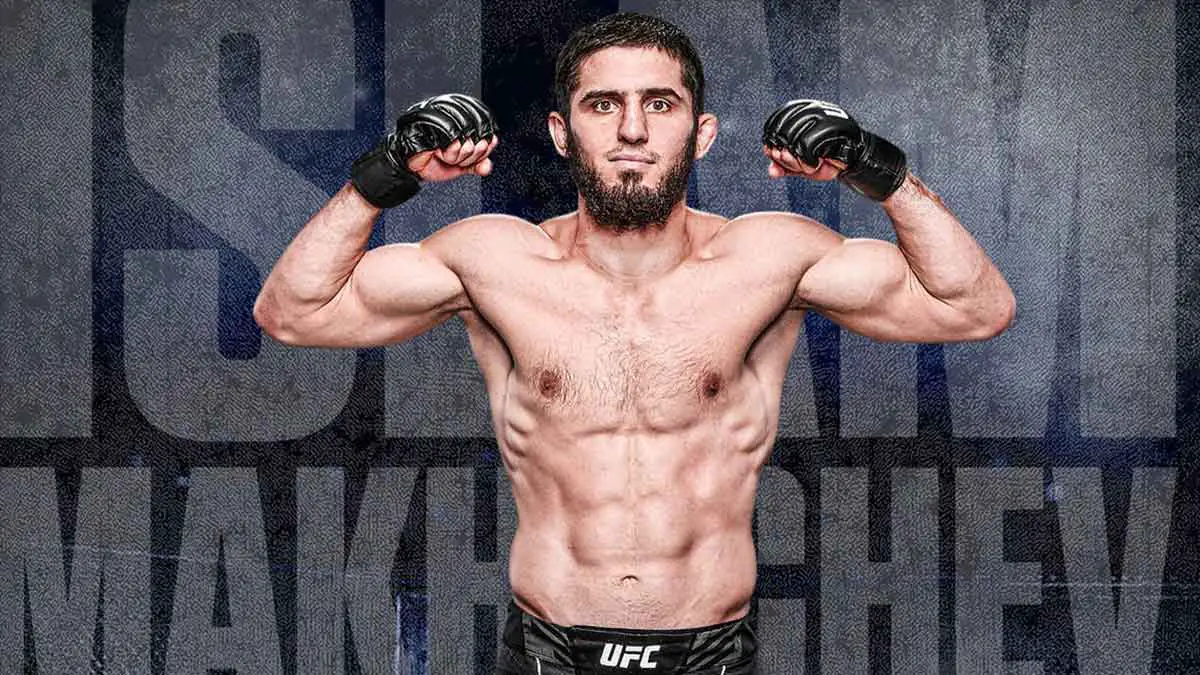 Islam Makhachev, the current UFC Lightweight Champion, is a proud owner of a 12-fight winning streak which has garnered interest from MMA fans worldwide. After being termed as the successor of his coach Khabib Nurmagamedov, Makhachev has now proved that he is a fighter in own terms.
After winning the lightweight title against Charles Oliveira, Makhachev proved his mettle with a unanimous decision win over Featherweight Champion Alexander Volkanovski. With a string of high-profile wins under his belt, he is set to own the lightweight division. So, this begs the question – Who will Islam Makhachev fight next?
Who will Islam Makhachev Fight Next?
Charles Oliveira has zero doubt a rematch with Islam Makhachev is next with a #UFC289 win over Beneil Dariush. pic.twitter.com/jmDhvSiQgw

— MMA Junkie (@MMAJunkie) June 7, 2023
Islam Makhachev is expected next fight against Charles Oliveira. Charles Oliveira defeated Beniel Dariush at UFC 289 in what was considered a title eliminator. Dariush said in his interview a couple of months back that he was assured a title fight from UFC if he managed to beat Oliveira when their bout was moved from UFC 288 to UFC 289.
After Oliveira beat Dariush, UFC President made it clear that Oliveira vs Makhachev 2 makes sense and he was excited for the rematch. Makhachev defeated Oliveira in the fight for the vacant lightweight title at UFC 280 in Abu Dhabi last year. This bout against Dariush was Oliveira's first since that loss. Makhachev has since defeated Alexander Volkanovski at UFC 284.
There is also a possibility that Makhachev gets a different opponent. #2 ranked Dustin Poirier and #3 ranked Justin Gaethje are also going to headline UFC 291 in a fight for BMF title. It is also rumored that the winner between Poirier and Gaethje might also be a future title contender and opponent for Makhachev.
Islam Makhachev Next Fight Date
If things go to plan at #UFC289, @beneildariush confirms he's a 🔒 for the next title shot against Islam Makhachev in October! 🏆

🎥: https://t.co/fldyHhowcv pic.twitter.com/bGEji4YeOE

— Submission Radio (@SubmissionRadio) June 6, 2023
While it remains uncertain, Islam Makhachev's next fight is expected to be on UFC 294 PPV in Abu Dhabi. With Oliveira having 4 months to prepare for the title fight, the date makes sense. But it is also possible that the fight between Makhachev and Oliveira might be pushed to November or December of 2023.
Islam Makhachev Current Record
Islam Makhachev has taken part in 25 MMA bouts so far with just 1 blemish on his career. His only loss came in his second UFC bout back in 2015 at the hands of Adriano Martins. He was knocked out in the first second minute of that bout. On either side of that loss, he has twelve wins with a total of 11 wins coming via submission while 4 came via knockouts.
His most famous wins have come against Dan Hooker(UFC 267) and Bobby Green(Fight night headliner) before he won UFC Lightweight title by beating Charles Oliveira at UFC 280. His first title defense came against Featherweight Champion Alexander Oliveira at UFC 284.