How to Watch Bellator 290, TV Channel, Online Live Streaming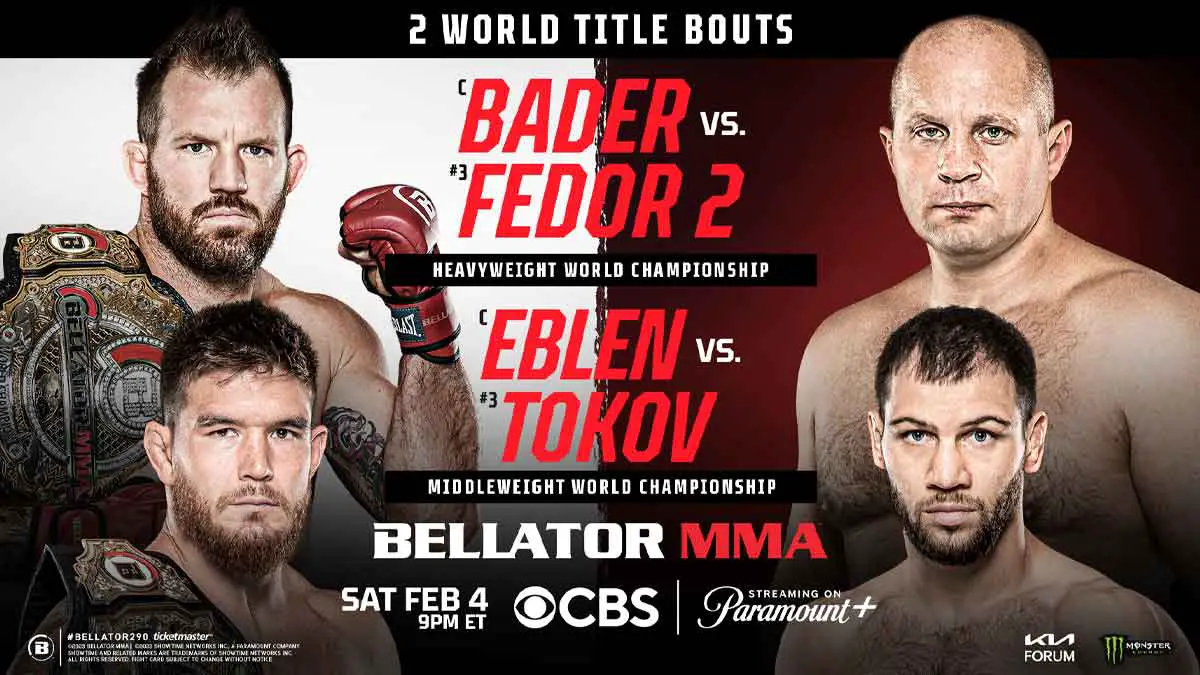 Bellator 290 will be Bellator's first event that fans can watch on CBS TV Channel and Paramount Plus Online Streaming service.
Bellator 290 is set to take place on February 4, 2023, with Ryan Bader vs Fedor Emalianenko heavyweight title bout in the main event. This will be a rematch between Bader and Fedor after Bader defeated the latter in their 2019 showdown to win the heavyweight title. This will also be Fedor's retirement bout.
The co-main event will feature a bout for Bellator Middleweight Championship, where Johnny Eblen will defend the title for the first time against Anatoly Tokov. Sabah Homasi vs Brennan Ward bout will complete the event's main card. Check here to know how you can watch Bellator 290: Bader vs Fedor 2 event online live streaming and on TV in the United States, United Kingdom and other parts of the world for free.
United States
As mentioned above, Bellator 290 will air on CBS. It will be the first Bellator event to CBS and the first MMA event to air on the channel since 2010. Bellator will also make it's Paramount Plus streaming debut with this event as the service will make the event available for online live streaming.
United Kingdom
Bellator events in the United Kingdom air on BBC 3 on cable TV and via BBC iPlayer for online streaming. Bellator event's main card and prelims can be streamed online completely free via BBC iPlayer.
Watch Bellator For Free
Bellator events air in many countries(apart from US & UK) via Bellator's Youtube Channel without any subscription cost. The fans in the UK can watch Bellator events for free via BBC iPlayer.
For the fans in the US, a simple VPN service that can change the geolocation of your device can help in watching Bellator events for free via through BBC iPlayer.
Rest of The World
Bellator has deals with broadcasters and TV Channels in several different countries across the world. Check the table below to find your country's official broadcaster for Bellator 290.
| Country | TV Channel/Streaming Platform |
| --- | --- |
| Armenia | Setanta Sports |
| Australia | 10 Play |
| Azerbaijan | Setanta Sports |
| Belarus | Setanta Sports |
| Belgium | RMC Sports |
| Brazil | ESPN Brasil |
| Bulgaria | bTV Ring |
| Czech Republic | Nova Sports |
| Denmark | PlutoTV |
| Estonia | Setanta Sports |
| France | RMC Sports |
| Georgia | Setanta Sports |
| Hungary | Arena4 |
| Indonesia | Mola |
| Ireland | Virgin Media |
| Israel | Ego |
| Italy | Mola |
| Japan | U-Next |
| Kazakhstan | Setanta Sports |
| Kyrgyzstan | Setanta Sports |
| Latvia | Setanta Sports |
| Lithuania | Setanta Sports |
| Malaysia | Mola |
| Moldova | Setanta Sports |
| Netherlands | Paramount Network |
| Nigeria | Sporty TV |
| Norway | PlutoTV |
| Poland | TVP Sport |
| Singapore | Mola |
| Slovakia | Nova Sports |
| Spain | GOL |
| Sweden | PlutoTV |
| Switzerland | RMC Sports |
| Tajikistan | Setanta Sports |
| Turkmenistan | Setanta Sports |
| Ukraine | Megogo |
| United Kingdom | BBC 3/BBC Iplayer |
| United States | Showtime |
| Uzbekistan | Setanta Sports |
| Vietnam | FPT Play |