Eagle FC 49 Results, Busurmankul vs Magomedov Card, Streaming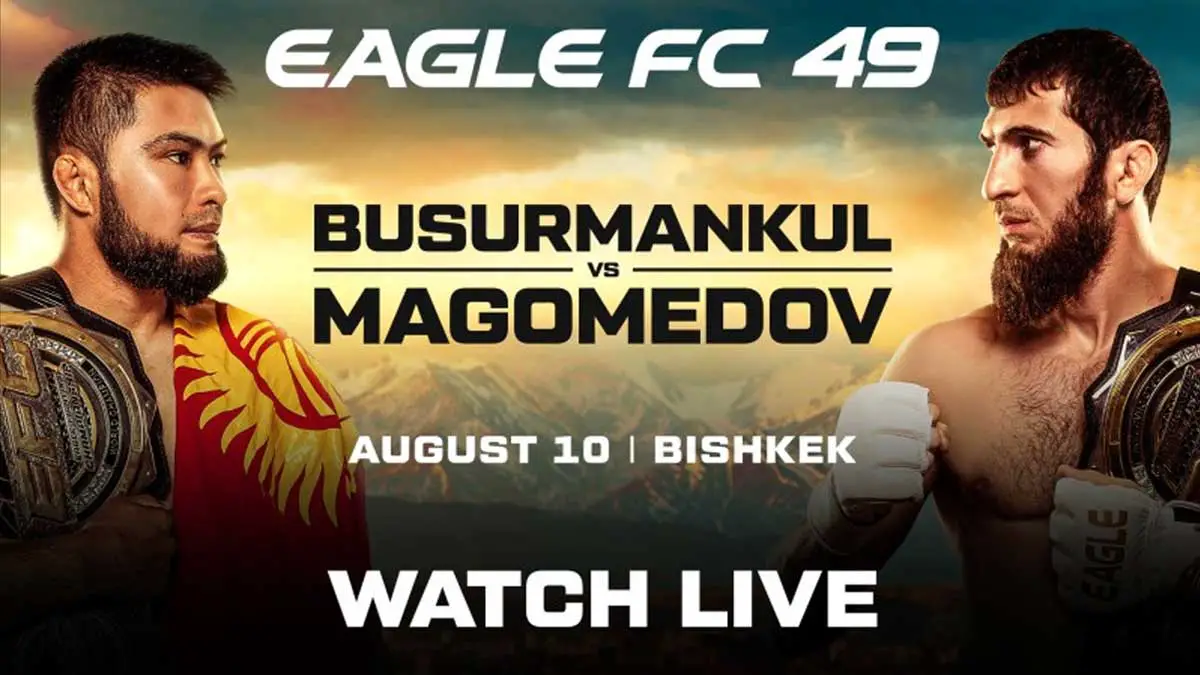 Eagle FC 49 event will air on August 10, 2022, from Bishkek, Kyrgyzstan and we will be here to post all the results from the event.
Busurmakul Abdibait was supposed to defend the Featherweight title against Rasul Magomedov in the main event. However, Busurmakul missed weight yesterday at the weigh-in and is stripped off the title. The title will only be on the line for Magomedov now.
In the co-main event, Irgit Oveenchi will face Magomedrasul Gadzhiev with Eagle FC Flyweight Championship on the line. The event will start airing from 8 AM EST onwards on Go FLX website(link in event info).
Tune in to catch all the results from Eagle FC 49: Busurmankul vs Magomedov event with a complete fight card, start time, streaming link and more details.
Results & Fight Card
No.
Bouts
Weightclass/Title
Winner
1
Magomed Kurbanov vs Ali Magomedov
Lightweight Bout
Magomed Kurbanov won via unanimous decision
2
Yusif Gashimov vs Dzhamal Aliev
Featherweight Bout
Yusif Gashimov won via submission at 3:40 of round 3
3
Mukhamedali Aliev vs Sergey Shirkunov
Flyweight Bout
Sergey Shirkunov won via unanimous decision (29-28)
4
Aybolat Muratali vs Arslan Bilalov
Heavyweight Bout
Arslan Bilalov won via TKO in round 1
5
Murad Khasaev vs Adis Taalaybek uulu
165 lbs Catchweight Bout
Adis Taalaybek uulu won via unanimous decision
6
Soslan Gasiev vs Vladimir Dayneko
Heavyweight Bout
Vladimir Dayneko won via KO at 0: 47 in round 1
7
Elmurod Madaminov vs Amru Magomedov
Lightweight Bout
Amru Magomedov won via submission(Rear Naked Choke) at 2:48 in round 1
8
Konstantin Veselkin vs Khabib Nabiev
Welterweight Bout
Khabib Nabiev won via unanimous decision
9
Akhkubeg Omarov vs Mansur Dzhamburaev
Featherweight Bout
Mansur Dzhamburaev won via unanimous decision
10
Georgy Shakhruramazanov vs Zhanysh Uraim uulu
Featherweight Bout
Georgy Shakhruramazanov won via TKO in 4:31 in round 1
11
Shakhban Alkhasov vs Mikhail Doroshenko
165 lbs Catchweight Bout
Shakhban Alkhasov won via Referee Stoppage at 1:23 in round 1
12
Aidarbek Abdibait uulu vs Vitaly Kositsyn
Flyweight bout
Aidarbek Abdibait uulu won via unanimous decision(29-27, 29-27, 29-27)
13
Irgit Oveenchi vs Magomedrasul Gadzhiev
Eagle FC Flyweight Championship
Irgit Oveenchi won via KO at 3:09 in round 3
14
Rasul Magomedov vs Busurmakul Abdibait
Featherweight bout
Eagle FC Featherweight title on the line for Magomedov
Rasul Magomedov won via unanimous decision(48-47, 48-47, 48-47)