Eagle FC 48 & Naiza 41 Results, Card, Live Streaming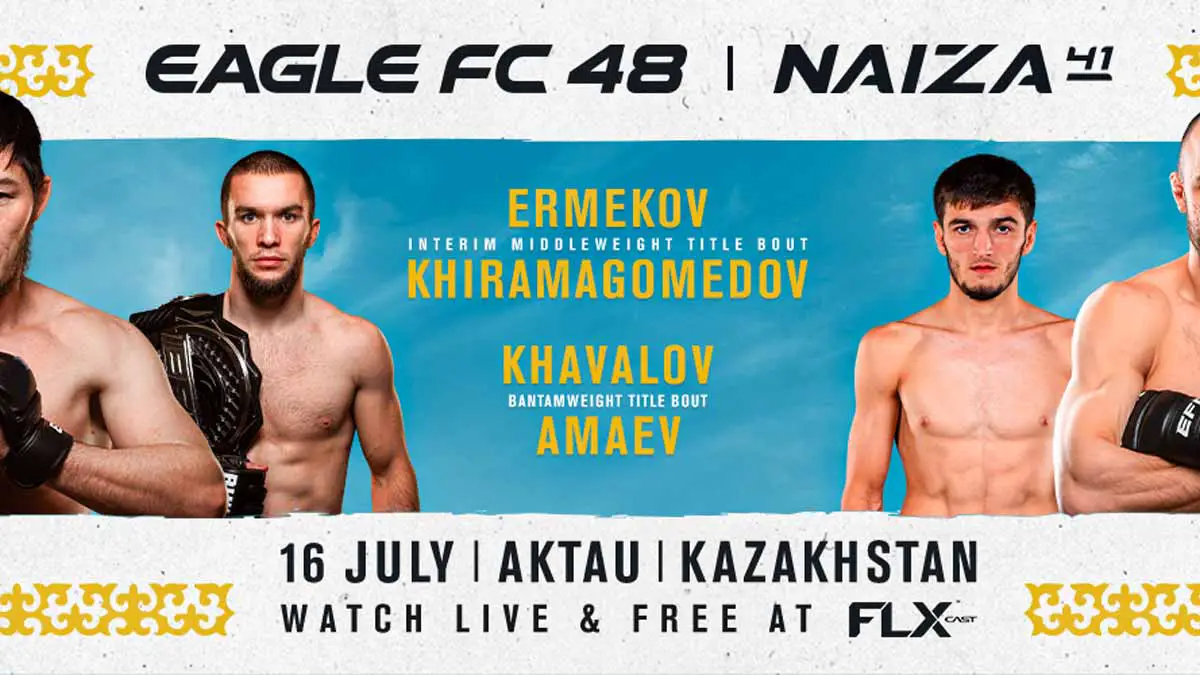 Eagle FC and Naiza FC are presenting a joint event on July 16, 2022, titled as Eagle FC 48 and Naiza 41.
Three title bouts will be the main attraction of the card. The headliner will see Dauren Ermekov tale on Gamzat Khiramagomedov for Interim Eagle FC Middleweight title. Renat Khavalov vs. Ramazan Amaev bout will have Eagle FC Bantamweight title on the line. Murad Abdurakhmanov vs. Ruslan Shamilov will be for Nazia FC Middleweight Championship.
The event airs on FLXCast for free. The link is
Check below for the complete results from Eagle FC 48 and Nazia 41 joint event with fight card, and more details.
Results & Card
| No. | Bout | Round/Weightclass/Title | Winner |
| --- | --- | --- | --- |
| 1 | Jeyhun Gocali vs. Meyrbek Tulegenov | 3 rounds Bantamweight bout | Meyrbek Tulegenov won via submission(armbar) at 3:03 in round 1 |
| 2 | Roman Dzhomart vs. Joseph Henle | 3 rounds Middleweight bout | Joseph Henle won via submission (RNC) at 2:53 of round 2 |
| 3 | Bakhtiyar Orazgeldyev vs Mavlet Amirov | 3 rounds Featherweight bout | Bakhtiyar Orazgeldyev won via TKO at 4:10 of round 2 |
| 4 | Dhouglas Ribeiro vs. Tamerlan Khadzhimuradov | 3 rounds Welterweight bout | Dhouglas Ribeiro won via TKO(Corner Stoppage) at the end of Round 2 |
| 5 | Magomed Gadzhiyasulov vs Norik Tadevosyan | 3 rounds Light Heavyweight bout | Magomed Gadzhiyasulov won via KO at 2:46 of Round 1 |
| 6 | Syimyk Eldiyar uulu vs. Bolat Zamanbekov | 3 rounds Flyweight bout | Bolat Zamanbekov won via submission(Rear Naked Choke) at 2:56 of Round 2 |
| 7 | Alan Matikov vs Ivan Romanov via unanimous decision (29-28) | 3 rounds Heavyweight bout | Alan Matikov won via unanimous decision(29-28, 29-28, 29-28) |
| 8 | Ramazan Gasanov vs. Nasimjon Sharipov | 3 rounds Welterweight bout | Ramazan Gasanov won via Submission (Ezekiel Choke) at 1:42 of Round 2 |
| 9 | Alan Utegaliev vs Magomed Al-Abdullah | 3 rounds Bantamweight bout | Magomed Al-Abdullah won via unanimous decision (29-28, 29-28, 29-28) |
| 10 | Kayck Alencar vs. Ruslan Sariev | 3 rounds Bantamweight bout | Ruslan Sariev won via TKO in round 1 |
| 11 | Sergey Kalinin vs. Nutsalkhan Umakhanov | 3 rounds Middleweight bout | Sergey Kalinin won via unanimous decision |
| 12 | Konstantin Andreitsev vs Zakhar Ryabov | 3 rounds Light Heavyweight | Konstantin Andreitsev won via unanimous decision |
| 13 | Igor Svirid vs Shamil Magomedov | Middleweight bout | Shamil Magomedov won via TKO at 2:38 of round 2 |
| 14 | Renat Khavalov (c) vs. Ramazan Amaev | 5 rounds bout for EFC Bantamweight Championship | Renat Khavalov won via TKO at 4:40 of Round 3 |
| 15 | M. Abdurakhmanov vs. Ruslan Shamilov | 5 rounds bout for Vacant Nazia Middleweight Championship | Ruslan Shamilov won via submission at 2:47 of round 1 |
| 16 | Dauren Ermekov vs Gamzat Khiramagomedov | 5 rounds bout for EFC Interim Middleweight Championship | Dauren Ermekov won via TKO (strikes) at 2:06 of Round 2- |