Cage Warriors 147 Results LIVE, Show 1 & Show 2 Card, Time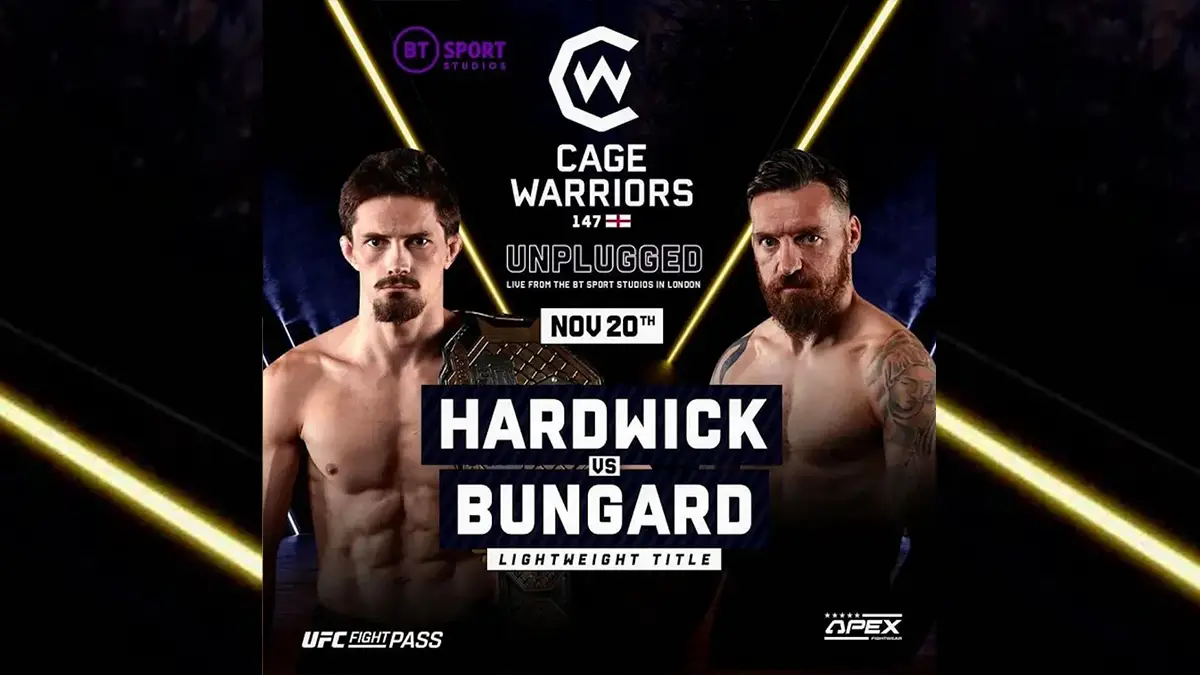 Cage Warriors will present CW 147 Unplugged event on November 20, 2022, from BT Studios in London, UK. The event will be two parts – Show 1 and Show 2.
Show 1 will feature 4 fights and will be headlined by Alan Carlos and former CW Middleweight Champion Matthew Bonner. This will be Bonner's fourth bout this year and is coming off a loss to Oban Elliott. Carlos returned to action this year at Bellator with a loss to Charlie Ward. Who will snap their losing streak?
Show 2 will feature 5 bouts and will be headlined by CW Lightweight Championship bout between George Hardwick and Chris Bungard. Hardwick won the CW lightweight title by defeating Kyle Driscoll in July this year, which was his sixth win in a row. Former Bellator Fighter Bungard made Cage Warriors debut in August with a win over Erick da Silva. Will he be able to dethrone Hardwick here?
Tune in below as we post results live from Cage Warriors 147 event with a complete fight card, start time, and more details.
Event Details
Results
Show 1
Show 2
Completed: Omran Chaaban def. George McManus via TKO (Punches of the body) at 3:12 of round 3 – Welterweight Bout (Watch Video)
Completed: Jan Quaeyhaegens def. Erick da Silva via TKO (Knee and Punches) at 0:26 of round 1- Lightweight Bout (Watch Video)
Completed: Will Currie def. Michael Tchamou via TKO (Punches & Elbows) at 3:04 of round 1 – Middleweight Bout (Watch Video)
Completed: Morgan Charriere def. Daniel Bazant via split decision (29-28, 29-28, 28-29) – Featherweight Bout
Completed: George Hardwick def. Chris Bungard via TKO (Punches) at 4:36 of round 2 – CW Lightweight Bout (Watch Video)