BKFC 27 London Results LIVE, MVP vs Platinum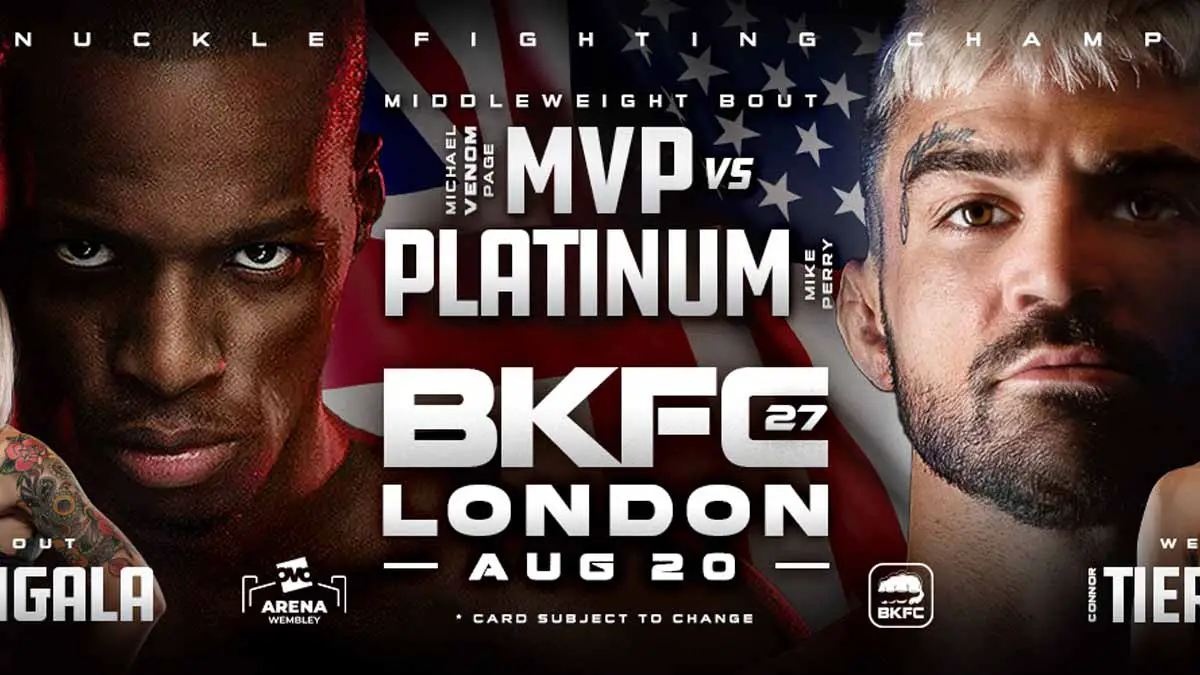 Bare Knuckle FC returns with BKFC 27 event on August 20, 2022, live from London, UK.
Former Bellator fighter Michael Page(MVP) will debut at BKFC against former UFC Fighter Mike "Platinum" Perry in the middleweight(175 lbs) main event bout of the show. Connor Tierney vs Joe Elmore welterweight(165 lbs) bout will be the co-main event.
Paige Vanzant was also scheduled for the card but she was pulled out just days before the event. a total of 12 bouts are still scheduled on the card with 3 airing on prelims for free.
Tune in below as we post all the results from BKFC 27 London: MVP vs Platinum event.
Results
Prelims Card
| No. | Match | Weightclass | Winner |
| --- | --- | --- | --- |
| 1 | Rob Cunningham vs Brett May | Heavyweight Bout | Rob Cunningham won via TKO at 2:00 of round 2 |
| 2 | Franco Tenaglia vs Chas Symonds | Welterweight Bout | Franco Tenaglia won via KO at 1:58 in round 2 |
| 3 | Conan Barbaru vs Dan Vinni | Light Heavyweight Bout | Dan Vinni won via KO at 0:35 in round 2 |
Main Card
| No. | Match | Weightclass | Winner |
| --- | --- | --- | --- |
| 1 | John Hick vs Ellis Shepherd | Featherweight bout | John Hick won via unanimous decision (48-47, 50-45, 48-47) |
| 2 | Ash Griffiths vs David Round | Light Heavyweight bout | David Round won via TKO at 0:40 of round 2 |
| 3 | Dawid Żółtaszek vs Adam Harris | Heavyweight bout | Dawid Żółtaszek won via KO at 1:59 of round 1 |
| 4 | Danny Christie vs Terry Brazier | Light Heavyweight bout | Danny Christie won via TKO at 1:22 of round 3 |
| 5 | Chris Fishgold vs Jake Bostwick | Middleweight bout | Jake Bostwick won via TKO at 1:58 of round 2 |
| 6 | Sam Shewmaker vs Mick Terrill | Heavyweight bout | Mick Terrill won via KO at 1:59 of round 2 |
| 7 | Tyler Goodjohn vs James Lilley | Lightweight bout | James Lilley won via unanimous decision (49-46, 50-44, 48-47) |
| 8 | Connor Tierney vs Joe Elmore | Welterweight Bout | Connor Tierney won via unanimous decision (49-43, 50-46, 50-45) |
| 9 | Michael Page vs Mike Perry | Middleweight bout | Mike Perry won via majority decision |