Montana Love vs Stevie Spark Results Live, Card, Start Time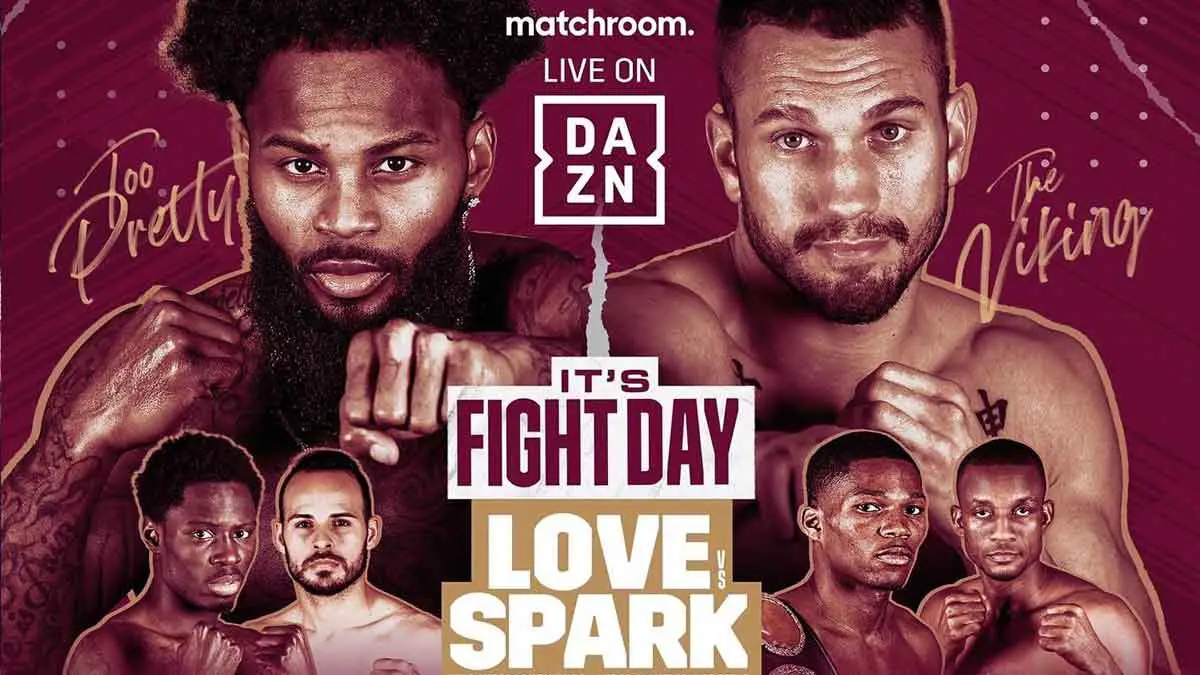 Montana Love and Stevie Spark event will headline a Matchroom boxing event on November 12, 2022, at Rocket Mortgage Fieldhouse in Cleveland, OH.
Love and Spark will clash over the vacant WBA Intercontinental Super Lightweight title. Love has taken 5 fights since the start of 2021, winning all of them. Spark is also coming off two wins this year via TKO.
Richardson Hitchins and Yomar Alamo will face-off for the vacant IBF North American Super Lightweight title. Raymond Ford vs Sakaria Lukas bout will have WBA Continental Americas Featherweight title on the line.
The main card of the event will air live on Dazn from 7:30 PM ET. The prelims will be live on Dazn & Matchroom Boxing's Youtube channel from 5:30 PM ET onwards. Tune in below as we post results live from Montana Love vs Stevie Spark event along with complete fight card, start time and more details.
Event Details
RESULTS
Prelims
Khalil Coe def. Bradley Olmeda via unanimous decision (60-53, 60-53, 60-53), 6 rounds, Cruiserweight Bout
Raynell Williams def. Ryizeemmion Ford via unanimous decision (60-53, 60-53, 60-53), 6 rounds, Lightweight Bout
Nikoloz Sekhniashvili def. David Rodriguez via TKO at 3:00 of round 3, 6 rounds, Super Welterweight Bout (Watch Video)
Main Card
Beatriz Ferreira def. Taynna Cardoso via unanimous decision (40-34, 40-34, 40-34), 4 rounds, Super Featherweight Bout
Thomas Mattice def. Christian Tapia via unanimous decision (97-92, 96-93, 96-93), 10 rounds, Vacant WBA Continental Americas Super Featherweight Championship Bout
Raymond Ford def. Sakaria Lukas via KO at 2:20 of round 8, 10 rounds, Ford's WBA Continental Americas Featherweight Championship Bout
Co-Main Event: Richardson Hitchins def. Yomar Alamo via TKO at 3:00 of round 8, 10 rounds, Vacant IBF North American Super Lightweight Championship Bout
Main Event: Steve Spark def. Montana Love via ref. disqualification at 0:25 of round 6 , 10 rounds, Vacant WBA Intercontinental Super Lightweight Championship Bout