Canelo Alvarez vs Caleb Plant – Live Results Blog, Play by Play Updates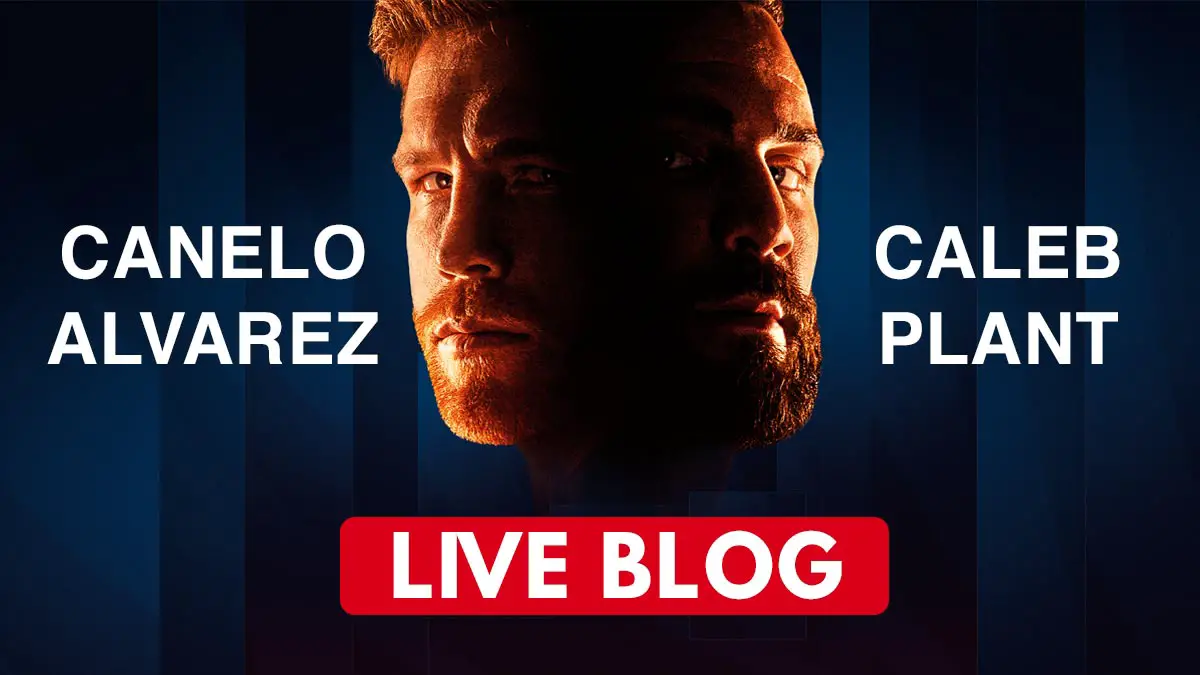 Check the live blog for Saul "Canelo" Alvarez vs Caleb Plant Boxing PPV which is one of the biggest boxing fight of this year. The winner between Canelo and Plant will be crowned the first-ever undisputed Super Middleweight Champion in boxing history.
Canelo, currently at 56-1-2, holds four belts in the Super Middleweight division – WBA(Super), WBC, WBO, & the Ring. He will be fighting for the third time this year after defeating Avni Yirdim and Billy Joe Saunders.
Caleb Plant, undefeated in 21 bouts, holds IBF Super Middleweight title. He will be taking the ring for the second time this year after defeating Caleb Traux in January.
The fight will air from MGM Grand Arena in Las Vegas, NV, and is expected to start around 11:30 PM EST. We will be here to cover Canelo vs Plant bout round by round and play by play, as well as the results from undercard.
Results
Elvis Rodriguez defeated Juan Pablo Romero via KO/TKO (Round 5, 2:59) – 10 Round, Super Lightweight
Rey Vargas defeated Leonardo Baez via unanimous decision (99-91, 100-90, 100-90) – 10 Round, Super Bantamweight Bout
Andre Dirrell defeated Marcos Hernandez via KO/TKO (Round 4, 0:20), Super Middlweight Bout. co-main event
WBA (Super), WBC, WBO and The Ring Champion Canelo Alvarez defeated IBF Champion Caleb Plant by TKO in Round 11 to become Undisputed Super Middleweight Champion. main event
Live Updates
The undercard is complete now and we got some good action in those fights. We are not into the main event yet. A long set of promos and time-filling is expected now for at least 15-20 minutes since these matches ended much before their target time of 11 PM ET. Strike that all. We are onto the national anthems of Mexico and United States.
Walkouts
We are getting the video package for the fight. The walkouts are starting. The crowd is booing as Caleb Plant is announced for the walkout. Conway the Machine is rapping for his entrance. Plant is in all white as comes out.
Fher Olvera is signing for Canelo even before he is out in the tunnel. Huge cheers as Canelo finally appears in the tunnel. His corner is all behind him as Canelo walk out all in Gold.
We are onto the introductions now.
Round 1
Plant is getting his jab going as Canelo is mostly looking to defend. Canelo is able to avoid any big shot until now, but has grabbed onto Plant's body a few times. Not much to call the round to anyone in particular. 10-10 overall.
Round 2
Canelo avoids more jabs but forces Caleb to backpaddle mostly. Canelo lands a big uppercut. He continues to avoids jabs and lands more significant strikes. Plant almost looks fearful. Canelo lands bodyshots. Caleb with uppercuts. The fight is finally heating up in the final minutes of this round. Canelo defends a flurry of strikes. He lands shots of himself. Round to Canelo. 20-19 to Canelo.
Round 3
Plant lands body shots to start this round. He is back to his jabs to keep Canelo on the leash. He is able to land a big left uppercut. Canelo comes back with a body shot. He misses the follow-up hook. Canelo unloads on the body with more aggression. He lands another left hook. Canelo takes this round also. 30-28 to Canelo.
Round 4
Plant starts with jabs again but is able to land a big left. Canelo is still forcing him to walk down. Canelo's hook forces him to the ropes and Canelo is throwing big shots at him. Plant is able to defend most of it though. Canelo continues to land more and more strikes. Plant is not able to get aggressive at all. Round to Canelo. 40-37 overall.
Round 5
Caleb back to his jabs and again the same script plays out. Canelo is able to land more and more body shots. Canelo gets a warning from the referee. Plant lands a big shot and Canelo has to force him back to the ropes again. Plant is mostly defending when it comes to that. Canelo is able to find openings to land his punches. Another round to Canelo. 50-46 overall.
Round 6
Plant with combination shots. Canelo comes back with a right-left combo and a left hook soon after that. Plant fires a hard jab but gets combination shots in reply. A big right hand and a left hook finds Plant gasping. Round to Canelo. Overall 60-55 overall.
Round 7
Plant ducks Canelo punch and fire back with a left. Plant's jabs are coming into effect now but he is unable them with much. Canelo misses his punch again and Plant lands one square in the face. Plant is the on to force Canelo to the corner now. Plant jabs at him as he tries to get aggressive. A good left hook lands for Canelo just before the bell. Round goes to Plant. Overall 69-55 to Canelo.
Round 8
Canelo goes body-head with the left hook, and then lands another left up top. More jabs from Plant. Lunging left by Plant, Canelo throws a hook to create some space. Plant to the body. Plant able to keep the fight in the center of the ring, out of the corner. Nice body shot by Canelo. Plant jabs the body, Canelo hits a short left. Canelo with a right body shot.
Round 9
Canelo backs Plant up right away. Canelo doubles up on jab. Canelo eats some jabs to the body and hits Plant with a left hook. Plant is answering the body shots with a straight right. Plant gives Canelo two to the body, then a jab. Two good left hooks for Canelo. That left hook lands again. Plant goes back to the right hand to back Canelo up. That doesn't last long, Canelo has Plant against the ropes again and Plant clinches to reset the action. Plant with a flurry of punches, partially defended.
Round 10
Jab by Plant opens the 10th. Canelo flurries with Plant on the ropes. Loud right hits Plant's body. Canelo really digging in with the body work. Plant works his jab. Canelo's left hook is finding its mark. Canelo having success with the jab now. Canelo goes 1-2 to the body. They exchange body shots, Plant landing a good one square in the middle. Canelo with a jab.
Round 11
Canelo drops Plant as the 11th round starts. Plant is down but gets up on quickly. He gets the eight counts from the referee and is ready to go again. Canelo does not let him breathe and charges at him with more strikes. Plant tries to avoid and is running away. Canelo finally drops him for good with big right hand.
Official decision: Canelo Alvarez wins by TKO in round 11 to become the Undisputed Super Middleweight Champion.