BKFC Fight Night: Belcher vs Tate Results, Card, Streaming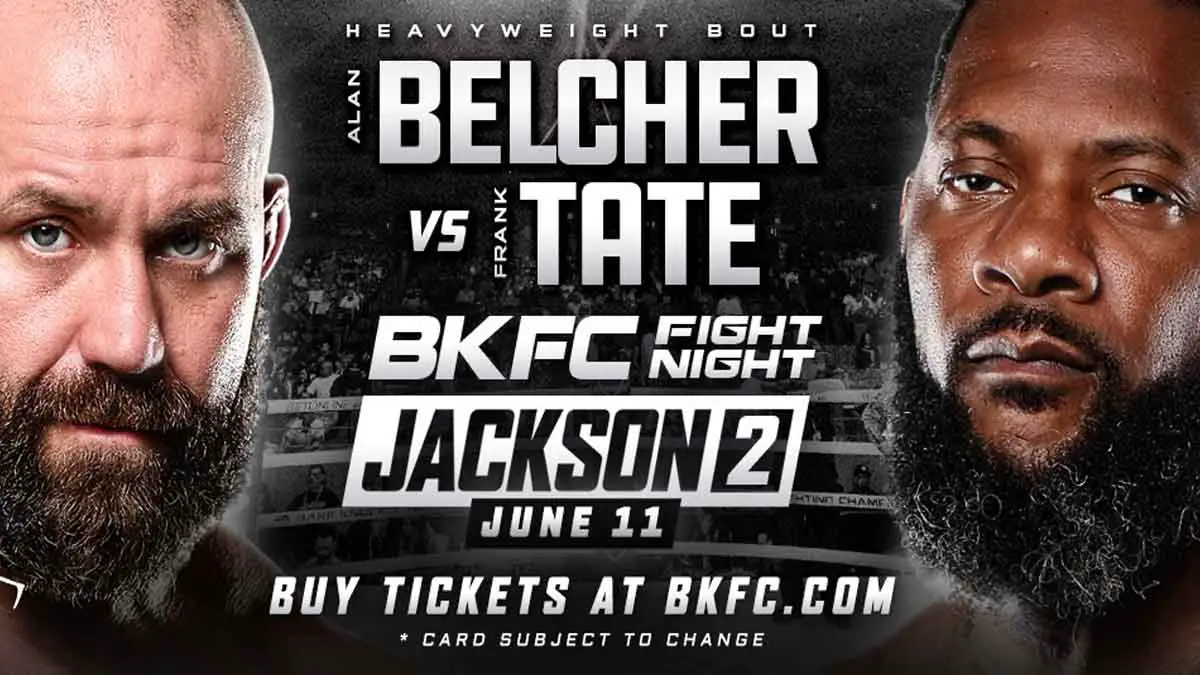 BKFC will present a Fight Night: Jackson 2 event from Jackson Convention Complex in Jackson, MS, on June 11, 2022.
The event will feature Alan Belcher vs Frank Tate heavyweight bout in the main event. Belcher is currently ranked as #1 heavyweight with his two wins in the promotion. Tate is at #4 and is coming off two back-to-back wins after a loss in the BKFC debut.
The main card will start from 9 PM EST and will air via Bare Knuckle TV and Fite TV. The prelims card will start at 8 PM EST and will feature two bouts. You can check the streaming links below in the Event Info Section or access the above-embedded video.
Check below for the results from BKFC Fight Night Jackson 2: Belcher vs Tate with a complete undercard, start time, online streaming details, and more details.
Fight Card
Main Card
Alan Belcher defeated Frank Tate via KO (Overhand Right) at 1:21 of Round 1 – Heavyweight Bout Main Event
Robbie Peralta defeated Martin Brown by split decision (47-48, 48-47, 49-47) – Lightweight Bout
Quentin Henry defeated Sawyer Depee via KO at 0:18 of round 2 – Light Heavyweight Bout
Billy Wagner defeated Jeremiah Riggs via TKO at 1:59 of Round 1 – Welterweight Bout
Bobby Taylor defeated Arthur Walcott-Ceesay via KO at 1:36 of Round 1 – Lightweight Bout
Brad Kelly defeated Stanislav Grosu via TKO at 1:01 of round 3 – Welterweight Bout
Brett Williams defeated Frankie Shughart via KO at 1:01 of Round 1 – Middleweight Bout
Prelims
Tyler Sammis defeated Phil Ramer via KO at 1:00 of round 1 – Featherweight Bout
Tim Hester defeated Christian Torres via unanimous decision (50-44, 49-45, 49-46) – Welterweight Bout