Check out all the information regarding the Wrestlemania 36(2020) Match Card, Location, Date, Start Time, Storyline Tickets and More.
Date: 4 & 5 April 2020
Location: WWE Performance Center, Orlando, Florida, United States
Start Time: 7 PM EST(11 PM GMT/5 &6 April 4:30 AM IST)
Wrestlemania 36 Match Card & Storyline
Brock Lesnar (c) vs Drew Mcintyre – WWE Championship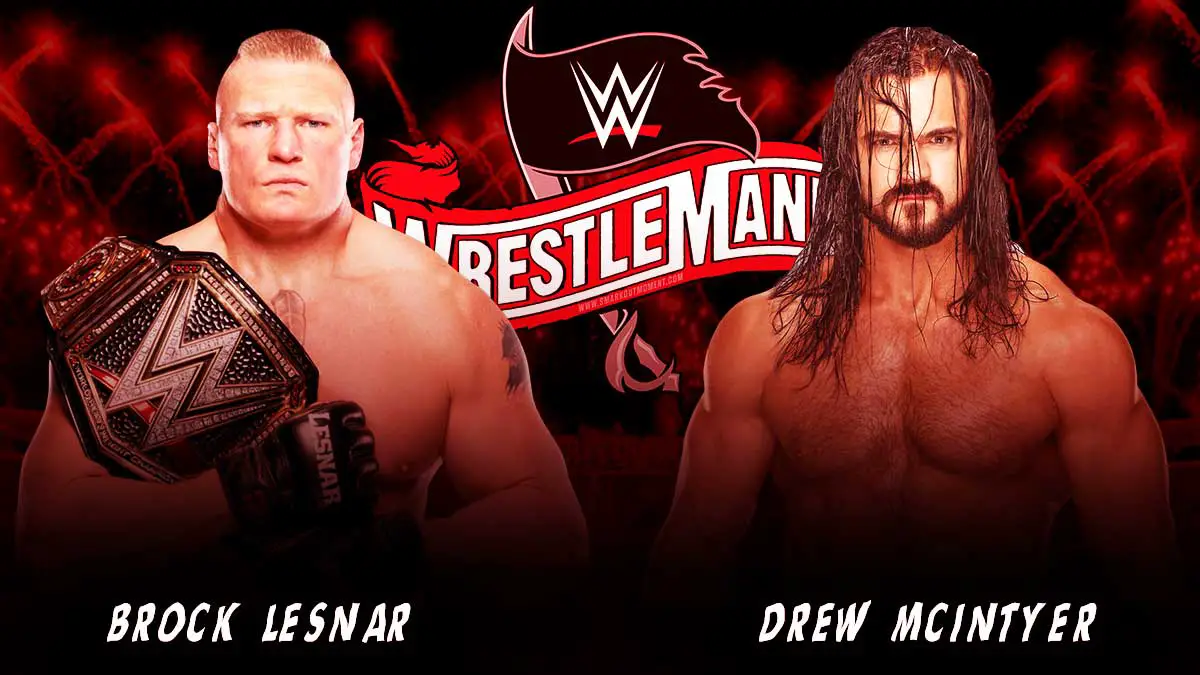 Brock Lesnar decided to enter the men's Royal Rumble match in the 2020 edition when he did not feel there was any worthy challenger against him. Lesnar announced to enter the match at number 1 and dominated the match until Drew McIntyre entered the match at number 16. McIntyre, with some aid from Ricochet, eliminated Lesnar from the match and also went on to win the match.
Next night on RAW, Drew McIntyre announced that he would challenge Lesnar itself for the title match at WrestleMania. During the build-up to the match, Heyman and McIntyre would engage in promos, staking their claims to win the showdown. On RAW 2nd March episode, McIntyre would hit Lesnar with Claymore kicks when Lesnar tried to attack him.
Goldberg(c) vs Roman Reigns – WWE Universal Championship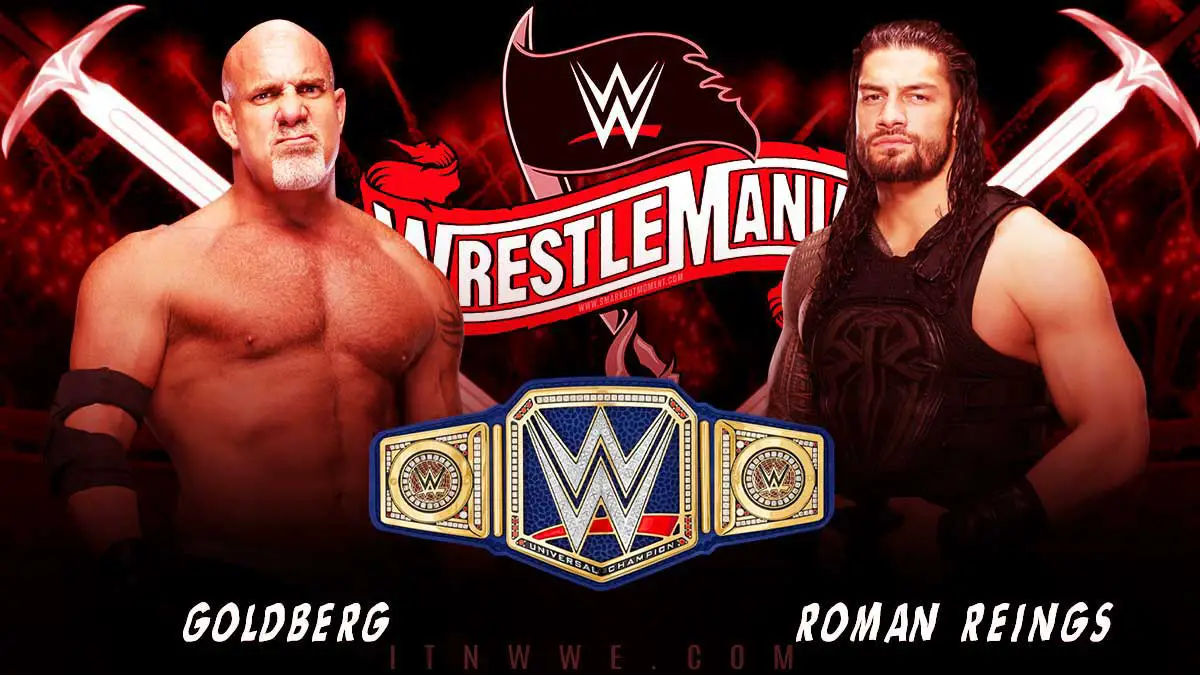 Goldberg won the WWE Universal Championship at Super ShowDown 2020 after defeating "The Fiend" Bray Wyatt. Next night, Goldberg came out and asked: "Who's next?" Roman Reigns came out in response and stood face to face with Goldberg. Roman took the mic to announce that he is next, signifying his challenge. WWE then confirmed that Goldberg will face Roman Reigns for WWE Universal Championship at WrestleMania 36.
However, there are some reports on the internet that Roman Reigns decided not to take part in the match due to his compromised immune system with his previous battle with Leukemia. It is being reported that Braun Strowman has replaced Reigns in the said match. However, WWE has continued to advertise Reigns for WrestleMania.
Becky Lynch(c) vs Shayna Baszler – WWE RAW Women's Championship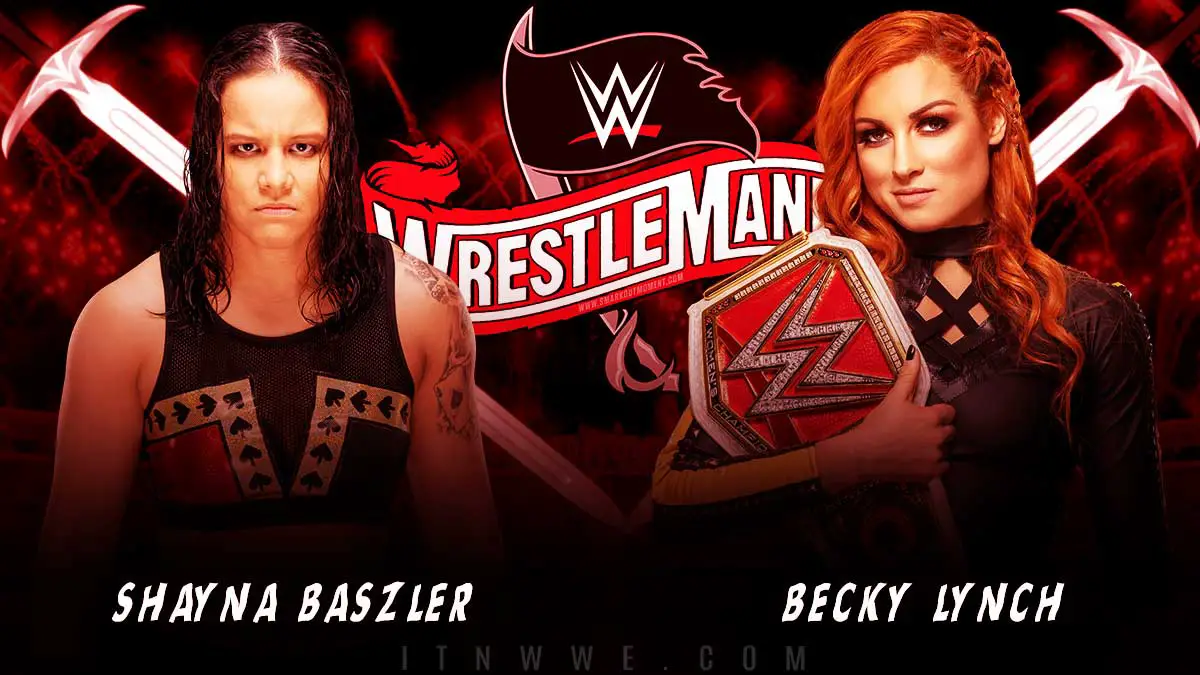 WWE RAW Women's Champion Becky Lynch and NXT Women's Champion at that time, Shayna Baszler, were involved in a storyline in the build-up to Survivor Series. At Survivor Series, Baszler won the main event triple threat match by pinning Bayley(SmackDown Women's Champion). However, Becky Lynch had the last laugh as she put Baszler through the table after the match.
Baszler lost the NXT Women's Championship to Rhea Ripley on the 18 December episode of NXT. She then entered the women's Royal Rumble match at number 30 but failed to win the match as she got eliminated by Charlotte Flair at the end. After Becky defeated Asuka at RAW 10th February episode, Baszler attacked Lynch and bit on the back of her neck to restart their feud.
Becky responded to Baszler later that night to come face to face with her. WWE announced an Elimination Chamber match to determine the #1 contender to face Becky at WrestleMania. Shayna Baszler single-handedly eliminated each of the 5 opponents in a dominating win and earned the title shot. During the build-up, Becky and Baszler cut fierce promos against each other. Becky also attacked Baszler on RAW 23 March episode and left him reeling after some chair shots.