2. John Cena vs The Rock- WrestleMania XXVII, 2012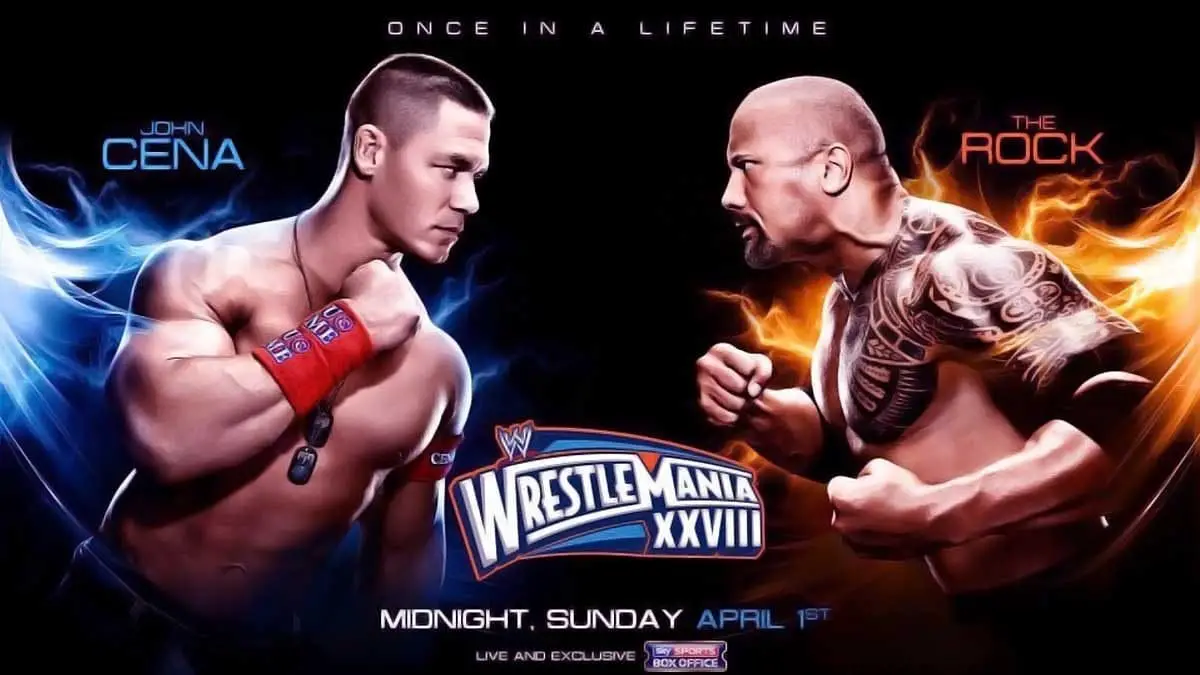 Storyline And Buildup
After WrestleMania XXVII, for almost 1 year, Cena had multiples feuds with The Miz, CM Punk, Alberto Del Rio, and Kane. Cena originally wanted to face the Rock at WrestleMania for the WWE Championship. But this was the time Punk dropped the Pipe Bomb and started an incredible reign as the WWE Champion, keeping Cena away from the title.
Cena entered a feud with Miz and Truth, who kept on assaulting Cena for almost two months. Cena was then permitted to pick his accomplice to challenge Miz and Truth at Survivor Series and Cena picked The Rock. In spite of trading affronts in the next weeks, they defeated Miz and Truth. However, Rock shut the show by giving Cena a Rock Bottom.
Cena then started a fight with Kane, who referred to his nauseate for Cena's "Rise Above Hate" slogan and asserted that Cena would need to motivate himself with this catchphrase so as to overcome The Rock at WrestleMania. At WrestleMania XXVIII, Cena confronted The Rock to headline the main event which had been working for a year and was promoted as "once in a lifetime".
ShowDown at Florida
Before even the match started, the ambiance was like the "Brahma Bull" says was electric. The Rock's entrance was special as FLORIDA performed for him. Two Miami Giants in the house the crowd was going berserk. The match was also above average. Will you see better matches than this? Probably yes. But the match didn't have any relevant botches. It had lived up to its hype.
The match started as initially both showcased their strength. Commentator Michael Cole quoted "Both trying to show who's the best (performer)". There was very less ring rust for Rock, it was like he never left. A sign of a legendary performer. Good side headlocks, good spine busters. These moves are pretty basics in pro wrestling but since he was going one on one in the main event after such a long time, the transition of these moves being so clean, was wonderful to see and very easy on eyes.
Obviously, Cena was performing flawlessly. He also executed a couple of shoulder tackles before the trademark 5 knuckle shuffle. After that Rock escaped from the first Attitude Adjustment Cena tried. The Rock also hit the People's elbow successfully but Cena kicked out. Rock performed Sharpshooter and Cena tried STFU on The Rock, but the Rock bailed out of it as he reached the bottom rope. After Rock kicked out of Attitude adjustment, Cena tried to attempt Rockbottom on The Rock himself in frustration. It turned into an anticlimax as The Rock got up hit Cena with Rock Bottom and defeated him.